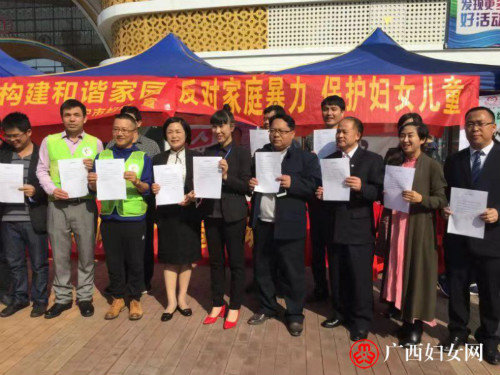 Men sign the anti-domestic violence protocol at the event. [gxwomen.org.cn]
Officials from women's federations in south China's Guangxi Zhuang Autonomous Region carried out a special publicity activity on November 25, 2018 in the capital city of Nanning, aimed at enhancing people's legal awareness, strengthening their self-protection abilities and promoting the harmony of families and society.
November 25 marks the International Day for the Elimination of Violence against Women. The event centered around anti-domestic violence, and anti-AIDS and legal advocacy activities were also held to mark the upcoming World AIDS Day and the State Constitution Day.
Wu Yanjuan, president of Guangxi Women's Federation (GWF), attended the event.
During the event, several social organizations including the Guangxi White Ribbon Service Center, the Guangxi Lüyin Women's Consulting Center (GLWCC), the Guangxi Marriage and Family Dispute Mediation Expert Database, the Guangxi Association of Marriage and Family Studies and several voluntary lawyers teams organized a publicity group which consists of psychological consultants, lawyers, first aid nurses, doctors and volunteers.
The group members handed out publicity materials about anti-violence, anti-drugs, anti-AIDS, emergency rescue and legal knowledge to the public and provided free consultancy services for participants at the event.
Wu presented an audio program with a flag at the event.
The program, launched by GWF, GLWCC, a skills training base of Guangxi Association of Social Psychology, and supported by relevant departments, aimed to broadcast information about rights protection and the construction of harmonious family relations.
The audio program will be launched both online and offline starting from the same day via WeChat, websites, salons, community services and lectures to further popularize legal knowledge among families.
GWF also played videos on new media platforms and outdoor platforms such as subways and buses to help people fight domestic violence, according to officials.
Furthermore, several rights protection centers were set up, aiming at introducing rights protection methods and channels to participants and recommending lawyers, psychological experts as well as marriage and family experts to them.
The establishment of such centers was a new action taken by GWF to carry out rights protection services in enterprises, organizations, institutions and public places.
As of now, around 30 enterprises and institutions have been equipped with the resources of the centers, said officials.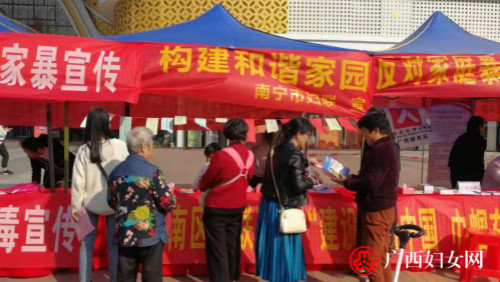 Volunteers hand out publicity brochures to participants and provide them with relevant consultancy services. [gxwomen.org.cn]
Volunteers show people how to give first aid at the event. [gxwomen.org.cn]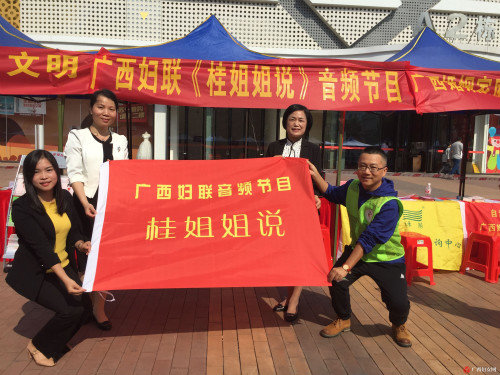 Wu Yanjuan, president of Guangxi Women's Federation, presents an audio program with a flag at the event. [gxwomen.org.cn]
(Source: gxwomen.org.cn/Translated and edited by Women of China)