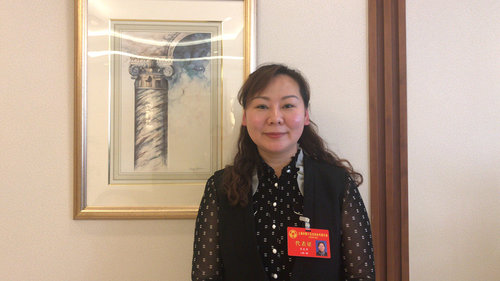 Shan Dongping, vice-president of the women's federation of Minyan market in Shanghai. [China Daily]
Shan Dongping, 40, sold vegetables in a Shanghai market for years before becoming its deputy manager two years ago.
She then established a women's federation for people working in the market, mostly female vendors from small towns across China.
"I want to help those who have come to Shanghai to make a living in the city, which can be hard - I have been there," said Shan from Harbin, Heilongjiang province. She first arrived in Shanghai in 2004 to sell vegetables in the Minyan market in the city's Xujiahui area.
"I hope the federation can help those people integrate into the city better and more quickly," Shan said during Shanghai's recent 15th Women's Congress, which she attended as vice-president of the Minyan market women's federation.
The congress, attended by more than 800 women from different sectors, discussed ways to improve the livelihoods of the 12 million women in Shanghai.
Xu Feng, president of the Shanghai Women's Federation, said it has expanded to cover more sectors and groups of people in the past five years, adding 57 new women's federations that cover lawyers, the high-tech sector, markets and home service associations.
The Minyan market women's federation founded by Shan is the first in the city serving migrant women working in a market. It has proved to be popular and now has more than 700 members, up from around 500 soon after it was set up.
Most of its members are the vegetable vendors. Of the more than 2,000 female employees in the market, nearly all come from small cities and towns outside Shanghai.
Shan said that when she first came to Shanghai, she encountered many difficulties including different living habits, a language barrier and going unpaid for three months.
"At that moment, I wished there was an organization to help me out of my plight," she said. "People only care about how much these female vegetable sellers make every day but never really care about their lives and inner feelings.
"Even though they are only running a small business, the pressure to make a living in a strange city can be huge."
Over the past two years, the Minyan market women's federation has organized regular meetings, activities and lectures to improve the knowledge, skills and living standards of female vendors. They have included providing counseling services, organizing domestic violence prevention lectures and holding flower arranging classes.
"Being involved with the federation brings me a lot of self-improvement opportunities," said Ye Chengqun, 31, a seafood seller in the market who joined its women's federation last year.
"I've learned a lot regarding legal knowledge and personal etiquette. Above all, the federation is like my home, where I can share all my difficulties and feelings, and it makes me more confident."
Shan said as well as helping newcomers to the city, the federation also helps in the management of the vegetable market.
"More than 80 percent of vendors have participated in events organized by the women's federation," she said. "This has increased the efficiency of communication and improved the sense of unity in the market."
(Source: China Daily)