The launch ceremony of this year's Being a Good Female Netizen and the Good Female Netizen campaigns was held in Beijing on June 24. [Women of China/Fan Wenjun]
"We look forward to the day when every internet user, every online platform, and every social organization joins the campaign, and make concerted effort to create a harmonious environment online and offline!"
This year's Being a Good Female Netizen and the Good Female Netizen campaigns opened in Beijing on June 24 with swearing of an oath by representatives good female netizens at the launching ceremony.
The ceremony of the campaigns, which were sponsored by the All-China Women's Federation (ACWF) and the Cyberspace Administration of China (CAC), was broadcast online live with over 5 million visits.
Female scholars, internet users, industrial insiders and online celebrities and representatives of online platforms were present at the event.
Students perform at the launching ceremony. [Women of China/Fan Wenjun]
Sheng Ronghua, Deputy Director of the CAC said the Being a Good Female Netizen Campaign has gained wide support from all walks of life, and in particular women, and made significant achievements in recent years.
He called on efforts to promote the campaign and to gather more positive energy of women through online culture under the guidance of Xi Jinping Thought on Socialism with Chinese Characteristics for a New Era.
He hoped more female internet users would support and join in the campaign and urged cyberspace administrations at all levels to coordinate with women's federations to offer a better cyberspace.
Wu Haiying, Vice-President and Member of the Secretariat of the ACWF, said that this year's activities would be carried out with the theme of Good Female Netizens Praise the New China.
The campaign was expected to drive more female internet users to improve their cyberspace etiquette and to express themselves with rationality and reason in cyberspace, Wu noted.
Women's federations should promote the campaign with its advantage of close ties with women, Wu said, adding that she hoped the society and all the online platforms would continue to support and take part in the campaign.
A total of 100 online works in the categories of photos, audio, videos and interactive H5 programs and animation were awarded for their contribution to women's cyber-culture.
The shortlist of the award-winning online creations is released at the ceremony. [Women of China/Fan Wenjun]
A representative of good female netizens calls on women to be civilized internet users at the event. [Women of China/Fan Wenjun]
Shen Yang, a professor at the School of Journalism and Communication under Tsinghua University, pointed out that the development of the internet offered new opportunities for more underprivileged women in remote rural areas.
Wang Xiaohong, a professor at the Communication University of China, stated that female internet users held up half of the cyberspace and even the most ordinary women should be seen and heard.
More and more women made their contributions via the internet and shared their longings for a good life, she added.
"Our profound historical heritage is our treasure, but there are still many things that have not been discovered," said Jiang Shengnan, author of the popular online novel "The Legend of Mi Yue," adding that she would create better online works in the future.
Specially-invited guests Shen Yang (2nd, L), Wang Xiaohong (2nd, R) and Jiang Shengnan(1st, R) share their views on women's role in cyberspace. [Women of China/Fan Wenjun]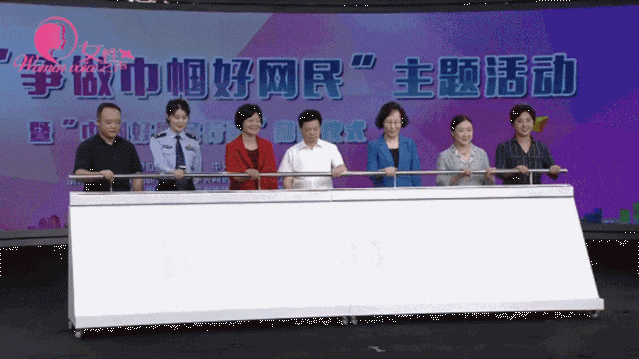 Representatives of officials, good female netizens, online celebrities, local women's federations and media declare the official start of the campaign by pushing a specially designed device. [Women of China/Fan Wenjun]
After that, Liu Yuanyuan, an orator from the post-90 generation, gave a lecture on the relation between the internet and women at the event.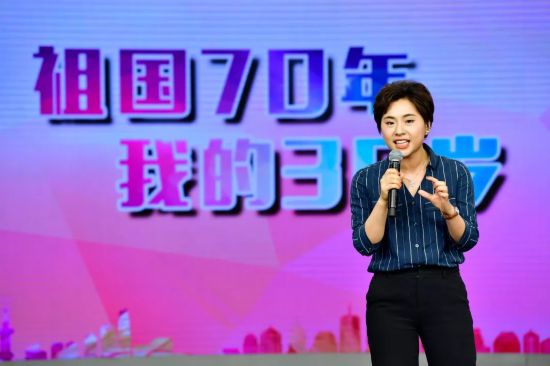 Liu Yuanyuan gives a lecture at the ceremony. [Women of China/Fan Wenjun]
The ceremony was broadcast via people.cn, womenvoice.cn and the China Women's News as well as commercial media platforms including Netease, Sina Weibo, Kuaishou, Jinri Toutiao (Headlines Today).
Since its debut two years ago, the campaign has gained more popularity among female internet users across the country.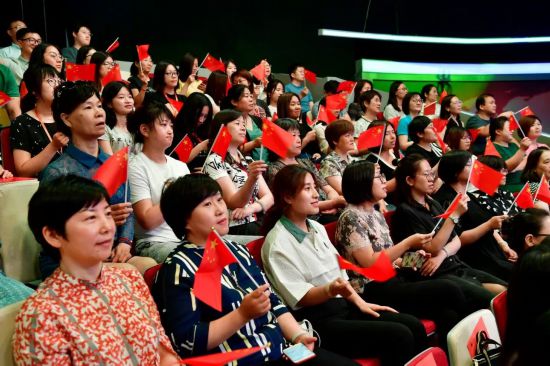 Representatives from all walks of life are present at the launching ceremony. [Women of China/Fan Wenjun]
(Women of China)