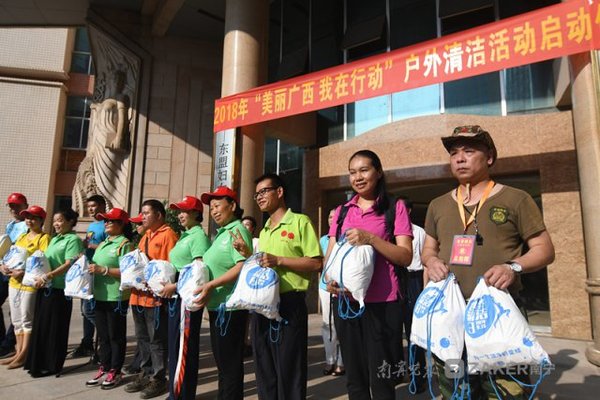 Volunteers, including mothers and college students from Guangxi Zhuang Autonomous Region participated in a cleanup action on September 15, 2018. [Nanning Evening Post]
A primary school in Lingshan County in southwest China's Guangxi Zhuang Autonomous Region recently held a parent-child activity to raise awareness of garbage sorting.
Student and mother representatives were granted the flag of volunteers' team for environmental protection, and they initiated a proposal on a low-carbon lifestyle at the event.
The Women's Federation of Guangxi Zhuang Autonomous Region, the organizer of the event, has made progress in promoting garbage classification with the help of family members.
The federation of the autonomous region initiated a mechanism that features the participation of mothers and children one year ago.
Early in March 2018, Guangxi began a campaign of looking for 10,000 mothers who played a role in environmental protection, aiming to motivate women and families to cultivate the good habit of garbage classification.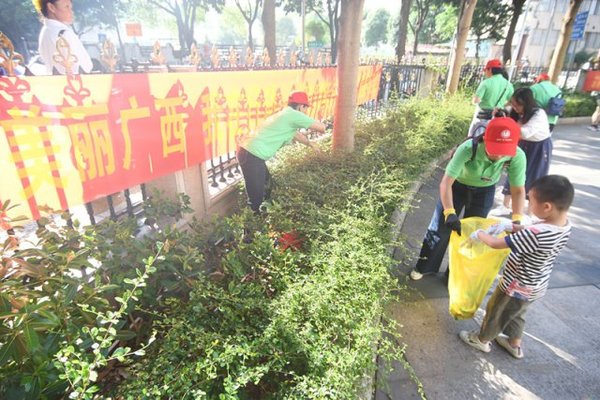 A mother and her son participating in the activity of garbage collection on September 15, 2018. [Nanning Evening Post]
The women's federations, at all levels in the region, would continue to organize the activity, hoping to influence children with their mother's love, according to Chen Yinghong, Vice-President of the Women's Federation of Guangxi Autonomous Region.
The women's federation of the region has held more than 30 activities in local schools, residential communities, governmental organs and public institutions to absorb more women and families in the environmental protection campaign.
These mothers, female volunteers and college students participated in a cleanup action outdoors on September 15, 2018, which marks the World Cleanup Day. About 80,000 people participated in the garbage pickup activity, helping increase the public awareness of environmental protection.
In celebration of this year's International Women's Day, the women's federation of the region initiated a proposal of Beautiful Guangxi, Take Action by Myself, which targeted at women and families. The proposal included raising awareness of ecological protection, participating in garbage classification and being pioneers in environmental protection among mothers.
According to the federation, voluntary mothers' teams for environmental protection will be established in 14 places in Guangxi and more than 2,000 mothers have taken part in 50 environmental protection promotion activities since March 2018.
(Source: China Women's News/Translated and edited by Women of China)