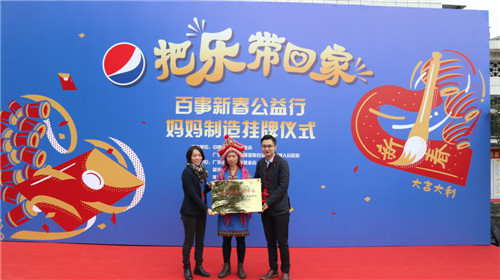 Representatives from CWDF and PepsiCo (Greater China Region) attend a ceremony in Ruyuan to announce the establishment of the local embroidery cooperative. [CWDF]
China Women's Development Foundation (CWDF) and PepsiCo recently established a special local embroidery cooperative in Ruyuan county, south China's Guangdong Province, in an effort to help alleviate poverty and preserve traditional culture.
Representatives from CWDF and PepsiCo (Greater China Region) held a ceremony in Ruyuan to announce the start of the Bring Happiness Home — Mom's Handworks program and unveil an associated 10-meter embroidery.
CWDF representative Zhao Guangfeng said the national Mom's Handworks project was originally launched by the foundation and Beijing Mayililiang Handicraft Cultural Development Center in 2016. It aims to support ethnic minority craftswomen to work near their homes through establishing cooperatives in local areas.
According to Zhao, the new cooperative in Ruyuan will be a place for craftswomen from the Yao ethnic group to work and discuss traditional craft making. This is a sustainable charitable approach which offers job opportunities in poverty-stricken areas and preserves Yao-style embroidery — a national-level intangible cultural heritage.
Ye Li from PepsiCo said that the company launched their Bring Happiness Home program in 2012 to encourage people to strengthen bonds with their families. This year, PepsiCo will showcase the diversified traditional culture of China — described as "a big family for all" — and attract more young people's attention, creating long-lasting social value.
Organizers invited about 100 craft experts who worked on the large-scale embroidery work, which features customs from different places in China. It commemorates Spring Festival and showcases Jing, Miao, Li and Yao-style embroidery.
The crafts experts came from Mom's Handworks cooperatives in Hebei, Shandong, Qinghai, Yunnan, Guizhou and Guangdong provinces.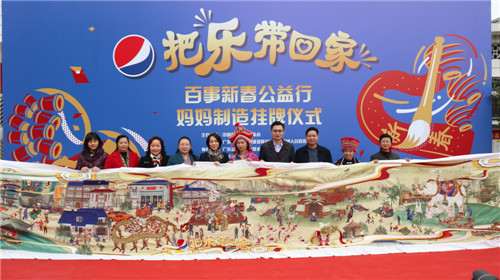 Representatives display the large-scale embroidery. [CWDF]
Representatives pose for a photo in front of the Yao embroidery cooperative. [CWDF]
(Source: China Women's Development Foundation / Translated by Women of China)