[Photo by Jiang Dong/China Daily]
The Palace Museum in Beijing, China's former imperial palace from 1420 to 1911 also known as the Forbidden City, held a charity auction on Tuesday night.
A pair of Sky Lanterns and a pair of Longevity Lanterns, which were made last year for the Spring Festival special exhibition, were auctioned at the event.
The Sky Lanterns were bought for 1.06 million yuan ($158,000), while the Longevity Lanterns were bought for 8 million yuan by the same buyer, Bao Jianqiang, a tourism developer from Wuxi, Jiangsu Province.
All the money earned from the auction will be used to sponsor several poverty-stricken counties in Shanxi Province, the Inner Mongolia Autonomous Region, and the Guangxi Zhuang Autonomous Region. No commission was charged by China Guardian Auctions Co. Ltd, which co-organized the event to support the charity program.
Sky Lanterns and Longevity Lanterns — all more than 10-meter-high — were set up in imperial years for major celebrations. However, the shrinking treasury made the emperor to stop the costly tradition in 1840.
Employees at the Palace Museum spent months rummaging historical files and the inventory of the museum to find models, original materials, and production methods for the lanterns. And they finally set them up in front of Palace of Heavenly Purity, a key structure in the Forbidden City, for this year's Spring Festival after a 179-year hiatus.
New pairs of such lantern poles will be made this year, and are planned to be set up for every Spring Festival, which means this auction will be the only occasion of its type.
Five pairs of smaller lanterns, which were also made for the exhibition and hung in the palace, were also put up for auction. The top price for them was 380,000 yuan.
The Palace Museum in Beijing, China's former imperial palace from 1420 to 1911 also known as the Forbidden City, held a charity auction on Tuesday night.[Photo by Jiang Dong/China Daily]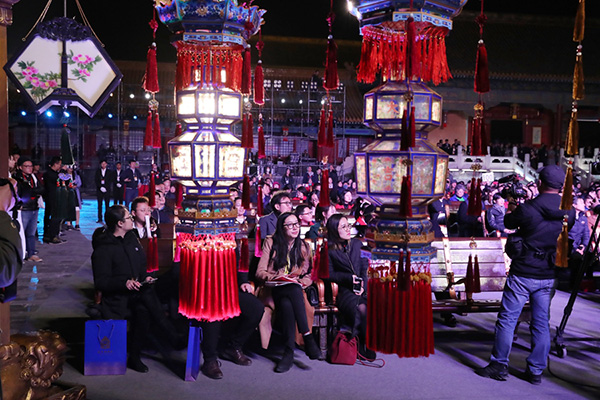 The Palace Museum in Beijing, China's former imperial palace from 1420 to 1911 also known as the Forbidden City, held a charity auction on Tuesday night.[Photo by Jiang Dong/China Daily]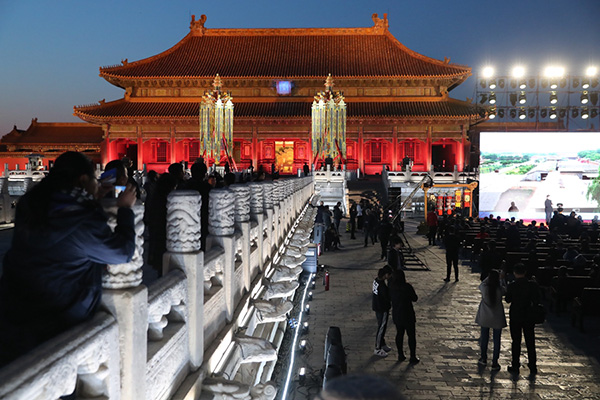 The Palace Museum in Beijing, China's former imperial palace from 1420 to 1911 also known as the Forbidden City, held a charity auction on Tuesday night.[Photo by Jiang Dong/China Daily]
(Source: China Daily)