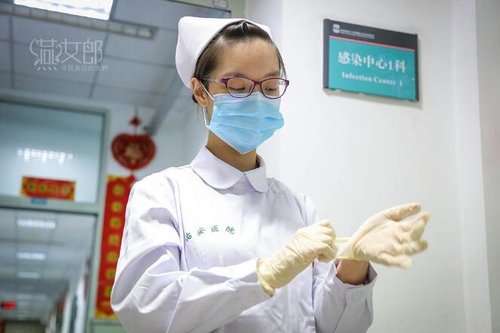 Zhao Sixuan is the youngest among the 130 members of staff who work at the hospital's Center for HIV/AIDS Infection. [Tencent]
Standing before the mirror, Zhao Sixuan freshens up. "A decent appearance is not only necessary for our work, but also helps show a better spirit for patients."
The 22-year-old, who was born in Beijing, works as a nurse at the city's You'an Hospital which provides treatment for about 8,000 HIV-positive outpatients.
She is the youngest among the 130 members of staff who work at the hospital's Center for HIV/AIDS Infection.
Zhao has been engaged in this work for nearly a year. Every day, she needs to check information for each patient and prepares the proper medicine before patrolling the ward.
"Nurses in the center have to master more professional knowledge than ordinary nurses and provide psychological counseling for patients at all stages of the disease," she explains.
AIDS patients in the hospital include young mothers, children and the elderly. After learning that they were affected, they often became more sensitive and vulnerable and many wanted to give up on themselves.
So, no matter during day or at night, nurses on duty will patrol the wards and check on patients' conditions.
At noon, nurses take turns having lunch. This is the only time during their day that they get to rest. They usually talk to each other about their family. Sometimes, the topic goes back to the patients.

"How much time is left there for me?" is the question asked most commonly by patients to Zhao. Each time, she provides psychological guidance to them and encourages them to face up to their condition. "Actually, they can live a normal life like others as long as the disease is found early and patients actively accept our treatment."
"Although the possibility of being infected is low in daily contact, there is a potential danger in the process of nursing. Most of our generation are only child. My parents had some worries at the beginning, but I often tell them some common-sense facts about HIV/AIDS. Now they show more understanding," said Zhao.
Every time, after the treatment of a patient, Zhao will chat with them and say something positive. She hopes to give them enough warmth and encouragement through her own care and give them confidence in conquering the disease.
"What I want most is that society can show more tolerance to people with HIV/AIDS," said Zhao. "If the public has no discrimination against HIV/AIDS, it will not only help people affected shake off the dilemma of self-seclusion, but also relieve their psychological pressure and have a profound positive significance for the treatment and protection," she added.
(Source: bj.jjj.qq.com/Translated and edited by Women of China