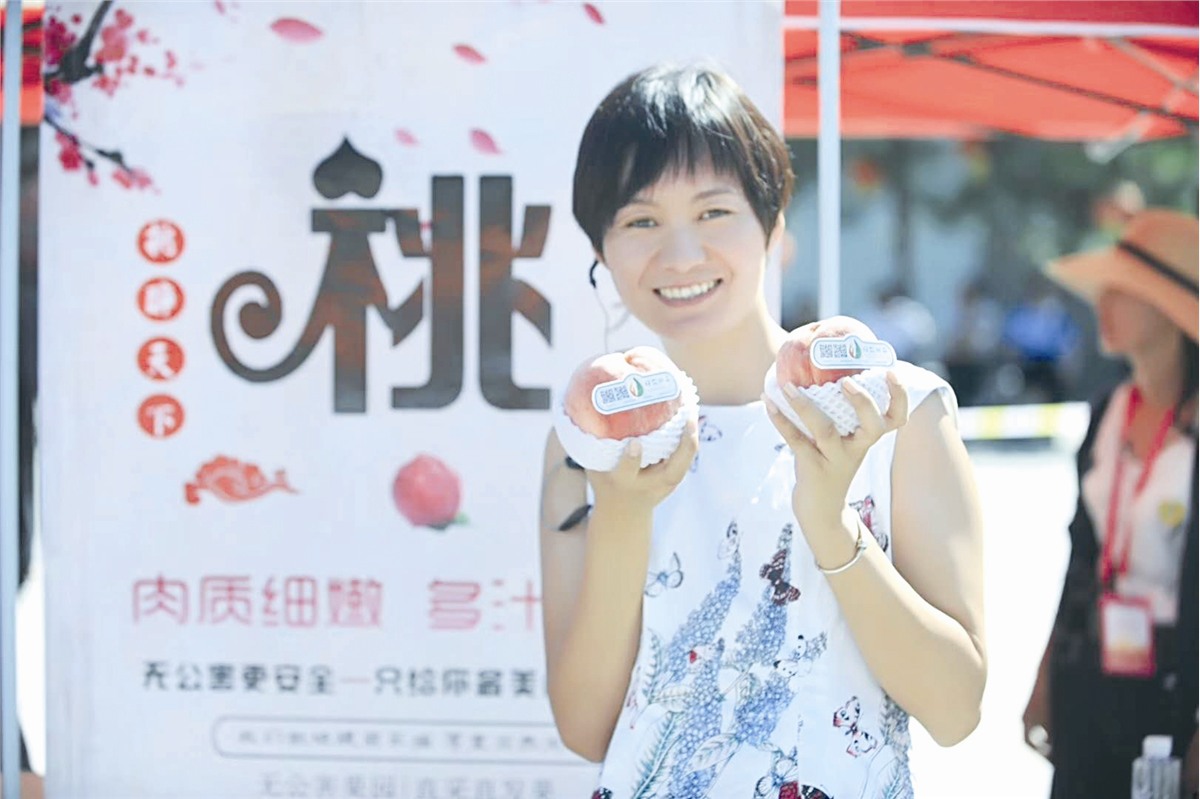 Yue Qiaoyun [Cnwomen.cn]
A female entrepreneur in a village of Beijing has dedicated herself to reviving her father's peach planting career and helping local people get out of poverty over the past few years.
Yue Qiaoyun was born in a village in Pinggu District. Her father was best known for selling peaches, and she has been accompanying her parents to the market since her childhood.
After graduating from college, Yue worked in a media company in the city. Since she was hard-working, she was soon promoted to the well-paid media director position.
In 2014, Yue's father suffered a serious illness, which left the fruit production and marketing cooperative in a managing dilemma.
Yue was widely acclaimed by people from all walks of life due to her successful planning and holding of an opening ceremony for a local supermarket. On the evening of the event, a person in charge of the Pinggu District E-Commerce Association called and invited Yue to return to her home village and start a business. Considering the various supporting policies for entrepreneurs in the district, Yue accepted the proposal and returned to her hometown.
After taking over her father's cooperative and learning about the related policies to support her career, Yue registered her selling platform on WeChat in 2014 and opened her eco-agricultural store on the online shopping website Taobao two years later.
In 2018, she started to cooperate with stores of online retailer Jingdong, and adopted online ordering. Through various channels, Yue has also employed and developed four network operation models, including online direct operation, direct supply, mobile sales and platform promotion. Her products are now widely sold throughout the country.
In July 2016, Yue and Liujiadian Government jointly organized the first peach fair, and signed sales agreements with more than 30 e-commerce dealers at the trade fair, which successfully promoted the sales of the fruits. In April 2017, Yue also launched a future selling activity during the Pinggu International Peach Blossom Festival, recovering the costs of peach famers in advance.
In addition, she also registered on social media platforms, and established cooperation with courier service company S.F. Express to boost sales. Plus local agent delivery, the annual sales of peaches could reach tens of millions of kilograms.
Yue believes that brand building and quality construction are of great importance to e-commerce, which can establish both a reputation and a stable customer base. Thus Yue and her partners have worked hard on brand creation and quality improvement. They have also cooperated with scientific research departments and focused on promoting a series of excellent new varieties.
For the most popular peach variety in the market, Yue has realized large-scale planting; and established a training base and electric classrooms and library rooms for members of the cooperative. Yue also regularly invites experts to train new members to cultivate new technologies.
The cooperative also established a convention on the integrity of members and carried out activities for members to compete for being honest. The cooperative has built a retrospective certification system for the whole industry chain, proposed 29 standards for integrated construction, continuously improved the quality of the peaches, forming the influence and reputation of the brand.
In July 2016, Yue established the Smart Orchard, which is a private orchard for urban people in an area of more than 13 hectares, divided into several areas for different purposes. The farm has met the needs of urban tourists through activities including farming education, fruit trees adoption, parent-child activities and fruit cultivation experiences, and with the help of information, intelligence, automation, and networking. It has been developed into a demonstration park of agricultural Internet of things, integrating planting, breeding, leisure and science popularization.
According to statistics, as of now, Yue's cooperative has a total of 302 members, which has driven more than 800 farmers to participate in the career; and has been working hard to help households with low incomes escape poverty.
Since farmers can not get favorable prices selling their peaches on the market, Yue has organized some 30 e-commerce training courses since 2016 and has conducted counseling training in connection with wireless networks, mobile download software, photo-taking, and e-commerce trading. After training, 60 percent of the farmers have successfully opened their stores online.
As for those women on a low income, Yue arranged for them to do what they could in the cooperative; for families that have difficulties in managing fruit trees due to illness, disability, old age and other reasons, Yue transferred their lands with a fixed turnover fee every year. Now, there are a total of 108 women working in the cooperative.
(Source: Cnwomen.cn/ Translated and edited by Women of China)