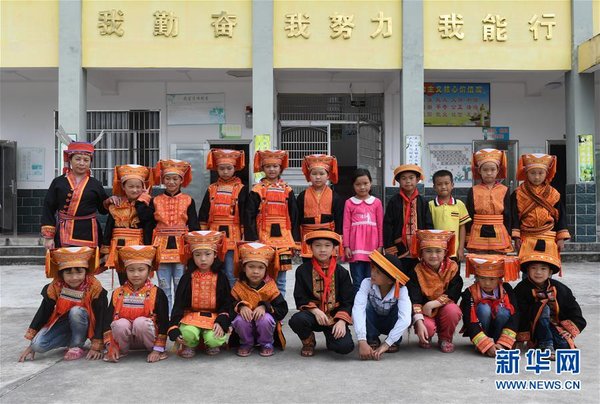 Tao Fengying (1st L, back row) takes a group photo with students on June 4 at a school in Zhongliang Township, Jinxiu Yao Autonomous County in southwest China's Guangxi Autonomous Region. [Xinhua]
Tao Fengying is a teacher at the Shanjie School in Zhongliang, a township in Jinxiu Yao Autonomous County in southwest China's Guangxi Zhuang Autonomous Region.
Tao chose to return to her hometown and became a teacher in the village in mountainous areas, after she graduated from high school in the 1980s.
At the time, many local students dropped out of school. Tao went to the students' homes from door to door, to persuade parents to allow their children to continue their study.
"I will teach them well!" Tao made her promise to their parents. In this way, she brought the school-age children back to school.
Over the past 35 years, she has worked at nine schools in the mountainous areas. She needed to walk for nearly three hours to the most distant one.
Tao not only gives lessons to the students, but also cooks dishes and takes care of the students at the school. No matter how difficult the teaching and living conditions were, she insisted on teaching the students in mountainous areas.
Thanks to her persistence and efforts, many children went out of the mountains. In May 2019, Tao was honored one of the Good People in China.
"I have no regrets," said Tao when looking back upon her past 35 years as a rural teacher. She has never forgotten the promise she made to the villagers and her original aspiration for teaching and educating students in the mountainous areas.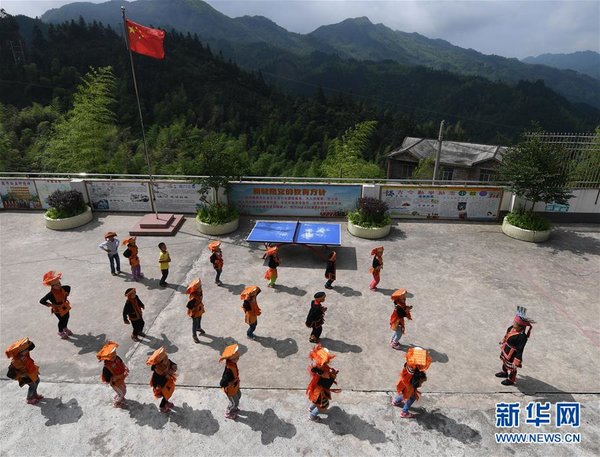 Tao takes her students to do exercises between classes. [Xinhua]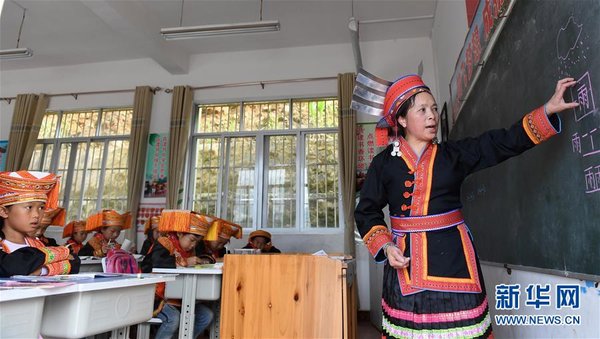 Tao gives a class to the students. [Xinhua]
Tao corrects students' homework at the school. [Xinhua]
Tao chooses extracurricular books for students at the school. [Xinhua]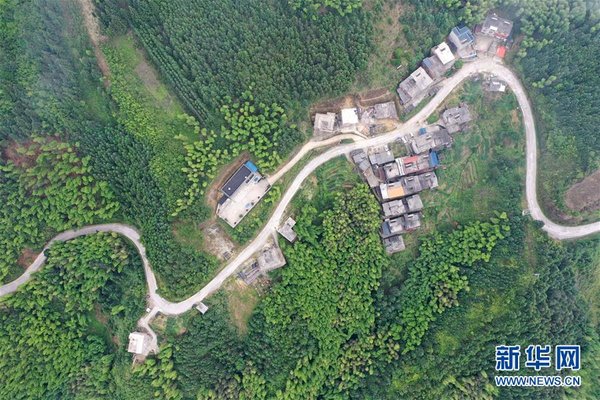 Aerial view of the village of the Zhongliang Township, Jinxiu Yao Autonomous County in Guangxi where the Shanjie School is located. [Xinhuan]
The Shanjie School at the Zhongliang Township, Jinxiu Yao Autonomous County in Guangxi. [Xinhuan]
Tao (R) buys meat to prepare lunch for students. [Xinhua]
Tao cooks lunch for her students. [Xinhua]
Tao gives out lunch to her students. [Xinhua]
(Source: Xinhua/Translated and edited by Women of China)