Chen Xuwen (3rd, R), wearing medal and sash, holds her honorary certificate with fellow winners of the Hubei May 4th Youth Medal. [Taiwan Affairs Office of Hubei Provincial Government]
"There is great development potential in the central and western Chinese mainland. If more youth from Taiwan Province come here to start businesses, I believe this will greatly help to boost the economy and to improve relationships on both sides of the Taiwan Straits," said Chen Xuwen,a merchant from Taiwan Province and winner of the 2019 Hubei May 4th Youth Medal.
Chen was awarded the medal on April 30, her 35th birthday. "This is the best birthday gift I've ever had. I feel very lucky. The Hubei provincial government really cares about people from Taiwan Province,"she said.
Chen was born in Taipei, capital of Taiwan Province. After graduating from the Queensland University of Technology in Australia in 2009, she joined the marketing department of her father's corporation in Shenzhen, South China's Guangdong Province.
In 2016, the corporation decided to expand their business. They invested 80 million yuan (US $11.64 million) in the Hanshi Industrial Park in Xiaogan City, central China's Hubei Province, to found Chian Chia Electronics (Hubei). Chen was in charge of this subsidiary in Hubei Province.
According to the Taiwan Affairs Office of the Xiaogan Municipal Government, while trying her best to do business, Chen actively integrated into the local society, positively took social responsibility, and contributed to the local economy and lifestyle improvement.
Her corporation is now a famous Taiwan-funded enterprise in Xiaogan and is a new driver of the economy, employment, and export of goods.The annual tax contribution of the company is nearly one million yuan. It has created jobs for over 120 local villagers, including poverty-stricken people.
Chen Xuwen in her office [Taiwan Affairs Office of Hubei Provincial Government]
"The Chinese mainland shows great concern for fellows from Taiwan Province. I really don't think many people from Taiwan Province know this. If you ask me what suggestion I would give to the residents from Taiwan Province who recently arrived on the Chinese mainland, my answer would be that they should always bear in mind visiting the Taiwan Affairs Office frequently," said Chen.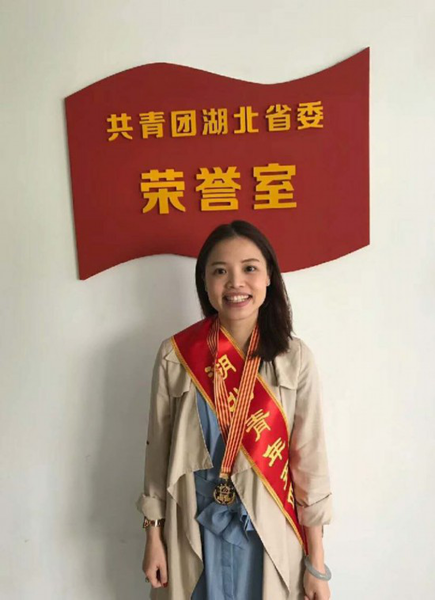 Chen Xuwen, recipient of the 2019 Hubei May 4th Youth Medal. [Taiwan Affairs Office of Hubei Provincial Government]
"I will share my life experiences in the Chinese mainland and the government's beneficial policy with my classmates and family in Taiwan Province. That way they will know about the Chinese mainland's thriving energy and kindness. Some people from Taiwan Province hold the opinion that the Chinese mainland is left-behind and less open,but actually, people can find many excellent talents and cutting-edge technologies here. Taiwan Province should learn from the Chinese mainland in many areas,"she said.
Chen witnessed the fast development of the central and western Chinese mainland. She is very confident of the future, and is planning to transfer the production line of her Shenzhen factory to Hubei Province.
Chen will further explore the domestic and overseas market while basing her business in central and western China. In 2020, her corporation is expected to be ranked among the top three traditional electrical resistance manufacturers of the Chinese mainland.
"People on both sides of the Taiwan Straits are one family. We should love each other. I hope that both sides will further integrate and develop. In this way, exchanges will be deeper and businesses will be better," said Chen.
(Source: Xinhua/Translated and edited by Women of China)