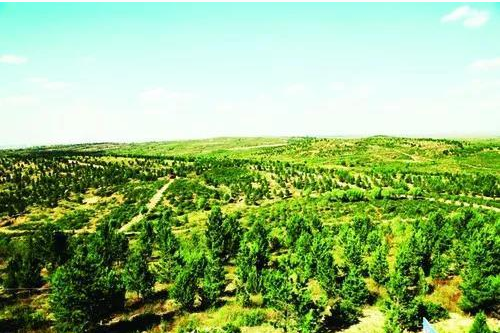 The land in Yulin City is blanketed with greenery. [China Women's News]
The efforts to reforest once-barren Yulin City in Northwest China's Shaanxi Province have borne fruit. Luxuriant Spring greenery can be seen everywhere in Yulin.

It is hard to imagine that the city once had to relocate southwards three times due to frequent sandstorms and a harsh environment.
Prior to the founding of the People's Republic of China in 1949, many Yulin people were forced to leave their hometown, which was located in a zone of transition between the Maowusu Desert and the Loess Plateau.

A campaign against desertification started in the 1950s. Local people's efforts over generations increased the local vegetation coverage rate from 12.04 percent in 2000 to 46.7 percent in 2018.

At that time, a team consisting of 54 militia-women with an average age of 18 years old was known to every household for their legendary actions in combating desertification.

In 1974, the Party committee of Bulanghe Commune in Yulin decided to recruit women to fight against desertification. Tong Jun, an educated youth who left the urban districts to live and work in rural areas, took the initiative to join it.

Xi Yongcui and another seven young women had already signed up for it at almost the same time.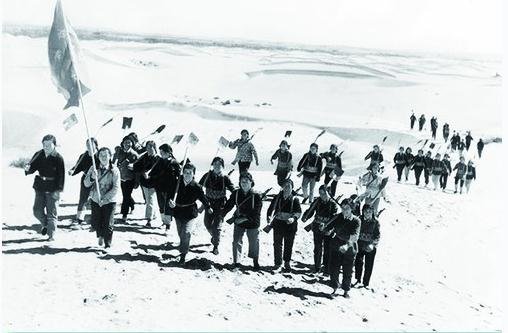 The first team works on the sandy land in Yulin City.[China Women's News]
Tong was appointed the team leader and led the young women to work on the sandy land, where the living conditions were exceptionally poor. They set up tents and settled down.
She recalled that they did not have vegetables for almost half a year.
They braved the strong wind in winter and extreme heat in summer to carry back the salix seedlings from Wangjiamao, a village about 10 kilometers away from their campsite.
However, the seedlings could not grow in the sandy land. So the women transported about 5,000 cubic meters of black soil by wooden trolley for 60 consecutive days, laying it in an area of 5.33 hectares.
A strong sandstorm one night spoiled all their efforts — all the seedlings were buried by half a foot of sand. Many of them could not accept the result and wept.
After technical consultation, Tong led her team members to save the seedlings bare-handed day and night for about a week.
By the end of 1976, they had removed more than 10 sand dunes, built more than 13.33 hectares of irrigated land, dug six wells and planted over 100,000 trees.
In 1979, Pan Shengqing, leader of the second group of women, sped up the pace of turning the desert into an oasis.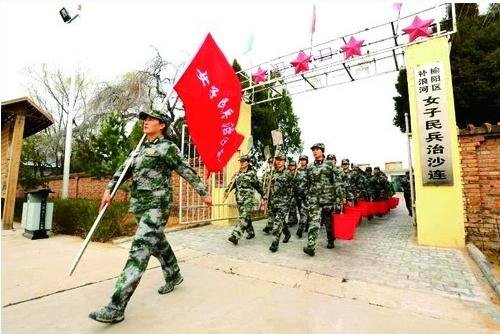 Current team members set out to afforest the sandy land of Yulin City. [China Women's News]
With their determined efforts, Pan and her team turned a 66.67 hectares land into a timber forest in only 56 days.
They also improved their efficiency and reduced the cost with the help of a scientific approach. A wind-powered irrigation facility was built to make trees and crops grow in the dry region.
In addition to afforestation, the team also developed animal husbandry, aquaculture and economic forestry. The members set up factories for rice and noodle processing and wine-making, planted mulberries, bred silkworms and grew grapes, and their incomes increased greatly.
He Aning, a current member of the team from the post-1995 generation, said the difficulties she met were not worth mentioning compared to those of the elder generations.
"It is our mission to inherit the predecessors' spirit in combating desertification, to perform our duty well and to strive hard in our own position," said Xi Cai'e, current leader of the team.
The most practical mission at the moment was to make a regular patrol of the woodland every day, she added.
(Source: China Women's News/Translated and edited by Women of China)