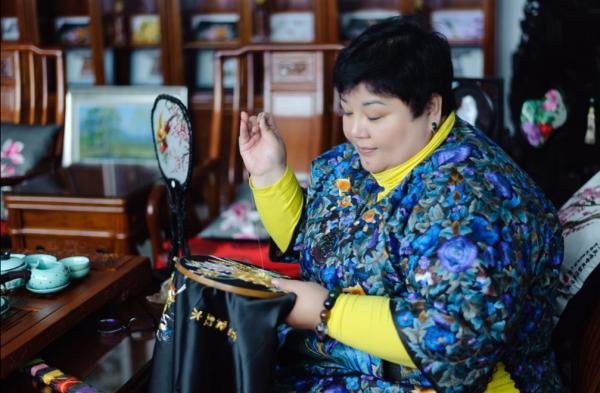 Yang Xiaotong, a fourth-generation inheritor of Manchu embroidery, works on a Manchu embroidery artwork. [nen.com.cn]
Yang Xiaotong, fourth-generation inheritor of the Manchu embroidery, which is on the list of the national intangible cultural heritage, won the first prize at the selection contest of the north division of the Chinese Women's Handicraft Entrepreneurship and Innovation Competition hosted by the All-China Women's Federation (ACWF), on July 20.
Yang was born in Shenyang, capital of northeastern China's Liaoning Province. She began to learn the skills of Manchu embroidery from her grandmother when she was only 4. For traditional Manchu families, girls need to learn how to embroider when they are young. Under the influence of her grandmother, Yang was skilled at embroidering garments of Manchu ethnic group.
The year of 1991 was a turning point for her. Inspired by an oil painting drawn by renowned Chinese classic-style painter Chen Yifei, she began to embroider artworks.
Yang has created nearly 1,000 Manchu embroidery artworks in the past years, winning a number of awards.
Things happened unexpectedly. Yang got seriously ill and had to stay in bed for four years.
"I did not fear death, but I was worried that the skills of Manchu embroidery that have lasted for hundreds of years would be lost," Yang said.
She made up her mind that she would introduce Manchu embroidery to more people, so they could learn and inherit the skills of making Manchu embroidery.
At the beginning of 2017, Yang sadly found that few people mastered the skills of making Manchu embroidery, and she worried the Manchu embroidery culture was about to disappear.
This confirmed Yang's determination to take up the responsibility of inheriting the Manchu embroidery. She won the public's recognition as the fourth generation inheritor of Manchu embroidery with her exquisite skills and works.
Yang also managed to find a way to integrate Manchu embroidery with cultural and creative industries to bring about the commercialization of the Manchu embroidery.
She wanted to teach more women living in remote rural mountainous areas to master the skills of making Manchu embroidery and improve their living conditions. So, she set up a Manchu-embroidery poverty-alleviation workshop in Lagela Village, Fuxin City in Liaoning Province, in May 2018. She provides free training sessions and materials to impoverished women in the village, enabling them to work at home.
"Taking one of our projects for example, we gave local women 480 yuan for an embroidered piece, and a woman can complete at least three pieces on average per month in slack times," said Yang.
"Woman who are proficient in embroidery skills can earn more than 2,000 yuan per month, significantly helping them alleviate poverty," Yang continues.
So far, Yang has established 103 poverty-alleviation workshops in Liaoning Province. She has trained more than 5,000 people, and more than 1,500 rural women have earned money through making Manchu embroideries.
(Source: China Women's News/Translated and edited by Women of China)