Jiang Yishan [Women of China]
Peking opera artist Jiang Yishan won the Plum Performance Award (in 2013), China Gold Record Award (in 2013) and Best Protagonist Award during the 21st Shanghai Magnolia Drama Festival (in 2011). She has been promoting the traditional Chinese art form among younger generations in China in recent years. "To inherit Peking opera, we should not only learn from our predecessors, we should also teach the next generation the traditional art form. Only when the younger generation loves Peking opera, will the art form truly have vitality," she says.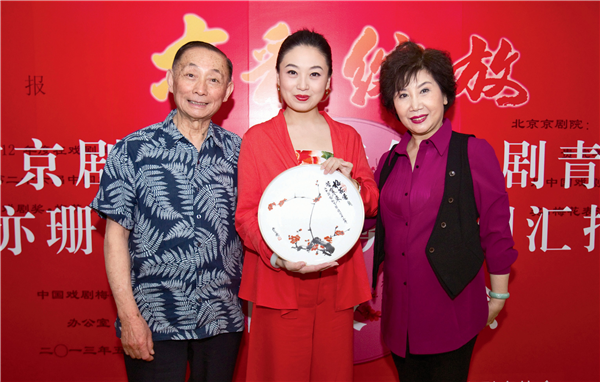 Mei Baojiu (1934-2016), Jiang Yishan and Xue Yaping (from left to right) [Women of China]
As a national, first-class actress with Jingju Theatre Company of Beijing, Jiang has created vivid images of many qingyi roles (female roles of young or middle-aged women with gentle and refined dispositions in Peking opera) throughout her career.
She was taught by Xue Yaping, a representative figure of Zhang Junqiu (1920-1997) School of Peking Opera. She was also taught by Mei Baojiu (1934-2016), son of Peking opera master Mei Lanfang (1894-1961).
Good Start
Jiang was born in Shenyang, in Northeast China's Liaoning Province, in 1978. Her parents are fans of Peking opera. Jiang is always happy when she talks about her parents. "I could not have become who I am today without my parents' support. I appreciate that I was born with a good body and a good voice. In the 1980s, not so many children learned Peking opera. But my parents allowed me to study at an opera school," she says.
"I am impressed by the courage of my parents, and by their faith in Peking opera. They are always my strong backup," she adds. As she lived in a favorable family environment, Jiang developed a stable personality and a solid work ethic.
"The weather in Shenyang was really cold in winter. As the condition of our school was not good at that time, we had to practice singing in front of a wall. We could have a break when the frost on the wall was gone due to the breath coming out of our mouths," she recalls.
Keep Learning
Jiang practiced ballet dancing for more than two years after she turned 6. At the age of 11, she was admitted to Shenyang Art School to study Peking opera. She actually took the entrance exams for both dancing and Peking opera. She earned a higher grade on the opera exam, even though she had not previously studied opera.
Jiang was more than 1.6 meters tall at that time. The school's teachers said she had a good shape and a good voice, and so she was a suitable Peking opera student.
As it turned out, Jiang had a talent for learning Peking opera. She was modest and intelligent, and she learned quickly. After three months, the school organized a party for the students, during which they performed on stage. Jiang gave a good performance.
Jiang joined Shenyang Peking Opera Troupe in 1996. Her beautiful stage appearance, posture and singing impressed many Peking opera fans.
In June 2000, Jiang transferred to Tianjin Jingju Theatre Company, in North China's Tianjin Municipality. The year, 2000, marked the 80th anniversary of Zhang's birth. A series of performances were staged in September that year. Jiang began studying under Xue in September 2000. Under Xue's guidance, Jiang greatly improved her skills.
After she completed her postgraduate courses, at the National Academy of Chinese Theatre of Arts, in Beijing in March 2007, Jiang joined Mei Lanfang Peking Opera Troupe, under the Jingju Theatre Company of Beijing.
Her humble attitude and splendid performance touched Mei Baojiu, and he promised to teach her in February 2008.
Promoting Peking Opera on Campus
Peking opera is one of China's national treasures. Peking opera performers generally are concerned about inheriting and promoting Peking opera. Jiang's view of inheriting Peking opera is unique.
"As Peking opera performers, it is our responsibility and obligation to inherit the traditional Chinese art form. We should not only learn from our predecessors, we should also teach the next generation the traditional art form. Only when the younger generation loves Peking opera, will the art truly have vitality. We should not only cultivate Peking opera performers, we should also cultivate Peking opera fans and spectators," Jiang says.
She has always paid attention to the inheritance of Peking opera, and she has tried her best to teach the art form to younger generations.
Since 2012, when she became a member of the Beijing Municipal Committee of the Chinese People's Political Consultative Conference (CPPCC), she has been dedicated to promoting the traditional art form among students.
During the students' extracurricular activities, Jiang helps the students learn about Peking opera, experience the charm of the traditional art form and develop a passion for traditional Chinese culture. Jiang says it is crucial that children have a better understanding of the essence of traditional Chinese culture through learning Peking opera.
She has served as a Peking opera instructor at Beijing-based Shijia Primary School since 2016. Under her guidance, hundreds of pupils have learned Peking opera, and they have performed on stage.
This year, Jiang began teaching Peking opera at Cotton Kindergarten, in Beijing. The children won the first prize at the local Peking opera competition among kindergarten children.
Jiang says it is important to provide cultural and artistic enlightenment and education to children in the first few grades of primary school.
Using High-tech Approaches
Jiang has been exploring ways to better guide younger generations as they learn about Peking opera, especially those who were born in the 1990s and the 2000s.
She suggests using modern, high-tech approaches, including VR (virtual reality) and AR (augmented reality) technologies, to help develop students' interest in Chinese opera, and to bring new vitality to the traditional art form.
In recent years, the Beijing Municipal Education Commission has encouraged college and university instructors, and various social forces, to work together to promote the development of sports and art education in primary schools.
As a result, some students have developed a great interest in Chinese opera. However, it remains to be seen if the students will persist in learning opera.
China issued the Opinions on Operas Education on Campus in 2017. That document stipulates students should have access to opera education in basically all schools by 2020. How will opera be part of children's life? Jiang says VR and AR technologies provide a good opportunity to allow more children to have access to Chinese opera.
"We can combine opera education with VR and AR technologies to produce interesting and helpful VR and AR products. For example, we can design Peking-opera- themed VR and AR games. Users can change the clothes and/or change the roles of various cartoon figures of Peking opera during the games. With the guidance of teachers, children will obtain more knowledge about Peking opera through playing such games," Jiang says.
"The games can also include training courses on Peking opera, Peking opera performances and the historical stories behind the performances. Such games may ignite children's curiosity and thirst for knowledge and encourage children who have a talent for learning Peking opera to receive further professional training on Peking opera," Jiang adds.
She also suggests using VR and AR technologies to expand and innovate the traditional ways of teaching Peking opera. "Based on the traditional teaching materials, we can take advantage of the modern technologies to establish a supplementary data base. Students can use mobile devices, including mobile phones and tablets, to scan QR codes to access audio and video material and documents at any time. Thus, students can learn in a more efficient, precise and flexible way," Jiang says.
"We must innovate the ways of promoting Peking opera, according to the characteristics of younger generations, and we should touch their hearts by means of unique artistic expressions and favorable publicity methods," Jiang concludes.
(Women of China English Monthly August 2019 issue)