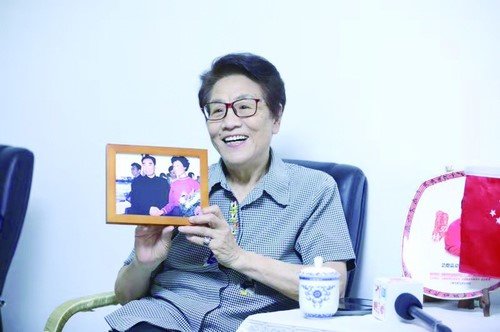 Zheng Fengrong shows a photo of Premier Zhou Enlai shaking hand with her after a high jump competition in Beijing in 1957. [China Women's News]
Zheng Fengrong, born in 1937, in Jinan City, East China's Shandong Province, was a high jumper and the first female athlete in China to break a world record in track and field in 1957.
When Zheng was young, she was good at sports activities like running and jumping.
Because of her outstanding performance, Zheng was selected as a member of the national track and field team in 1952 to practice high jump in 1953.
As a member of the national track and field team, Zheng set her goal of "training hard for China's glory".
The training conditions at that time were difficult and the facilities were poor. The high jump bars were made of bamboo, and the landing area was a pit. "It was dark training at night so that I had to tie a piece of white handkerchief on the bamboo jump bar." she said.
Hard training kept improving her performance. In 1954, Zheng broke the national record of women's high jump and in 1957 she won the first place at 1.72 m in an international track and field competition in Berlin.
On November 17, 1957, Zheng broke the world record of women's high jump at 1.77 m in a competition in Beijing.
Six years after breaking the world record, she jumped at a personal best of 1.78 m, going beyond herself.
After retirement, she was still involved in the sports sector. Since 1979, she served as the Vice Chairwoman of the China Athletics Association. In 1980, she worked in a China sports service company and participated in the work behind many sports events, including the Beijing Marathon, the Hong Kong-Beijing Rally and a Yangtze River adventure.
Zheng's husband, Duan Qiyan, was also a high jumper. They have been attached to each other for more than 50 years due to their common interest in sports.
The love and persistence of Zheng and her husband in sports have a great influence on their grandchildren who have demonstrated outstanding talent in sports.
When I was small, I dreamed to be an athlete like my grandmother, said Zheng's grandson. "She is like my idol, and I hope I can reach that level in the same way as her."
On the day of Zheng's 80th birthday, her grandson expressed his willingness to give up Canadian citizenship and represent the Chinese team in the 2022 Winter Olympics.
Their granddaughter also submitted a statement to the International Association of Athletics Federations (IAAF), expressing her willingness to represent China at the 2020 Tokyo Olympics. "My grandmother has never been able to participate in the Olympic Games. I want to help my grandmother realize her dream," she said.
Speaking of her biggest wish now, Zheng said: "We need to live a healthy life. We want to see our grandchildren participate in Olympic Games representing China."
(Source: China Women's News/Translated and edited by Women of China)