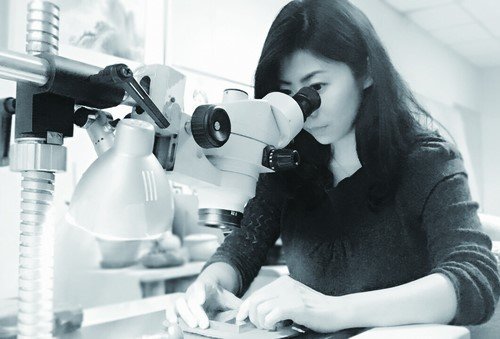 Dong Qi engraves a stamp [China Women's News]
Stamp engravers are rare professionals. Currently, there are only 10 in China and Dong Qi is one of them. A number of her stamp works have been well-received by industry insiders and stamp collectors, and the stamps for the Year of the Pig released in 2019 are proving a milestone of her career.
"Stamps are praised as the 'national calling card,' and a window to show a nation's culture. Stamps accurately document the key events of a nation's historical process. I would like to tell the stories of stamps to everyone," says Dong.
2018 was an important year to Dong. Her stamp engraving for the Year of the Pig enjoyed great popularity among stamp collectors and her book about history of the stamp engraving in China — first monograph published in China — was included in the World Stamp Exhibition.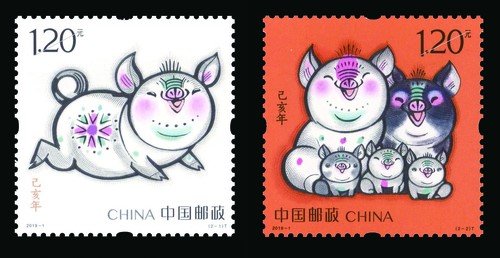 The special stamps of the 'Year of the Pig' released in 2019 [China Women's News]
"Only continuous practice, research and hard work can make a stamp engraver grow up and achieve success," says Dong, who has made such effort in the past 10-plus years and has gained deep insight based on "no pain, no gain."
A New Start at the Age of 29
Dong spent her early years in northwest China's Xinjiang Uygur Autonomous Region. At the age of 29, she was temporarily transferred to Beijing for a one-year advanced training program at the Postage Stamp Printing Bureau of China. The year marked a new start in her life.
Dong had worked at Xinjiang Post Office for philatelic work for six years after graduating from university. In 2005, she was dispatched to the Postage Stamp Printing Bureau of China Post Group.
In that year, Dong learned from senior engravers who helped her greatly improve her artistic design. Later, she was lucky to stay and join the Postage Stamp Printing Bureau where she strove to become an outstanding stamp engraver.
"To be a stamp engraver requires professional knowledge and a passion for stamps, as well as great concentration. Indeed, I meet all these requirements because I enjoy engraving stamps so much," she says.
Dong was well trained at the Bureau. She apprenticed to Hu Zhenyuan and Li Defu to learn stamp engraving and traditional Chinese ink landscape painting. She studied at the Chinese National Academy of Arts for design art; she also participated in the training course jointly organized by China Post Group and Post Danmark with the world famous stamp engraver Martin Morck as the instructor.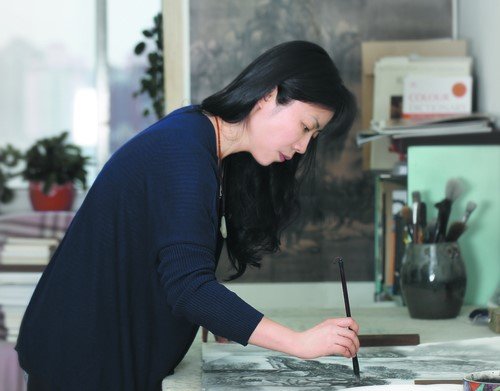 Dong Qi executes an ink painting [China Women's News]
"It was beneficial to learn from Martin Morck and Chinese stamp-engraving professionals, though they adopt different pedagogic approaches," Dong says.
Dong tries to make every stamp perfect because of her deep love of the art. When she worked on the Beijing Alters and Temples stamp works, she paid several visits to temples in Beijing and she took a number of photos of the architecture from different angles, to show the magnificence of Chinese imperial buildings.
Thanks to her sustained effort and outstanding skills in painting, design and engraving, Dong's engraved stamp works Year of the Pig, which are based on the paintings of acclaimed Chinese artist Han Meilin, perfectly embody the unique charm of stamp engraving. She has won thumbs-up from professionals and stamp collectors.
Bringing Stamp Engraving to More People
Although China introduced stamp engraving intaglio 110 years ago, there was no monograph about the technique in this regard. To arouse people's awareness of the art and to familiarize more people with artists in this field, Dong took three years to complete the book Engraving Times — the Oral History of Chinese Stamp Engraving Intaglio, narrating the stories of stamps and experiences of stamp engravers, designers, collectors and researchers.
"Stamps document the process of our nation's development. It's my honor to tell the stories to everyone by tiny stamps," she says.
(Source: China Women's News/Translated and Edited by Women of China)