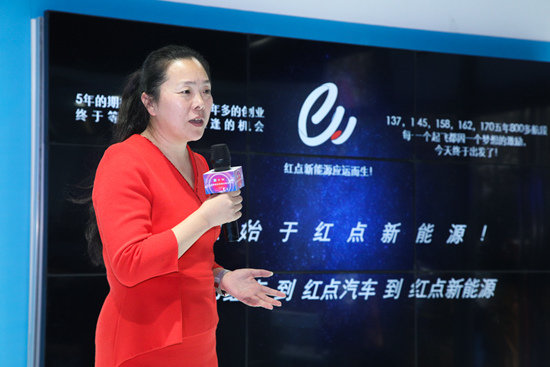 Zhang Hong [Cyol.com]
Zhang Hong, founder of the electric vehicle service provider Red Dot New Energy, attended the unveiling ceremony of the company in Beijing on December 15.
As one of the first batch of reporters engaging in the auto industry journalism in Chongqing, southwest China, Zhang established the auto special issue of Chongqing Morning Post has managed it for over 20 years, in addition to create an auto team.
She first joined the portal website and served as the editor-in-chief of Auto iFeng.com, and then attempted to create the new media convergence place online and offline during the Internet revolution in 2016.
Zhang said that the established experience center of the brand aims to provide a communication platform to serve auto manufacturers, media and consumers.
She introduced that for consumers, the experience center provides appraising and testing of mainstream brands of new energy vehicles and smart cars that are currently sold in the country. It is also the first open electric vehicle activity base which can offer various open courses, test rides, and new car appraisal sessions by manufacturers and traders.
For the increasingly large number of new energy vehicle users, it is also an open platform for exchanging experiences, making friends and group travelling, as well as a professional exchange venue for various interactive salons.
Wu Yingqiu, president and CEO of Globe Auto Group, commented, "The transformation of the automotive media should be highly integrated with the entire industrial chain of the automobile. I hope that the experience center can be operated as a very meaningful platform for the development of new energy vehicles, and a useful exploration of media transformation."
Zhang revealed that to "shatter the iron rice bowl and start a business" requires not only courage but also the ability to remain speculative about the future of the automobile industry.
In the past 40 years of reform and opening up, China's auto industry has taken an active part in the development of the world's auto industry, which is also experiencing a booming time for the development of new energy vehicles.
However, relevant promotion and popularization have not been fully utilized at present.
"At the critical stage of the transformation of the media and the automotive industry, consumers' understanding and awareness of new energy vehicles needs to be further deepened, and it requires more innovation," Zhang said.
Zhang added, "It is my responsibility to promote these new concepts in the market so that consumers can perceive the bright future of new energy."
(Source: Cnwomen.cn/ Translated and edited by Women of China)