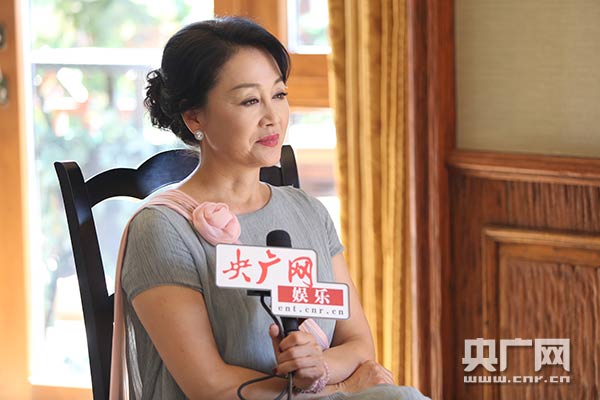 Wang Ji [Cnr.cn]
Heidi Wong, also known as Wang Ji, was born in Beijing in July 1962 and was a former performer from Beijing People's Art Theatre. In 1994, Wong was awarded with the Best Actress Award at the 12th China Golden Eagle Awards for her performance in the TV drama A Native of Beijing in New York.
Wong is good at shaping the image of women with her unique personality and pursuits. The smart, capable, independent and strong character she played in A Native of Beijing in New York was the reflection of the female image as transformed by modern society, which changed people's typical image of the modern Chinese woman.
This kind of "superwoman," in general, requires strong execution capabilities and nearly perfect plans for the future. On the one hand, they are professional, decisive, sensitive, and efficient; on the other hand, they exercise control of their desires, a defensive mind and utilitarianism.
Wong has portrayed many such images in dramas, such as Lin Hanbing of Evidence of A Crime, Empress Wu Zetian in the series of Protector of Man for All Seasons Di Renjie and Empress Lü in Wind Song.
Due to the interpretation of such characters, Wong has a deeper understanding of being a superwoman. "The image of a superwoman may not be attractive to men, maybe even unattractive; on the contrary, women worship or admire those people," said Wong.
"In my opinion, superwomen are more neutral and represent all professional women, who are created by their environment. It takes sacrifice to achieve what you want. Take some female directors for example, they have to be dominant and straight to the point so that they are able to control their entire crew. Otherwise they could only be script clerks," Wong added.
Wong revealed that she went to the U.S. with only 60 dollars in her pocket when she was 25 in 1987. Faced with the difficulty of having no money in a city, she had to continuously work to keep a roof over her head, including working on street stalls, being a choreographer, advertising and working as a manager in a small hotel.
The hardships of life led to an open-minded personality and contributed to her performance in her later drama series.
From the perspective of Wong, she thought it better to be a professional woman because you wouldn't spoil yourself. "Sometimes men around us are not as strong as we are. This is the journey that professional women must experience. It's bound to harden you so that you can survive in the storm," said Wong.
Apart from being an actress, Wong is also a strong and caring mother. During the 2008 Olympic Games, Wong and her daughter, Angela Gao, partnered together to serve as volunteers for the Olympic Games.
Gao is proficient in many languages and achieved an excellent academic performance, whilst also having a talent for acting. However, Wong wasn't pleased to hear that Gao intended to develop her career in the entertainment industry.
Wong wished there was an alternative for Gao instead of working in this profession. Wong revealed that she was pregnant when she was filming A Native of Beijing in New York. Due to the stress from both work and life during her pregnancy, her son was born with an intellectual disability.
Owing to Gao's persistence in her pursuit of her career, Wong, after some deliberation, accepted her decision.
In August 2016, Wong participated in the comedy film Coming Soon, where she played the resolute chairperson of the board of directors of a media company. "It's very appealing to me, because it reflects and satirizes many phenomena in today's film and entertainment industry," said Wong.
Wong tends to be straightforward and never complains, which emits the unique charm of Wong's personality. Whether in good times or in adversity, Wong embraces life with her entire enthusiasm.
(Source: Cnr.cn/Translated and edited by Women of China)