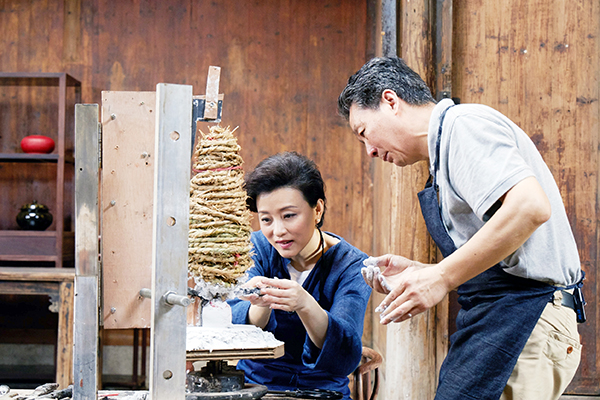 Yang Lan learns to make the rhino-skinlike lacquer, an almost lost heritage revived by Gan Erke, a master from Anhui province, in a documentary program about Chinese craftsmanship called The Legend of Designers. [China Daily]
TV host and entrepreneur Yang Lan says she is lucky that her entire career has overlapped with the major part of the country's reform and opening-up, which she calls "a golden three decades for television".
In fact, several major transitions in her career are actually consistent with the development path of the media and entire cultural industry in China.
"Reform gave me the chance to become a TV host in the first place," says Yang, with her signature smile, at her office in downtown Beijing.
In 1990, Yang, freshly graduated as an English major, stood out during her China Central Television recruitment because of her image and natural hosting style-being given the opportunity to host a new program called Zhengda Variety Show.
Yang says she was chosen as one of the hosts because the organization was looking to change its traditional hosting style, and her "clean background" as a young host became an advantage.
The program, which sought to introduce the outside world to a Chinese audience, was innovative, as it featured lighthearted studio interactions with guests.
With the program's rating reaching a record-high 20 percent, she became a household name nationwide.
Despite her success as a young anchor, Yang started thinking about the future, and surprised everyone when, in 1994, she resigned from CCTV and went to study for her master's degree in the United States.
"I wasn't satisfied, and eagerly wanted to see the world," Yang explains, though she had not figured out what exactly she was looking for and in which direction she was headed.
"Most young TV hosts in China tend to face bottlenecks later in their careers. I just believed that I should appreciate in value over time, rather than devalue."
Yang returned from the US in 2001 and started Yang Lan One on One, which was the first high-end TV interview program in China.
The show has become one of the longest running, and most influential, of its kind in China. It has featured interviews with around a thousand public figures, from various fields and many countries, covering hot topics in politics and economics, as well as social and cultural issues-each one offering the personal experiences.
According to Yang, she started the program after seeing the trend of a more in-depth integration between China and the world thanks to the fast development of the country.
"The shallow and general introductions about the outside world weren't enough anymore, the Chinese audience needed more thought and culture," Yang says.
In Yang's eyes, the real dividend of "reform and opening-up" comes from the liberation of individual creativity.
"We didn't have the chance to choose what we wanted to do before, and then we were given the chance. I am the one who is willing to take certain risks and I made my choice," Yang says.
Seeing great market potential in the media industry, Yang founded the Sun Media Group with her husband Wu Zheng, as well as establishing one of the earliest documentary channels in China in 1999.
After years of development, the company has become one of China's leading privately owned media groups, with businesses expanding from TV production and education to sports and cultural tourism.
Yang says her business venture hasn't been without challenges, but she has stuck to her belief, even during the most difficult times.
"We want to create truly original and valuable cultural products," Yang says.
In recent years, she has also learned to handle both the opportunities and challenges brought about by the fast transformation of media technology and its business models.
"Things change quickly. There is no need to panic, nor blindly follow the trends. Too often it's hard to keep up with the trends. I believe that adhering to originality, quality and content-rich products can help us survive," she says.
In recent years, her company has released several critically-acclaimed documentary programs, such as The Legend of Designers, which is about Chinese crafts and the beauty of craftsmanship, and In Search of Artificial Intelligence, a documentary on the development of artificial intelligence.
"I've always been thinking about how we can let the world know about what's happening in China," Yang says.
"You'll see in these programs that, with the development of science and technology, China has changed greatly, from mimicking others to paying great attention to originality; from quantity and appearance first, to quality and innovation first, with an emphasis on personal aesthetic values."
Nowadays Yang maintains tight schedules, and splits her time almost evenly between managing her company, creative work, such as hosting and planning new TV products, and her social work and philanthropy.
"I have gradually reshaped my way of thinking. I can be blown away by some great creative ideas like before, but now I have to think about the practical aspects, too, including how the ideas can be realized and at what cost," says Yang, speaking about her changing role.
As a celebrity, Yang is involved in many important social activities, including presenting on behalf of Beijing for the application to become the host city of the Olympics, both in 2001 and 2015, respectively.
According to Yang, she felt the different attitude of the Chinese people while applying for the 2008 Summer Olympics and the 2022 Winter Olympics.
"We wanted to invite the world to see China when we applied in 2001, but the attitude changed in 2015, because by then we wanted to contribute more to the progress of the world of sports, so, in my presentation, I was particular in introducing the changes in China, the great prospects of our sports industry and its potential for the promotion of the global Olympic movement."
(Source: China Daily)