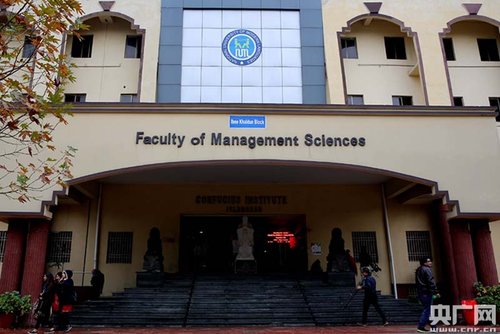 The entrance to the Confucius Institute in Islamabad [cnr.cn]
A young woman from northern Pakistan has become a strong fan of Chinese culture after she spent the past year-and-a-half learning the language and set her sights on becoming a Mandarin teacher in her country.
Saira Banu, 23, currently lives in Islamabad, where she is a student at the Confucius institute, along with several hundred other Mandarin learners.
Although Banu has not visited the country yet, she can already speak Mandarin fluently. Her Pakistani boyfriend, who studied Chinese abroad himself, has also given her a Chinese name – Ming Yue, which means "bright moon" in English.
Following in her boyfriend's footsteps, Banu says she wants to study in Hangzhou, east China's Zhejiang Province, when she passes her Chinese Proficiency Test (HSK) exams.
Her boyfriend is not the only one she knows studying the subject; her youngster sister is pursuing her academic studies in Hangzhou, too. Banu said she is so enthusiastic about Chinese that she advised her younger brother to study it as well.
Banu explained that the implementation of the China-Pakistan Economic Corridor has brought in more employment opportunities and greatly contributed to bilateral exchange.
When talking about her future, Banu hopes to teach Mandarin in Pakistan, teach Urdu to Chinese people, and she believes that the two countries' gap will be narrowed down through mutual learning and common development.
Saira Banu (R2) attends a Chinese lesson. [cnr.cn]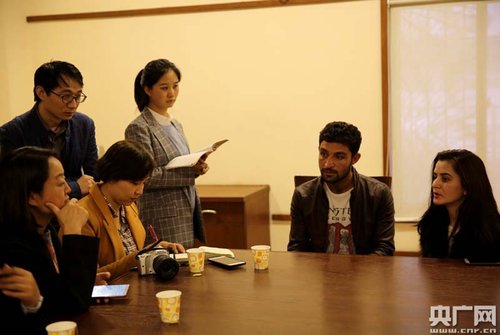 Saira Banu is interviewed by some Chinese reporters. [cnr.cn]
(Source: news.cnr.cn / Translated and edited by Women of China)