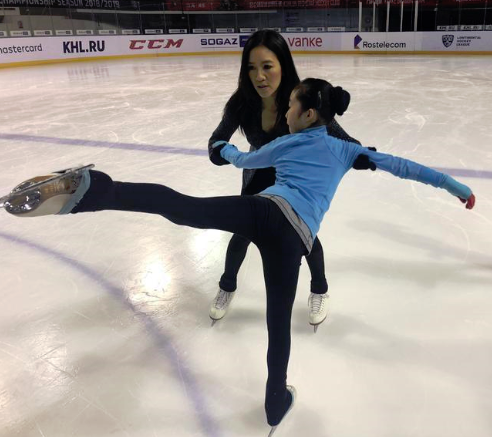 Michelle Kwan teaches a child to ski. [Xinmin.cn]
American figure skater Michelle Kwan participated in an extracurricular training course for young sports enthusiasts at the Feiyang Skating Center in Shanghai on December 5.
Kwan is originally a native of Zhongshan, south China's Guangdong province. Her parents immigrated from Hong Kong to the U.S. where for years they struggled to maintain a stable family life by working in a Chinese restaurant.
Kwan's interest in figure skating began at five when she followed her elder sister onto the ice.
Kwan's family could not afford the sisters' training because of serious financial difficulties. The sisters had to get up early at 3 a.m. so as to enjoy free use of the nearby rink at the time.
Kwan gradually found her direction on the ice. However, the cost of ice skating and hiring a coach almost overwhelmed the family.
When Kwan was 10, her family could no longer afford a trainer, but they were offered financial assistance by a fellow member of the Los Angeles Figure Skating Club, which allowed her to practice there.
Through her talent and extraordinary efforts, Kwan has shone at many major competitions.
Kwan has won nine U.S. championship titles and five gold medals at the World Figure Skating Championships, as well as two Winter Olympic medals.
The story of Kwan has inspired children of countless families to courageously pursue their dreams. Her confident image has also claimed popularity among Americans.
Kwan has had cartoons and a Barbie doll made in her image, and a heroine was even named after her.
In 2006, she studied political science and international relations at the University of Denver in Colorado and met Condoleezza Rice, then U.S. Secretary of State, who named Kwan as a diplomat.
In 2009, due to a hip injury, Kwan announced the resumption of her studies and officially bid farewell to her athletic career. She completed her postgraduate studies at the Tufts University Fletcher School of Law and Diplomacy.
Kwan has accumulated rich experience in social activities and stepped into the political sphere.
Speaking of Shanghai, Kwan said she is familiar with the city because she has participated in Special Olympics-related activities there in 2007, which entirely changed her view of the city.
Kwan grew up speaking a mixture of Cantonese and English, and speaks Chinese at home since she believes that she is originally a Chinese.
Skating is still the favorite sport item of Kwan, and she always goes back to the rink, when she was inspired to solve life difficulties in the repeated rotations and winding.
She said, "Figure skating still makes me realize how important teamwork is, and the ability of getting up after falling down is needed at various stage in our life's journeys. I was fortunate to learn the lesson through my childhood, thus figure skating has brought me lifelong wealth."
Teaching at the event, Kwan said, "There are going to be future Olympic athletes and even champions among these kids, and they should aim high, and make every effort to achieve their goals."
Michelle Kwan and the children [Xinmin.cn]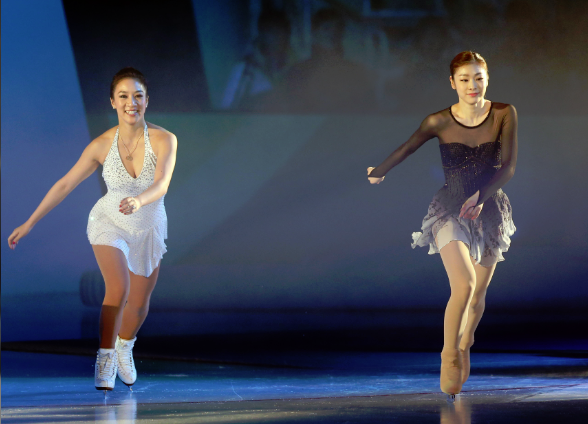 Michelle Kwan (L) [Xinmin.cn]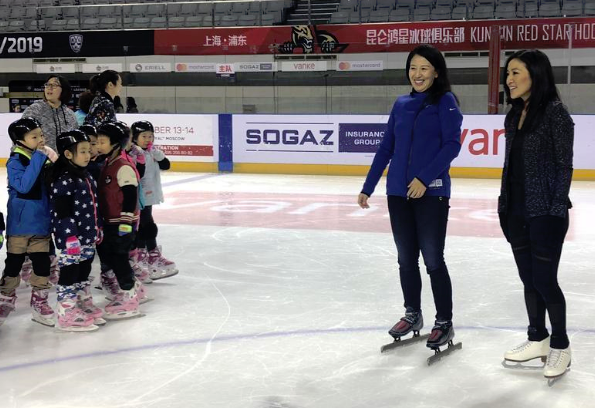 Michelle Kwan (R2) [Xinmin.cn]
(Source: Xinmin.cn/ Translated and edited by Women of China)