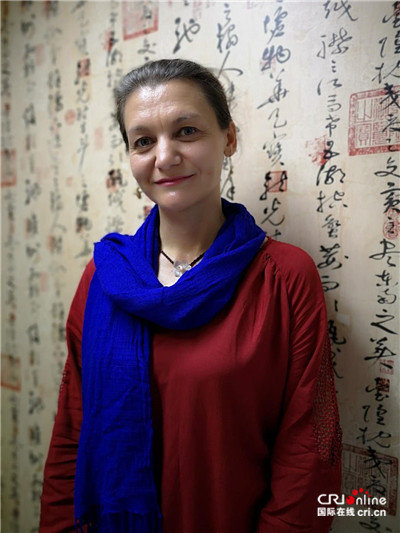 Ruzie Syuleyman [cri.cn]
A Bulgarian editor who works at a radio station in Beijing recently shared her view on the rapid development of China in different ways over the past decade.
Ruzie Syuleyman has been in China for 10 years, and is employed at the Bulgarian Department of China Radio International (CRI).
"China's development is fast and quality-centered, so I think the growth is significant," she said.
She explained China's dramatic changes in four fields; firstly, in terms of transport.
"In the past, it was inconvenient to buy a round-trip ticket. If I wanted to travel by train, I must firstly arrive at the destination and then buy a return ticket there. Now, every ticket is available to buy via mobile phone or computer. I usually buy train tickets on the computer," she stated.
"The trains drive at a faster speed. For example, a whole night's journey time has been narrowed to two hours thanks to the G-series high-speed train," she continued.
Then, she spoke of China's progress in medical treatment from two perspectives. One is the advanced medical service system and the other is Chinese medicine's increasing popularity with the world.
"To see a doctor, people had to line up in clusters in early morning for a long time. Things have changed now. With advanced and intelligent equipment, I can see a doctor efficiently," she said.
As a person interested in traditional Chinese medicine, she is glad that more and more people learn this field.
"As far as I know, traditional Chinese medicine has entered the medical system of the U.S. Some news said that Chinese medicine is also covered by insurance there. American patients seek treatment from Chinese doctors too," she pointed out.
"Many foreigners learn Chinese medicine in China and then return to their homelands to serve their countrymen. This is also true with people in my country. I know a Bulgarian doctor who is skilled at acupuncture," she added.
Syuleyman then changed the topic to China's internet.
"It is so convenient to buy things through mobile payments. All you need when you go shopping is a cell phone. China has surpassed many other countries in this respect," she explained.
China's online video platforms also amaze her.
"China has lots of online platforms such as WeChat and Douyin (Chinese version of TikTok) where people can share interesting videos. People in my country mainly use Facebook and their way of sharing is not so flexible as China's," she commented.
Finally, she talked about growing trust among people, which began with an interesting experience of her in her college days.
"One of my classmates and I traveled to a temple near Datong, North China's Shanxi Province. We stayed there till evening and found no bus was available. Not knowing how to return, we went to the parking lot to take our chance. Soon, a driver volunteered to help us. I asked him how much he charged, but he said he did so for free. He asked me to sing a foreign song to make our trip happier," she recalled.
"We then got in his car. Whenever he drove past a town, he would pull up to find if there were more people in need of help. We talked and sang together happily along the way and arrived in Beijing," she added.
"Another case in point is the Belt and Road initiative, which has exerted a good influence on the international community, including my country," she said.
More Chinese companies have set up branches in her homeland, offering many jobs to locals. Chinese people also rent land in Bulgaria owing to fertility and low rent of land there, which strengthens the cooperation between the two countries in agriculture, according to her.
Syuleyman hopes there will be more cooperation and communication between countries, which will bring win-win results.
Ruzie Syuleyman [cri.cn]
(Source: cri.cn/Translated and edited by Women of China)