A sculpture of Ge Jianhao [Hunan Daily]
Hunan Daily recently reported on the legendary life of Ge Jianhao, who cultivated four outstanding proletarian revolutionaries during modern Chinese history.
Ge, formerly called Ge Lanying, lived from 1865-1943. She was a pioneer of the Chinese women's liberation movement in its early period; as well as being a female education pioneer and revolutionary.
Furthermore, she became well-known for studying in France with her daughter and son, even though she was already 50 at the time. In addition, she positively supported her adult children to engage in the revolution.
Ge was the mother of a famous family including Cai Hesen, Xiang Jinyu, Cai Chang, and Li Fuchun.
Cai Hesen, her son, was one of the founders of the Communist Party of China (CPC); her daughter-in-law, Xiang Jingyu, was the pioneer of the women's liberation movement and a founder of the CPC; Cai Chang, her daughter, was the first president of the All-China Women's Federation (ACWF); and, her son-in-law, Li Fuchun, was the former vice-premier of the State Council and member of the Secretariat of the CPC Central Committee.
Ge was born in Shuangfeng County of Central China's Hunan Province. She sold her dowry to fund her study; established schools for women; and, engaged in the women's liberation movement.
Even though she was not a member of the CPC, she was included in a biography of great people in the history of CPC. When she passed away, Chairman Mao wrote an elegiac couplet to mourn her death.
Revolutionary Thought
Ge began to study in the family school when she was five years, and could recite classical works such as The Great Learning, and The Works of Mencius.
At 16, Ge got married to Cai Rongfeng, who was from a local wealthy family. After being married, they raised six children.
Ge visited Qiu Jin, a female revolutionist, several times, as Qiu's husband's home was nearby.
Influenced by her revolutionary thoughts, Ge always talked about Qiu's experiences with her children, and admired her activity of awakening women's consciousness through establishing specialized schools.
Aspiration
With the revolutionary enlightenment from Qiu, Ge knew clearly that only knowledge could change her fate.
On the one hand, she actively supported her children to study, and on the other hand, she felt that to save the nation and people, she should learn more knowledge herself.
Therefore, Ge decided to study at school along with her daughters, sons, and even granddaughter, which was a rare phenomenon at that time.
The First Women's School in Xiangxiang County began to enroll students in 1913. As soon as they heard the news, Ge resolutely sold some of her jewelry to cover the necessary expenses. She went to the County with Cai Hesen, Cai Chang, and her oldest daughter Cai Qingxi, as well as with her granddaughter Liu Ang.
However, seeing she was a middle-aged, feet-bound woman, the teacher refused to enroll her.
Ge was so angry she ordered her son to write the complaint to the county's government. Local officials asked her: "Why do you want to study?" Ge answered: "Both men and women should study to seek salvation." Shocked by her answer, the official commented on the document that her aspirations should be recommended. So, Ge was enrolled in the school exceptionally.
In 1914, Ge's husband wanted to sell their 10-year-old daughter, Cai Chang, to a rich man's family as a child bride. Ge and her son Cai Hesen opposed strongly about it.
All of them thought only escaping could solve the problem, so Cai Hesen decided to take her sister Cai Chang to continue studying in Changsha.
In 1916, Ge took Cai Qingxi and her granddaughter Liu Ang to study in Changsha, too. At that time, it was praised widely that three-generations of family members all studied together.
Ge continued to study hard when she was in Changsha, and she soon became the supporter and participant in the revolutionary activities when her son Cai Hesen met with Mao and other motivated young men. Also, she had learned many new thoughts during the talks with them.
Study in France
In 1919, Ge borrowed some money to raise the funds for young people's studying overseas.
Cai Hesen encouraged her mother to go to France, so finally, Ge and some 30 students including Cai Chang, and Xiang Jingyu went to study in France, and departed from Shanghai.
They arrived in January 1920. Ge studied at Montargis Women's School with another six women. With dogged determination, she studied French from simple words. At last, she could communicate with others and read French newspapers.
Ge also supported her sons and daughters to marry freely, as she thought it was a fight against the feudal marriage system.
In 1922, Cai Hesen and Xiang Jingyu returned to China to participate in the leadership work of CPC. In February 1923, Cai Chang had a baby in France, and Ge not only needed to work for raising her granddaughter and to study, but also to attend such revolutionary activities.
Cai Chang and Li Fuchun were sent to study in the Soviet Union in 1923, when Ge took her granddaughter Li Tete back to China.
Support Revolution
When she came back to China, she firstly settled down in Changsha, after the failure of National Revolution which took place during 1924-1927, she moved to Wuhan and Shanghai to support the revolutionary work of her sons and daughters.
In 1928, her second oldest son Cai Luxian and Xiang Jingyu were both killed, so Cai Chang carried her mother back to her hometown the same year.
Ge lived a hard life with her husband in Yongfeng Township, and with no income, they could only rent a shared house. When her husband died in 1932, she finally settled down in Shibanchong Village.
On March 16, 1943, Ge passed away at the age of 78 in Yongfeng Township. Before her passing, she did not know Cai Hesen had died. So, she asked her oldest daughter to write a letter to him that said, "I cannot witness the success of your revolutionary cause, but I believe it will become true."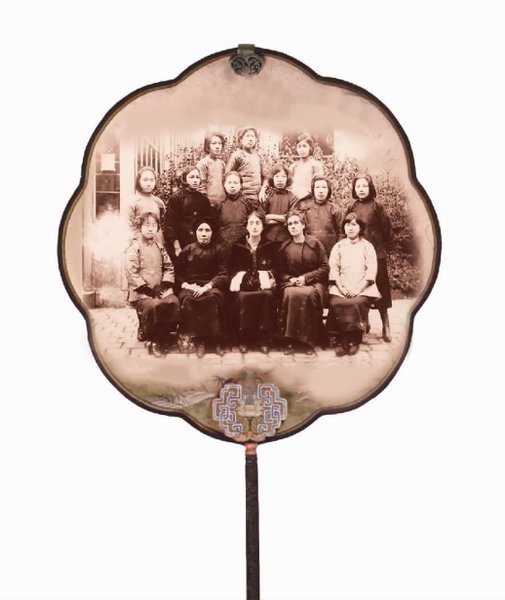 Chinese students in France [Hunan Daily]
(Source: Hunan Daily/Translated and edited by Women of China)