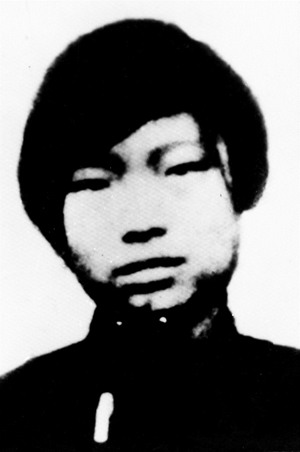 Guo Fengshao [China Women's News]
Guo Fengshao, a member of the Communist Party of China (CPC), sacrificed her life at the age of just 19 for righteousness in Nanjing, east China's Jiangsu Province, according to a recent newspaper profile.
Guo was born in Linhai County, Taizhou city, east China's Zhejiang province, in 1911. Her father was a member of the Chinese Revolutionary League and a participant of the Revolution of 1911.
Under the influence of a progressive and democratic family, she opposed feudal superstition and rites from an early age and had ambitions to save her country and the nation.
In 1925, Guo was admitted to Linhai Women's Normal School and joined Yichou Reading Club organized by progressive local youths.
She read many topical books and journals such as New Youth and Hesitations, which gradually developed her ideological consciousness.
In 1926, Guo joined the Communist Youth League of China. In 1927, the reactionary authorities arrested and massacred communists and members of the reading club.
Several people advised Guo to give up her affiliation, but Guo said firmly, "Revolution is my life. I will never quit the club!"
In 1929, Guo entered Nanjing Xiaozhuang Rural Normal School founded by Tao Xingzhi, a famous educator and thinker. In 1930, she became a member of the CPC and served as a Party group leader.
Soon after, she served as the underground traffic officer of Nanjing Municipal Committee of the CPC. Guo often traveled between the municipal Party committee and Xiaozhuang to transmit information and documents.
Under the leadership of the Nanjing Municipal Committee of the CPC, patriotic students in Nanjing demonstrated against the Kuomintang's reactionary tyranny.
Guo was responsible for contacting schools and organizing students' demonstrations from all over the city.
She campaigned in the streets and fought face to face with the reactionary military police.
Her actions caught the attention of the reactionary authorities. On April 8, Guo's school was closed down and many communists were arrested.
Therefore, Guo secretly moved to Wuxi, east China's Jiangsu Province, to continue her revolutionary work under the cover of teaching.
In September of the same year, she returned to Nanjing to take part in the rescue of her arrested comrades. Unfortunately, she was caught by the secret service.
In prison, although Guo was tortured, she kept silent. Every time she woke from unconsciousness, she berated the enemies angrily, "It is impossible for you to exterminate the CPC by arrest and slaughter!"
On September 26, 1930, Guo died in Nanjing.
In 2005, Guo Fengshao Memorial Hall was completed in her former residence in Linhai.
Part of the rooms in her former courtyard were refurbished as an exhibition hall, showing the talent of Guo's literary and artistic agility, her ability to sing and draw, and her wonderful life.
(Source: China Women's News/Translated and edited by Women of China)