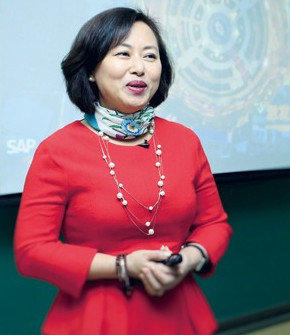 Sun Lijun delivers a speech.[China Women's News]
Sun Lijun, vice-president of the China branch of German software corporation SAP, recently gave a speech at Tsinghua University on how to easily manage "big data."
Expounding three main points including "life, business and the future," she told students that the influence of big data is never far away from most people's lives.
During the 2015 World Internet Conference, SAP's display drew considerable attention. It exhibited a big data solution designed for the German soccer team.
In the demonstration, using cloud-based software, coaches were shown to be able to import videos of important matches or exercises and mark key moments to learn players' state or analyze their opponents' playing characteristics.
"Once, prior to a penalty shoot-out, the German goalkeeper received a slip of paper which revealed the habitual direction of the penalty kicker on the other team. Finally, they won that match," she said, adding that the "secret note" fully demonstrated the magic of big data.
"Big data was never a lofty concept. It has long been integrated tightly with our lives, advancing with the times. In addition to cloud storage, it also shares arenas with other technologies in vogue such as augmented and virtual reality," she continued.
Sun's first contact with big data took place when she read a book of the same name. Working at IBM at that time, she invited its author Viktor Mayer-Schönberger especially to speak their company's in-house forum.
Last summer, Sun translated Advanced Analytics Methodologies: Driving Business Value with Analytics into Chinese, which deepened her understanding.
Where is the future of big data? Sun believes that the evolution of "Industry 4.0" closely linked to technologies like virtual reality will wield a big influence on people's work and life.
"The business world shows growing reliance on data analysis. The whole commercial model has also experienced changes. Currently what the big data industry needs most are talents who not only know business models but are good at data analysis," she concluded.