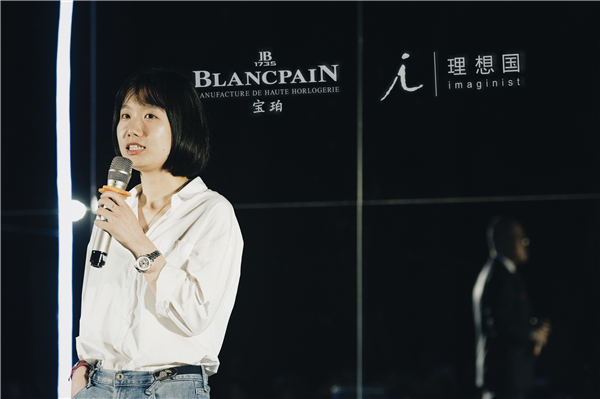 Wang speaks at the award ceremony. [China Daily]
A 27-year-old high school teacher has won the inaugural Blancpain-Imaginist Literary Prize with a collection of short stories centered around an old community.
Wang Zhanhei, a 27-year-old high school Chinese teacher from Shanghai, recently won the first Blancpain-Imaginist Literary Prize for her debut book Air Cannon.
Co-founded by Swiss luxury watch brand, Blancpain, and Chinese publisher brand Imaginist in March 2018, the annual prize was created to uncover the literary stars of the future, selecting excellent Chinese writers, under the age of 45, who show such potential. Winners will receive prize money of 300,000 yuan ($43,464), sponsored by Blancpain as encouragement and financial support for their creation.
Speaking about the prize, Jack Liao, Blancpain China brand manager, says: "There are many similarities between making a watch and creating a literary masterpiece, both requiring a great amount of finesse. With this prize, we want to discover young literary masters in China."
Leung Mantao, cultural ambassador for the watch brand, said at the award ceremony: "Most of the literary prizes in China have been won by older writers, so we thought about discovering the new force of Chinese literary creation."
In a nod to The Man Booker Prize in Britain, five judges with different literary tastes were invited to choose from 100 books, eventually shortlisting five: Air Cannon by Wang Zhanhei; The Pilot by Shuang Xuetao; Wake Me Up at Nine in the Morning by A Yi; I Walk Up Along the Firelight by Zhang Yueran, and The People Who Frequent My Mind by Shen Dacheng.
Singer-songwriter and popular online talk show host, Gao Xiaosong, one of the judges, says that the opinions of the panel were so divided that there was several rounds of voting required to determine the winner.
Wang, the youngest of the five shortlisted authors, eventually emerged victorious with the panel commenting on her book: "The young writer, who was born in 1991, tries to continue the tradition of realism established by the likes of Russian writer Anton Chekhov, and Chinese writer Shen Congwen. Plain and natural, her writing is detailed and constructed based on her dialect. She observes the life of common urban residents with cool, objective eyes without displaying either sympathy or disappointment."
Air Cannon comprises eight short stories, in which Wang shines a spotlight on marginalized people living in old communities similar to where she grew up. The so-called "Street Hero Series", which she has spent the past four years creating, are narrated from the perspective of a child.
The community that provides the centerpiece of the story was typical of those in small and middle-tier cities in the 1980s and 1990s. After decades of high-speed development, however, like its real-life counterparts, it has become an old community, mostly populated by retired, laid-off or immigrant workers - aging people and people with low incomes.
By depicting their daily life - the trivial incidents and gossip which are deeply connected with their living, aging, health and death - Wang allows the reader a taste of the mixed flavors in the life of the "little people".
The "street heroes" are not successful people, nor heroes in the common sense, but they are the uncles in the neighborhood who play mahjong all day long, aunts who dance regularly in the community's square, vegetable vendors, the owners of dumpling shops and firecracker shops, security guards - the people who give a community its life.
"Hero means a kind of vitality. If uncles and aunts call each other bro, sis or comrades, for a child in an old community, all the adults are tall and speak sonorously, so they might be called 'hero' as well," says Wang.
Life is not easy for them, but Wang's writing is not heavy. Rather, they are decent interesting people who have their own philosophy for life.
(Source: China Daily)