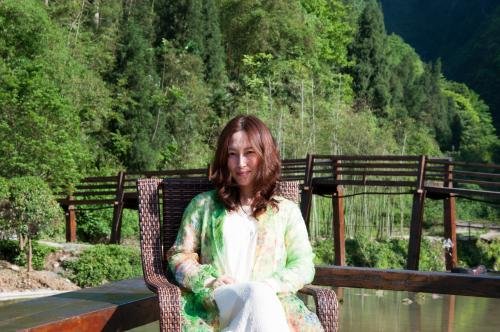 Mei'er [Photo provided by Mei'er]
Mei'er is a famous female poet. She has published a poetry anthology including The Weight of Sponge, You and Me, Shierbeihou and others.
She began experimenting with poetry at the age of 17. About a year later, she published her first poem.
"I was craziest around 1991. I wrote nearly 200 poems in two or three years," the poet said.
Unfortunately, many of her manuscripts were lost in subsequent moves.
Over the next 20 years or so, Mei'er had been writing poems on and off, due to work and other reasons, but wherever she went, she would always carry a book of poems in her back pocket.
She loved to travel, and the scenery and feelings she experienced on the way were written into her poems.
Once she visited the historic sanctuary of Machu Picchu, Peru and wrote a poem under this name.
Thanks to its use of complex and unique images, as well as passionate emotional expression, this poem has been regarded by many poetry critics as one of the iconic works of Mei'er from around 2014.
She also admitted that this poem marked a change in her own creative style.
For Mei'er, travel and poetry are sometimes mutually productive in their own right. Soon afterwards, she was inspired by another strange sight: The Twelve Behind It.
The Shierbeihou refers to the 600 square kilometers of natural beauty, including the Youtong Creek geoglyphs, Shuanghedong National Geopark and Qingxi Gorge, where lies the home of Mei'er's poetry.
She incorporated her feelings into her poem, which was to become her famous poem Shuanghedong.
In this poem, she imagines herself as the body of a cave full of life, which took hundreds of millions of years to form. She can see goshawks flying over her head, green trees and jagged rocks, and witnesses the vicissitudes of time.
"My poetry have undergone two main transitions. ... I hope that I can naturally present my inner feelings. These transitions are more of a subconscious and unconscious nature in creation," she said.
Some people say that for the time being, poetry has become a minority culture and has been marginalized. In recent years, nearly each time when it was turned into a "phenomenal" topic, it was accompanied by controversies or given labels, without fail.
"If a poem or other works is to become widely popular for a long time, it should be based on the text itself which earns the approval of the reader. Popularity and classics are quite different things. Classical works take time to precipitate," said Mei'er.
"Because of its genre and use of images, poetry is sometimes difficult to comprehend readily. Nowadays, people's reading channels have been widened and their depth and breadth have also increased. Therefore, it is normal and nearly inevitable to have a small audience in poetry," she added.
From 1986 up till present, she has been on the "path of poetry" for more than 30 years.
"For me, poetry is the ultimate home of my soul," she said, "Deep in my heart, I identify with it with reverence. Without poetry, life would probably be boring."
(Source: chinanews.com/Translated and edited by Women of China)