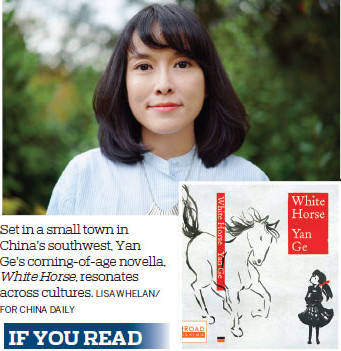 Set in a small town in China's southwest, Yan Ge's coming-of-age novella, White Horse, resonates across cultures. [For China Daily/Lisa Whelan]
In less than a year, the UK-based Chinese writer Yan Ge (born 1984) has two books out in English translation. Launched in the UK this week, White Horse — translated from Yan's novella, Bai Ma (Hope Road Publishing) — follows close on the heels of The Chilli Bean Paste Clan (Women Jia, Balestier Press). Both titles are translated from the Chinese by the incredibly prolific Nicky Harman.
Whether she is translating Jia Pingwa's astutely-observed and painstakingly-detailed chronicles of China in its post-reform period or the spare, hauntingly macabre, fantastic, urban tales by Dorothy Tse, Harman brings a refreshing authenticity to the writer's voice. The original might have been published a while ago (as White Horse was, in People's Literature magazine in 2008), but in Harman's able hands its translation unfailingly reads crisp and current, the prose flowing like it was originally written in English.
White Horse is no exception. Told from the point of view of a 10-year-old girl, it is a story in which adults make a mess of their lives and let it all hang out. In certain ways White Horse could be a precursor to The Chilli Bean Paste Clan, in which a teenage girl in a mental health facility imagines the excesses her middle-aged father and his siblings — inheritors of a chilli paste manufacturing enterprise in Sichuan — are indulging in. In both stories, dark family secrets tumble out of cupboards, rupturing the clan's foundations. However, while The Chilli Bean Paste Clan is unsparing in exposing the sordid inter-personal relationships between the members of a dysfunctional family, White Horse is more tender — observing, as it were, the complicated, irredeemable world of grown-ups from a distance.
In White Horse, the young narrator Pu Yun lives with her widowed father but spends considerable time at her aunt's. She is somewhat awed by the privileges of adolescence her slightly older, romance-obsessed cousin, Zhang Qing, seems to be enjoying. The scenes of puppy love between schoolgoing children read like a pantomime of the shifting dynamic between grown-ups. Like the children, their parents too seem to fall in and out of love arbitrarily. Qing's belligerent protestations of love for her half-hearted boyfriend, who cowers and disowns her the minute he is confronted by her formidable mother, are both laughable and a little sad, although certainly more honest compared to the inability of the adults in the story to own up to their feelings.
Yun stumbles into the unforgiving adult world of infidelity and witnesses a crime of passion which debilitates her father. Reassuringly enough, she herself remains unsullied by the frequent exposure to unpleasant and irresponsible adult behavior, protected by the visions of a white horse that could have been her biological father. At least that's who she imagines it is.
The fantasy element probably isn't this book's greatest strength. Even without it, this coming-of-age story — written in the author's own youth — resonates across cultures. White Horse serves up an authentic taste of life in small-town China, although the helping is quite tiny, more like a piece of the jerky that seems to be popular among Yun and her classmates.
White Horse is translated by Nicky Harman. [Amazon.com]
(Source: chinadaily.com.cn)
Please understand that womenofchina.cn,a non-profit, information-communication website, cannot reach every writer before using articles and images. For copyright issues, please contact us by emailing: website@womenofchina.cn. The articles published and opinions expressed on this website represent the opinions of writers and are not necessarily shared by womenofchina.cn.