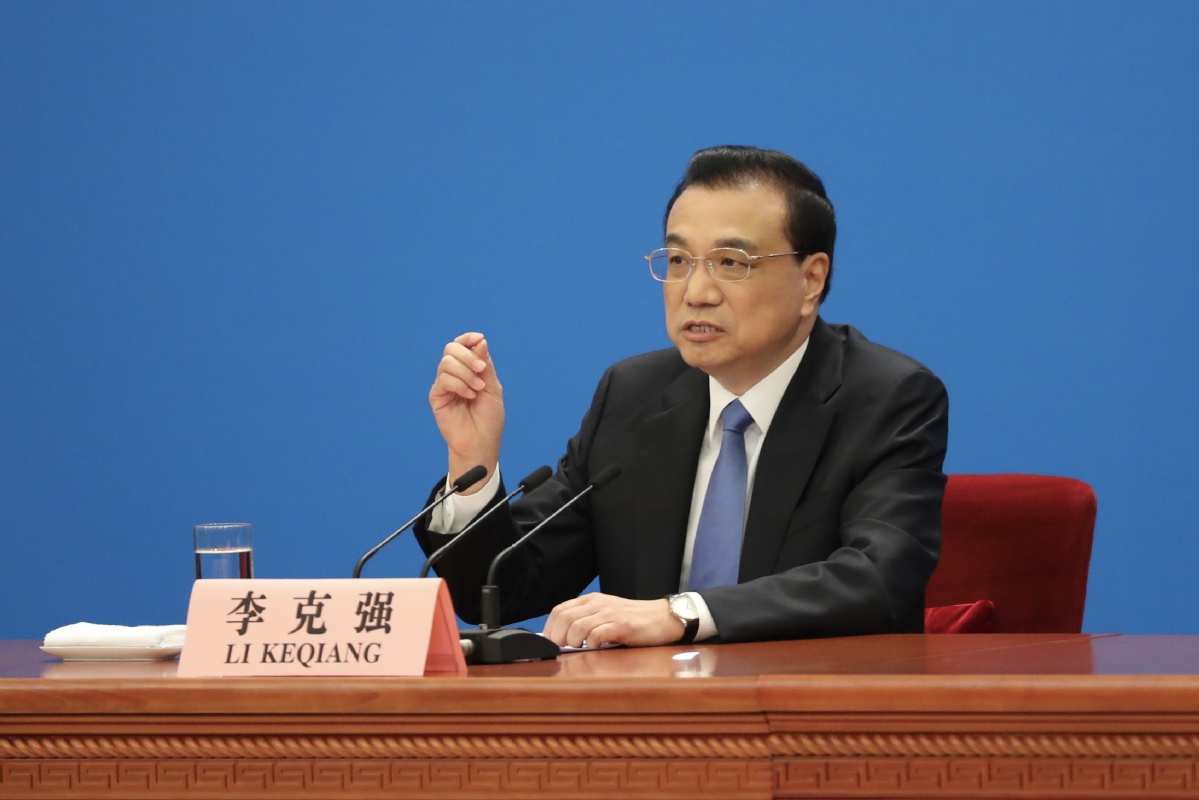 Premier Li Keqiang answers questions of reporters at a news conference for the second session of the 13th National People's Congress in Beijing on March 15, 2019. [Photo by Kuang Linhua/chinadaily.com.cn]
Premier Li Keqiang meets reporters from home and abroad at a news conference on March 15 at the end of the annual meeting of the National People's Congress. Here are highlights of the event.
Premier rules out large-scale quantitative easing
China will not use large-scale quantitative easing to bolster the economy and instead will boost market vitality through measures such as tax and fee cuts to stabilize economic growth and seek high-quality development, Li said on Friday.
"The Chinese economy is indeed encountering new downward pressure," Li said at a press conference. But "we will not allow our economic growth slide below the reasonable range (the country has set)", he added.
China has set a target for this year's year-on-year GDP growth to be between 6 and 6.5 percent. To meet the target, China will not resort to a "liquidity deluge" method of quantitative easing to stimulate the economy because it will bring serious side-effects, the premier said.
The country will further cut taxes and fees, simplify administrative regulatory procedures, facilitate market entry and foster new growth engines and fair competition environment to boost market vitality, he said.
China has announced it will cut a total of 2 trillion yuan ($297.5 billion) in taxes and corporate pension payments this year to ease financial pressure on enterprises.
The premier also said the country can use such tools as the reserve requirement ratio of banks and interest rates to support the economy. But he stopped short of providing a timetable for any reserve requirement ratio or interest rate cuts.
China committed to denuclearized Korean Peninsula
China is committed to a denuclearized Korean Peninsula and hopes that peace and stability will be maintained, Li said on Friday.
Parties involved in the peninsula issue should be patient and seize opportunities, especially positive factors to promote dialogue, Li told a news conference in Beijing.
It is especially important for relevant parties to promote dialogue between Pyongyang and Washington toward outcomes that all would like to see, Li said.
The issue is long standing and complicated, and cannot be resolved overnight, he added.
The Democratic People's Republic of Korea and the United States have expressed a readiness to stay engaged with each other after the Hanoi Summit, which is better than no contact at all, he said.
China hopes US trade talks will deliver mutual benefits
China hopes that the current trade talks with the United States will generate mutually-beneficial outcomes, Li said at a news conference after the annual legislative session concluded on Friday.
Such a result is also what the whole world would like to see, Li said, adding consultations between the two sides on trade disputes are still underway under the guidance of the consensus reached between the two heads of state during the G20 summit in December.
Noting that the China-US relationship has gone through some twists and turns in the past four decades, Li said the underlying trend has not changed.
"This is because there is a broad common interests between China and the US, and their shared interests far outweigh differences," Li said, adding it is neither realistic nor possible to decouple these two economies.
He called on the two countries to continue to follow the principles of cooperation before confrontation, and to maintain mutual respect, equality and mutual benefits to develop their ties, including their economic and trade relations and deliver concrete benefits to the people of the two countries.
"As for the differences and disagreements, we have confidence that people of the two countries have the wisdom and capability to diffuse their differences and manage them properly to pursue steady and sound growth of the China-US relationship that is in keeping with the trend of the times," Li said.
He added that the bilateral relationship will continue to forge ahead despite twists and turns as steady growth of the ties is in the interest of both countries and the whole world.
New policies will further help Taiwan residents when they come to the mainland
The Chinese mainland will introduce more preferential policies toward Taiwan residents to ensure that they will enjoy the same treatment as mainland people when they study, work or start businesses on the mainland, Li said on Friday.
Previously the mainland had issued 31 measures for promoting the cross-Straits economic and cultural exchanges and these measures will be fully implemented this year, Li told a news conference in Beijing.
We will continue to adhere to the 1992 consensus, which embodies with the one-China principle, oppose the "Taiwan independence", promote peace and stability across the Straits, and promote the peaceful reunification of the country, he added.
Sino-US common interests far outweigh differences
Li said common interests between China and the United States far outweigh differences, hoping the ongoing trade consultations can eventually bear fruit.
Sino-US economic decoupling is "not realistic", Li told reporters on Friday at a news conference after the conclusion of the annual legislature meeting.
Li said consultations between the two sides on economic and trade issues are still underway, and he hopes good outcomes can be delivered.
On Thursday, Vice-Premier Liu He spoke by telephone with US Trade Representative Robert Lighthizer and US Treasury Secretary Steven Mnuchin, making further substantive progress on trade consultation, according to Xinhua news agency.
China will not take target interests of third parties
China will not take advantage of any third party or target their interests, Premier Li Keqiang said on Friday, noting that trade disputes are an issue between China and the United States.
Li made the remarks in response to a question on whether China-US trade talks have an impact on China-Europe relations at a news conference after the second session of the 13th National People's Congress closed on Friday.
Noting that China is the world's largest developing country and the European Union is the largest union of developed countries, he called for China and Europe to strengthen mutual trust and treat each other in an open-minded way.
China and the Europe are each other's largest trading partners, Li said, and there has been cooperation as well as friction in their relations.
The two sides should continue to apply, in their ties, the good experience gained in managing their differences over the past years, he said.
The premier said ongoing negotiations on a bilateral investment treaty are aimed to further facilitate the two-way flow of investment so that both sides will benefit from this agreement on an equal footing.
We should properly handle our differences in the course of pursuing cooperation so that our relationship will continue with its steady growth, Li said.
Li also announced that he will make a visit to Europe next month to hold the next round of the China-EU summit with EU leaders.
"I hope that both sides will view this relationship from a strategic and long-term perspective and continue to show mutual respect, deepen mutual understanding, and advance cooperation in joint pursuit of sustained healthy growth of our relations," he said.
Employment is among key policies
The employment-first policy has been included as one of the nation's three macro-policies, together with the fiscal and monetary ones, for the first time this year, to better secure employment, Li said.
He said that employment will always experience great pressure in the process of the nation's modernization.
"Every year, we see about 15 million people entering the job market, and that growth won't slow down in the near future," he said. "It's projected that 11 million urban jobs will be created this year, but in actual fact, the number will go beyond 13 million."
Li stressed that employment creates income, thus, social wealth. Also, keeping economic growth within a reasonable range that the country has set, means that waves of job losses are not allowed to emerge.
The government will take stronger moves to secure employment of some key groups including college graduates, retired military personnel, laid-off workers and migrant workers.
"Especially the migrant worker, who is in a population of over 280 million and still sees an annual growth of millions of new entrances," he said.
Li stressed that employers are encouraged to show kindness to migrant workers and the legislative bodies shall step up to issue regulations to secure migrant workers are paid in full and in time.
Premier focuses on services for the elderly and infants
The supply of nursing services for the elderly and infants in China is insufficient and cannot meet demand, and this situation deserves the highest attention, Li said.
"The number of people at 60 years old or above in China has reached 250 million, and the number of children below 6 years old is around 100 million, and nursing services for the two groups involve most families in China," Li said after the closing of the annual session of China's top legislative body.
Due to shortage of supply services, many people in big cities find it difficult to find a nursing home for their elderly parents, he said.
The shortage of daycare facilities for infants has becomes more prominent after the implementation of the universal second-child policy, which allowed all couples on the Chinese mainland to have two children, Li said.
Even if we accelerate building elderly nursing homes and multi-functional kindergartens, the supply shortage may not be completely eased due to rapid population ageing in China, he said.
Innovative measures are needed to address the shortages of such services to meet public demand, Li said, adding developing community-based nursing services for the elderly and infants can help as nursing facilities in communities can be more accessible to residents.
The government should take more measures to encourage private investment to develop the services, but effective supervision is needed to ensure such services are safe, Li said.
Govt to reduce VAT rates, lower insurance fees
China will cut the value-added tax rates April 1 and lower the social insurance fees from May 1, said Li.
Tax and fee cuts will be nearly 2 trillion yuan ($297.5 billion) this year, a key measure to cope with current economic downward pressure, said Li at a news conference at the conclusion of the annual two sessions.
The VAT rate for manufacturing companies will be cut to 13 percent from 16 percent, and that for the transport and construction sectors will be reduced to 9 percent from 10 percent. For the social insurance fees, the premium rate will be decreased from 20 percent to 16 percent, according to the Premier.
China will also inclusively reduce taxes for the medium and small-sized enterprises, ensuring that taxes on all industries will be lowered, stressed Li.
He said the tax and fee cut means government's income will fall, but the growth of fiscal spending will be in line with the GDP growth this year, especially to ensure spending on key areas such as people's livelihood.
The government will tighten general budgeted spending, and ask some financial institutions and State-owned enterprises to turn over more profits to the national treasury, said Li.
China and Russia should work to double their trade
China and Russia need to make use of all possible means to keep the $100 billion two-way trade stable and work further to double it, Li said on Friday.
Bilateral trade exceeded $100 billion last year for the first time despite the downturn in global trade growth, which shows that there is still a great deal of untapped potential in China-Russia cooperation, Li said at a news conference after the annual legislative session concluded.
China and Russia are each other's biggest neighbors, he said, adding that bilateral ties have reached a very high level featuring deepening mutual political trust and growing people-to-people exchanges.
The two countries could expand cooperation in areas like trade in commodities, cross border e-commerce, aviation and aerospace and also enhance exchanges at the sub-national level and between their peoples, Li added.
Drug costs for chronic diseases to be reimbursable
Outpatient drugs for chronic diseases, such as high blood pressure and diabetes, will be reimbursable by 50 percent through China's basic medical insurance program this year, Li said at a news conference on Friday.
The measure will relieve financial burdens on patients with the two diseases, which number 400 million in China, he said.
The government will also take steps this year to further relieve medical expenditure by patients with serious diseases through adjusting medical insurance policies, Li said.
The government has been making efforts to improve people's access to quality medical services and reduce their medical expenditure, Li said.
Last year the prices of 17 anti-cancer drugs were cut by more than 50 percent on average, and were included in the basic medical insurance program so they were reimbursable, he said.
China's basic medical insurance program has covered almost the entire population in China, he said.
Comprehensive FTA in interests of China, Japan and ROK
A comprehensive, high-standard and mutually beneficial free trade agreement among China, Japan and the Republic of Korea is in the interest of the three countries, Li said.
Speaking at a press conference after the second session of the 13th National People's Congress closed, Li said that promoting the construction of China-Japan-ROK free trade zone should be on the agenda of this year's China-Japan-ROK leaders' meeting, especially against the background of protectionism in world trade.
Although Japan and the ROK have pretty large surpluses in their trade with China, China is still prepared to compete with them in an equal manner to bring more options to customers of the three countries, he said.
"It is important to draw on each other's comparable strength in this process so that each party benefits," Li said.
This year marks the 20th anniversary leaders' meeting mechanism of China, Japan and ROK and China will be the chair of the mechanism this year.
When asked about China's priority regarding the conclusion of the China-Japan-ROK FTA and the Regional Comprehensive Economic Partnership, the premier said it will depend on the efforts made by parties concerned.
"Whichever will be concluded first, China will take a welcome attitude to the development," Li said.
China to adopt prudent regulations on new business models
Li said China will continue enacting prudent regulations to guide the development of the sharing economy and Internet Plus initiative, despite the growing pains both are experiencing.
Li said that the new economies are creating jobs, bringing convenience to people, and driving new investment opportunities in China.
No arbitrary regulation or oversight will be enforced on new business models, because what is known about new things is always far less than what is unknown, and they should be given a chance to grow, Li said.
By adopting prudent regulations, the government draws a clear bottom line on pubic security and safety, while making efforts to build a sound market for all enterprises, he said.
As part of China's broader push to nurture innovation and speed up the growth of emerging industries, Li said that this year the average broadband service rates for small and medium enterprises will be lowered by another 15 percent.
The average rates for mobile internet services will be further cut by more than 20 percent, he said.
According to Li, increased efforts will be made to bring the Internet Plus initiative to all industries and sectors.
China will improve networks for distance education and telemedicine, and expand the capacity of mobile telecommunications base stations, he said.
China commits to further reform and opening-up
"Through 40 years of reform and opening-up, China has made remarkable achievements, delivering benefits to all its population. We will continue to develop our socialist market economy and pursue market-oriented reforms in various respects.
"The government will continue to perform market-oriented and law-based reforms to ensure concrete outcomes will be delivered through specific actions," he said.
He said that in carrying out reform, government must create an enabling market, and let market perform its decisive role in allocating resources.
The government's job is not to direct what the market should or should not do, but to do its best to energize all market players, he said.
According to Li, over the years of reform of government functions, China has made impressive progress in improving its business climate.
China has moved up 30 places in global business rankings published by international organizations on the ease of doing business in the country, he said.
Although there have been improvements, China is still falling short in some respects, said Li, pointing out that government must listen closely to the views of market players and do its best to help them thrive.
He said that through deregulation, government will ensure that companies of all ownership types benefit equally from administrative streamlining, including cutting the time required to get business licenses.
There should be no discriminatory practices employed, he said.
According to Li, through years of effort, government has cut the time required for getting business licenses from 22 to 8.5 days.
"This year our goal is to further cut it to five days, and in some places with better conditions maybe three days. It only takes one day for one to get a business licenses in developed countries.
"This year, we plan to ensure that except for those areas involving public security and other special sectors, a business license should be enough for companies to be built up and running," he said.
Li said that government departments' focus should be on enhanced compliance oversight to see whether other related required permits will be issued, or when non-compliant companies should be banned from the market.
With broadened market access, in the meantime, there must be tightened oversight. Li said that there should be equal access to market and also impartial regulation.
"In this process we must ensure that all the rules are made fully open and transparent, so that our market players are fully aware of the dos and don'ts.
"We must not exercise selective or arbitrary regulation. We must enforce uniform standards and requirements, and exercise our compliance oversight," he said.
According to Li, tax and fee cuts, together with administrative streamlining and impartial regulation, are the two crucial components of the government's measures to counter downward economic pressure.
They will help ensure the steady and sustained growth of China's economy, said Li.
China to lower burden on micro and small enterprises
China will this year lower financing costs for micro and small enterprises by one percentage point, Li said.
China will take multiple measures to continue tackling financing difficulties faced by the private economy and micro and small companies – a critical problem that has weighed on economic growth and market vitality, Li said.
Authorities will encourage financial institutions to improve management mechanisms to provide cheaper services for small, private companies, said Li.
"We also need to treat all businesses under various types of ownership as equals. As far as lending is concerned, some problems and obstacles exist," he said.
Li also said that strengthening financial services for the real economy and forestalling financial risks are "mutually reinforcing".
"We have the confidence of forestalling the emergence of systemic financial risks," he said.
The country contained the rise in financing costs of small, private companies last year through a number of measures, including cutting the reserve-requirement ratio by four times, Li said.
Govt to further cut internet charges, increase speed
China aims to cut the cost of internet services by another 20 percent this year, which will involve a total of about 180 billion yuan ($26.8 billion), Li said.
China has been working to increase the speed and reduce costs of internet services, which will be good not only for consumers but also for industrial upgrading, Li said.
It should be made possible for cellphone users to switch their telecom carriers without changing their phone numbers, Li noted.
Li added that at the same time, consumers should be kept full informed of their service packages.
China to enact policy to ensure success of Foreign Investment Law
The Foreign Investment Law, adopted by the second session of the 13th National People's Congress, the country's top legislature, is designed to protect the rights and interest of foreign investors and to attract further foreign investment into China, Li said.
This law will regulate government behavior, requiring government to perform its functions in accordance with the law, Li told reporters at a news conference after the annual meeting.
Li said the government will introduce a series of regulations and documents to protect the rights and interests of foreign investors to ensure the law is implemented smoothly.
Opening-up is the country's fundamental national policy, which has delivered real benefits to Chinese people and the world, Li said.
Moving forward the country will continue to listen closely to views from various parties, keeping the door open, he said.
China will adopt a policy of pre-established national treatment, along with a negative list management system, which will be shortened in time, Li said.
A negative list defines areas where investment is limited or prohibited for foreign investors, with all other areas presumed open.
Solutions for boosting domestic consumption
There are still obstacles that constrain growth of domestic consumption that must be resolved to help improve people's lives, Li said.
Li noted the government plans to cut prices of electricity for general industrial and commercial companies by 10 percent this year.
There are up to 10 million e-commerce platforms in China, with 600 million users. These platforms run 24/7, and computers consume a lot of electricity.
"When electricity prices are cut for these companies, it will help our consumers benefit more and transform and upgrade related industries," he said.
In this year's government work report, a goal was set — within two years, the government will eliminate almost all expressway toll booths at provincial boarders. The initiative will not only ease traffic congestion, but also help with the growth of many related industries and sectors, Li said.
"We must endeavor to ease and even eliminate these institutional barriers that constrain consumption. This will unleash our development potential, energize our market players and unlock public creativity," Li added.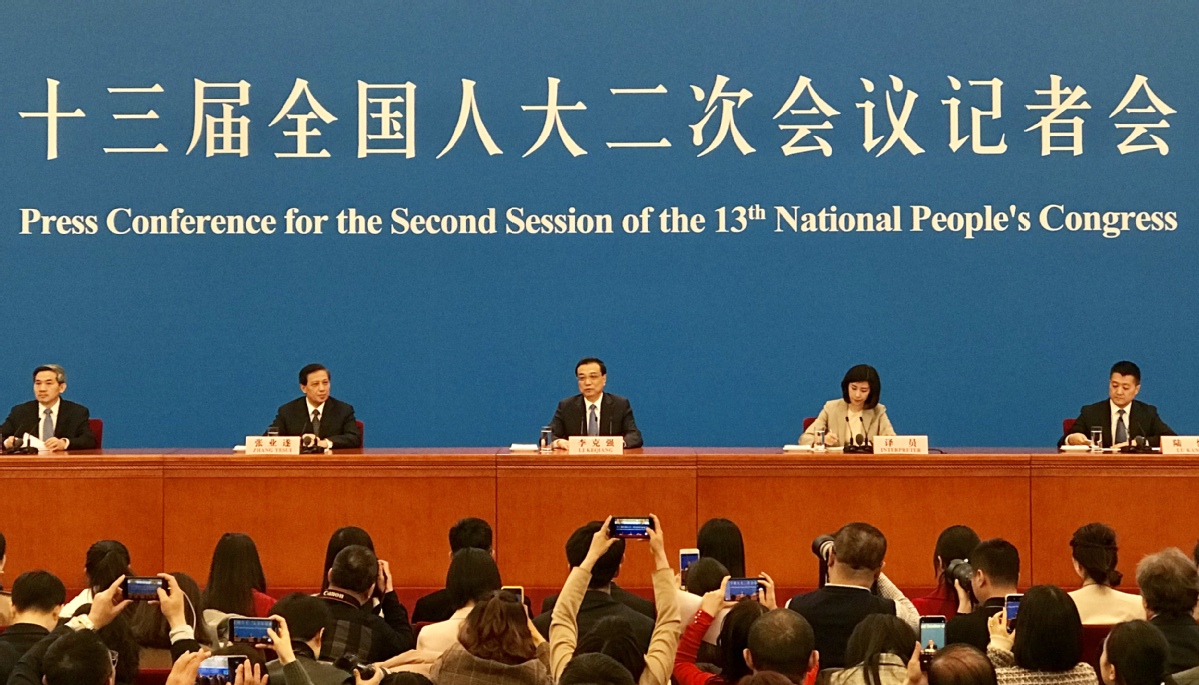 Premier Li Keqiang answers questions of reporters at a news conference for the second session of the 13th National People's Congress in Beijing on March 15, 2019. [Photo by Xu Jingxing/chinadaily.com.cn]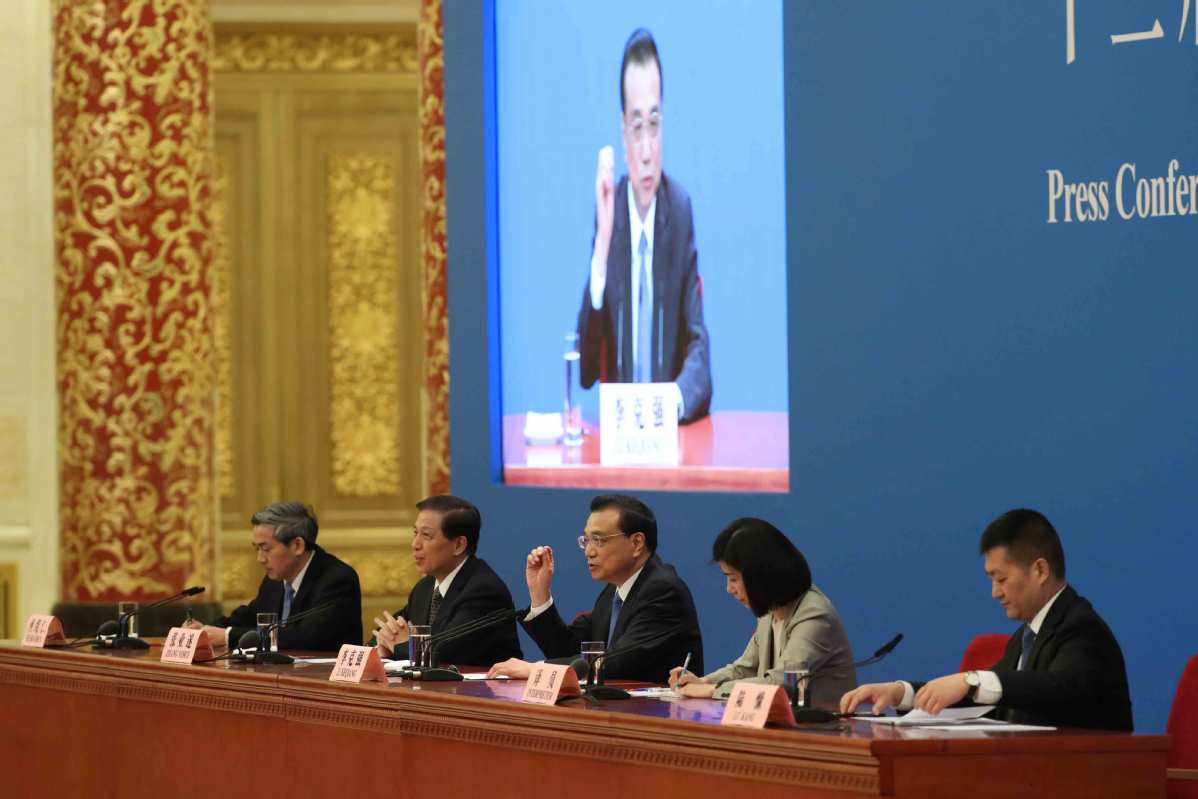 Premier Li Keqiang answers questions of reporters at a news conference for the second session of the 13th National People's Congress in Beijing on March 15, 2019. [Photo by Kuang Linhua/chinadaily.com.cn]
Premier Li Keqiang answers questions of reporters at a news conference for the second session of the 13th National People's Congress in Beijing on March 15, 2019. [Photo/Xinhua]
Premier Li waves to reporters at a news conference for the second session of the 13th National People's Congress in Beijing on March 15, 2019. [Photo/Xinhua]
A reporter asks questions at a news conference for the second session of the 13th National People's Congress in Beijing on March 15, 2019. [Photo/Xinhua]
(Source: China Daily)