The All-China Women's Federation recently granted 10 women the title of National March 8th Red-Banner Pacesetters, a national award for outstanding women, to welcome the upcoming International Women's Day next week.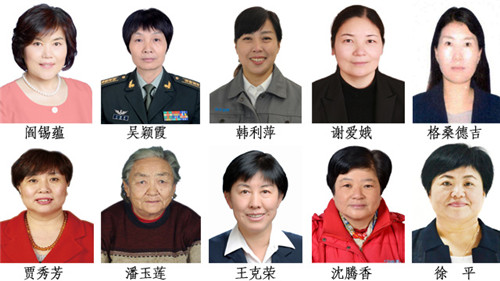 The winners of National March 8th Red-Banner Pacesetters
The winners include:
Yan Xiyun, an academician of the Chinese Academy of Sciences, whose discovery of nanozymes led to the development of a nanozyme-based tumor therapy and other commercialized applications.
Wu Yingxia, a senior engineer with the People's Liberation Army, who devotes herself to tackling difficulties in the testing and appraisal of conventional weapons.
Han Liping, a skilled technician, who uses digitally-controlled milling machines to produce parts of rocket launchers.
Xie Ai'e, a rural doctor, who for over two decades has been sailing in her small boat to deliver medical services throughout a local fishing village.
Jia Xiufang, head of a rehabilitation center, who has offered free medical treatments to more than 160 children with cerebral palsy.
Other recipients include Pan Yulian who tutored more than 2,000 children in the past 25 years, Wang Kerong, a nurse who has promoted AIDS prevention and cared for AIDS patients for over 30 years, Gesang Deji, a rural teacher in Tibet, Shen Tengxiang, a farmer who led the villagers to shake off poverty and Xu Ping, an entrepreneur engaging in cross-border e-commerce.
Another 300 individuals received the National March 8th Red-Banner Award, while 200 institutions were given the title of National March 8th Red-Banner Collectives.
The federation called on Chinese women to follow these exemplary role models.
(Women of China)