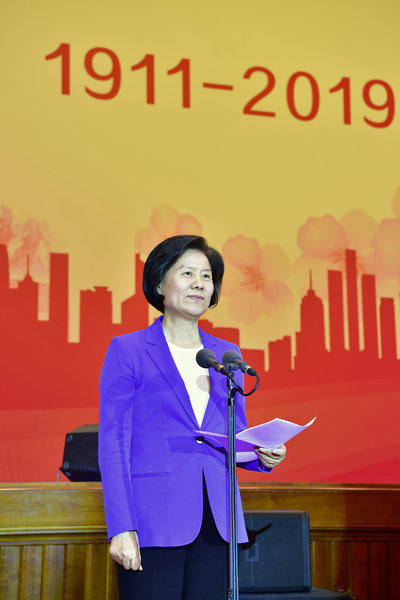 Shen Yueyue, Vice-Chairperson of the NPC Standing Committee and President of the ACWF, delivers remarks at the reception.[Women of China/Fan Wenjun]
On the afternoon of March 7, 2019, the reception for women from China and abroad in commemoration of March 8th International Women's Day was held at the Great Hall of the People, in Beijing.
Shen Yueyue, Vice-Chairperson of the Standing Committee of the National People's Congress (NPC) and President of the All-China Women's Federation (ACWF), extended festival greetings to women from home and abroad during her remarks at the reception. Shen pointed out under the strong leadership of the Central Committee of the Communist Party of China (CPC), with Comrade Xi Jinping at its core, major new achievements have been made in all aspects of the Party and the country. People, including numerous Chinese women, have enjoyed a stronger sense of fulfillment, happiness and security.
Shen stressed that Chinese women will follow the lead of the Party and actively engage in the practice of socialism with Chinese characteristics for a new era. Based on their own posts, Chinese women will create beautiful lives, strive for greater contributions in a new era and make new achievements to celebrate the 70th anniversary of the founding of the People's Republic of China. Chinese women are willing to work with women from around the world and make unremitting efforts to build a more beautiful world for women and for all, Shen noted.
The Party and State Leaders who attended the reception included Sun Chunlan, Yang Jiechi, Li Bin, Su Hui, Liu Yandong, Peng Peiyun, He Luli, Gu Xiulian, Chen Zhili and Wang Zhizhen.
Huang Xiaowei, Vice-President and First Member of the Secretariat of the ACWF, presided over the reception.
Attendees to the event included women NPC deputies and members of the Chinese People's Political Consultative Conference (CPPCC) National Committee, National March 8th Red-banner awards holders, women academicians of the Chinese Academy of Sciences and the Chinese Academy of Engineering, women generals of PLA and women representatives from all sectors.
Distinguished guests also included foreign ambassadors, spouses of diplomatic envoys, female diplomats, female representatives of the UN agencies in China, foreign female experts and spouses of foreign experts working in China.
Huang Xiaowei, Vice-President and First Member of the Secretariat of the ACWF, presides over the reception. [Women of China/Fan Wenjun]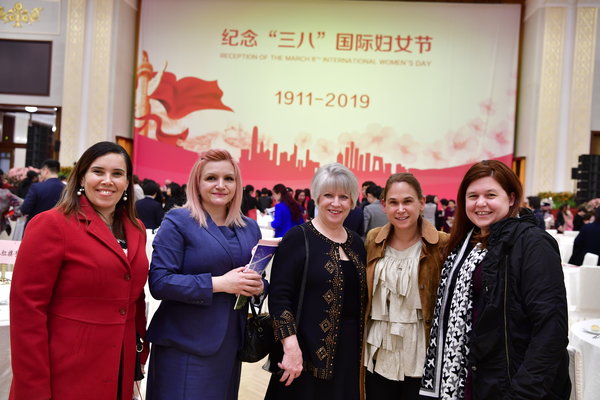 Foreign guests pose for photos at the event.[Women of China/Fan Wenjun]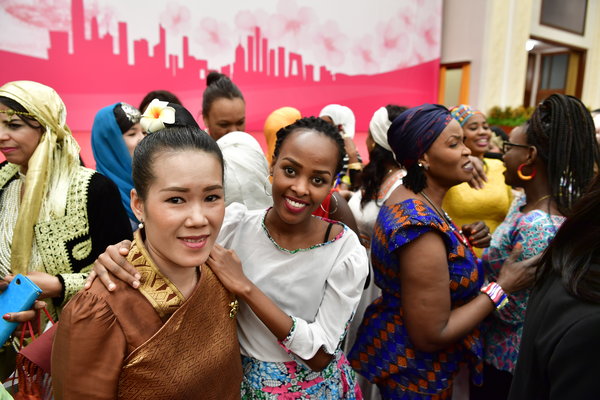 Foreign guests pose for photos at the event.[Women of China/Fan Wenjun]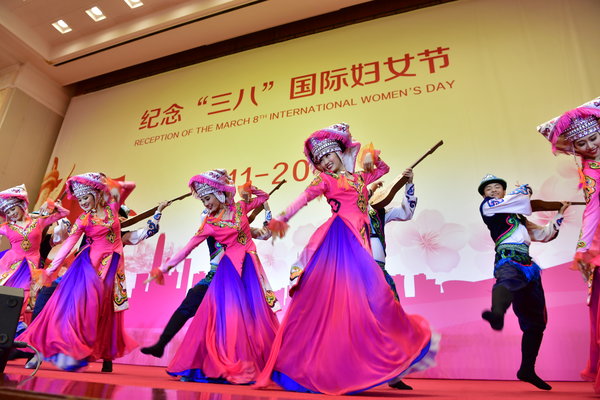 Opening dance Gaiety in Komuz [Xinhua]
Fashion show Embroidering Roads to the Outside World.[Women of China/Fan Wenjun]
Traditional instrumental performance A New Song for the Silk Road.[Women of China/Fan Wenjun]
(By Ye Shan)