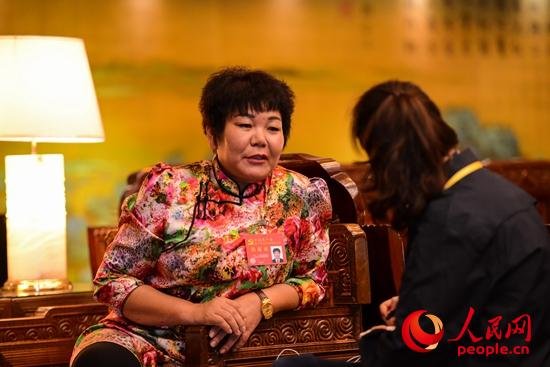 Uwin Sue Ira agrees to an interview with journalists. [people.com.cn]
A Party branch secretary, Uwin Sue Ira, of a league in Inner Mongolia Autonomous Region, has led local herders to prosperity in the past few decades.
Uwin, from Meng Getu Gaqaa, Ejin Banner, Alashan League of InnerMongolia, is also a delegate to the 19th National Congress of the Communist Party of China (CPC).
She has become known as a "Steel Rose" by her neighbors and those around her.
In 1997, the 30-year-old Uwin was elected the Party branch secretary and became the leader of the underdeveloped village.
There are 120 families of herders in Meng Getu Gaqaa, who are scattered across the desert, where people's income is generally low as a result of drought and a lack of rain.
"I had been thinking all day on how to lead everybody to live better lives," Uwin remembered.
In 2000, the local government implemented a development transfer strategy to protect and recover the ecological function of the grassland, and Meng Getu Gaqaa was one of the transfer regions.
Uwin believed that returning grazing land to grassland was the only way to protect the local area. Therefore she led village officials to mobilize every family, encouraging the herders to relocate away from ecologically frail areas. The process took two years, but eventually all families resettled.
When it came to making improvements in the new town, Uwin decided to lead by example.
Once, Uwin noticed that special restaurants selling Mongolian food were popular among urban residents and tourists from other cities. So she managed to open a restaurant selling Mongolian mutton, which turned out to be a success with an annual income of over U.S.$ 70,000.
Uwin's mutton restaurant received the title of Rural Tourism Star Reception by the Travel and Tourism Administration of the Inner Mongolia Autonomous Region.
Several years ago, the local government provided the herders living in remote areas with small medicine packs and essential medicine for free, but some of the herders could only read in Mongolian, so they failed to understand the instructions, which were written in Chinese characters.
When Uwin learned of the situation, she immediately found several members of the branch and some young people to help explain the instructions and mark the instructions in Mongolian.
She has also helped locals to use water purifiers installed by the government.
Uwin has been solving the problems of herders for over 20 years. Locals say that the number of people she has helped almost equals that of sheep in their grassland.
(Source: Women Voice/Translated and edited by Women of China)