Organizers of the 2018 MTI Golden Ambassador event hold the final round of the competition for candidates from 20 countries at Beijing Hotel. [Women of China / Zhang Jiamin]
Organizers of the 2018 MTI Golden Ambassador Competition held the final round of the event at Beijing Hotel in the Chinese capital on January 22, to choose the top three winners from 20 candidates around the world.
Caroline, candidate from the United Arab Emirates, won the top prize. Elsa, from France, and Han Bin, from China, ranked the second and the third respectively.
The competition is run by Miss Tourism International (MTI) and aims to showcase the charms of senior and middle-aged women, as well as to spread positive and healthy attitudes. Among the 20 candidates, the eldest was 71 years old, and the youngest was 50.
As of 2017, China was home for 241 million people aged 60 or over, making up 17.3 percent of the total population. It is estimated that China will have 487 million people aged 60 or over by 2050, at around 34.9 percent.
The issue of an aging population has greatly aroused the public's attention to develop the health care industry for its senior citizens.
According to organizers, the competition is a platform for senior people to present their healthy, fashionable, elegant and appealing outlook. The competition also offers an opportunity for candidates to share aspects of their local art and culture.
The champion Caroline was awarded the extra title of Healthy Ambassador. During the competition, she shared her experience of becoming a professional runner and addressed the importance of pursuing a healthy lifestyle.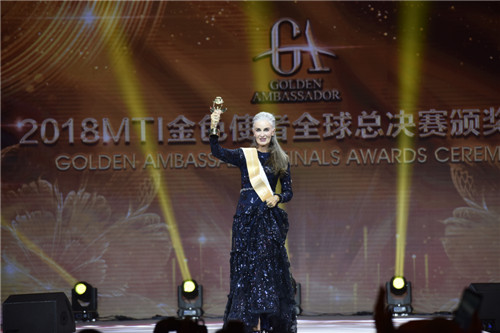 Caroline, the candidate from the United Arab Emirates, wins the top prize and is awarded the title of Healthy Ambassador. [Women of China / Zhang Jiamin]
Chinese candidate Han Bin (C) receives the third prize. [Women of China / Zhang Jiamin]
A performance of Chinese culture [Women of China / Zhang Jiamin]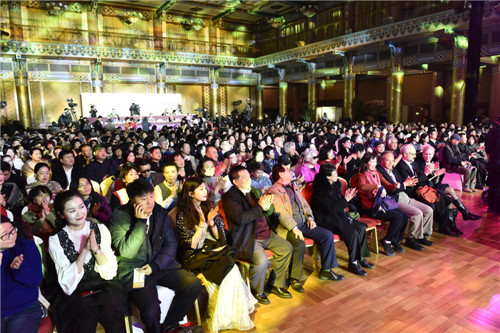 Spectators at the competition watch performances by candidates. [Women of China / Zhang Jiamin]
(Women of China)