Satsuki Katayama visits Alibaba's Hema Fresh Store, in Zhejiang Province. [Photo by Zhejiang Women's Federation]
Satsuki Katayama was named Japanese Cabinet Minister of State for Regional Revitalization and Women's Empowerment in October 2018. In mid-January this year, Katayama visited Hangzhou (capital of East China's Zhejiang Province), Shanghai and Beijing. During her meetings with leaders of women's organizations, and during her visits to women's development programs, Katayama spoke of the advancement of gender equality and women's empowerment in China. She also expressed her hope that women's communications between Japan and China will be deepened.
The following is an interview with Katayama, in question-and-answer format:
Q: Had you visited China prior to your January trip? What was your impression of China, Chinese women and women's organizations?
Katayama: The visit in January was my first visit to China as a minister. But, in 2018, I visited China three times as a member of our parliament. In April, for example, I engaged in a discussion on Sustainable Development Goals (SDGs) during the Boao Forum for Asia (BFA).
I am the first Minister in charge of Women's Empowerment in Japan to visit China. Thanks to the All-China Women's Federation (ACWF), and local women's organizations, whose members worked hard to host me, my visit was truly meaningful. I would like to express my sincere appreciation.
I felt that in China, especially in urban areas, people believe — more firmly than the situation in Japan — that it is natural for women to fully contribute their talents to society. I was particularly impressed by the rich environment here, which provides support for women to start businesses. The environment made me keenly aware that women's empowerment is the source of economic growth.
Q: Please outline some of the measures the Japanese Government has taken to advance gender equality. What are the roles Japanese women play in advancing social and economic development in your country?
Katayama: To ensure gender equality is one of our priority issues, we need to promote various measures in all types of fields, such as employment, education, social security, agriculture, family law and anti-violence initiatives. In this regard, the Basic Act for Gender Equal Society was established in Japan in June 1999. Based on this act, the Japanese Government formulates the Basic Plan for Gender Equality every five years, and our government promotes necessary measures in a comprehensive and well-planned way. In addition, we have established the position of minister in charge of Women's Empowerment and the Gender Equality Bureau at the Cabinet Office. They undertake general coordination of measures for the entire government.
Women's empowerment is extremely important, from the perspective of increasing social and economic diversity and vigor. Moreover, women's capabilities represent the largest potential (for pushing forward development) in Japan. Considering such a background, in 2013, we placed women's empowerment in a key position to carry out our economic growth strategy. Since then, we have been vigorously promoting a variety of measures, such as establishing the Act on the Promotion of Women's Participation and Advancement in the Workplace, implementing work-style reform, establishing more daycare centers, and changing men's awareness and action by changing the awareness of male workers at the corporate senior-management level, and encouraging men to get involved in household chores.
Under the Act on the Promotion of Women's Participation and Advancement in the Workplace, government agencies and private companies, which employ 301 workers or more, are required to announce their situations and prepare plans regarding the promotion of female workers. These efforts have resulted in a dramatic progress in enhancing women's participation in the economy. The progress was evidence by a considerable growth of women's employment rate, a reduction of the wage gap between male and female workers, and an increase in the number of female executives at listed companies. Furthermore, the Act on Promotion of Gender Equality in the Political Field came into force in May last year.
To realize women's empowerment and gender equality, it is also essential to ensure women's health and to eliminate violence against women. We will further promote necessary measures in these fields.
Q: How will you promote friendly exchanges between women in Japan and China? What kind of cooperation do you hope for between Japanese women and the ACWF?
Katayama: The ACWF is the largest women's organization in China. I would like to take the opportunity of my recent visit to reach even closer cooperation and interaction between the ACWF and the Gender Equality Bureau of Japanese Government.
I exchanged opinions with ACWF President Shen Yueyue on various subjects. Our meeting enabled us to share the recognition that interaction between women in Japan and China is extremely significant for improving the relationship between our two countries, and for advancing women's empowerment in both countries. We also agreed to continue and develop our interaction in the future.
This year, the G20 (Group of Twenty) will hold its summit in Japan. In March, the W20 and the WAW! meetings will also be held. We hope the ACWF will participate in these events, and we will work together to achieve women's empowerment in Japan, China and the rest of the world.
In an aging society, senior care services attract a lot of attention, especially the attention of women, who are both service receivers and providers. In China, many people are interested in the senior care services provided in Japan. In addition, beginning in April, Japan will accept many more foreign workers in such fields, including senior care services. I believe both Japan and China need to cooperate in this field to achieve a win-win relationship for both countries.
Furthermore, in fields, such as women's growing expectation about healthy life expectancy, health problems affecting women, for example breast cancer, I believe it is truly meaningful for us to carry out cooperation. In this way, we can figure out effective measures, which fit the cultures and lifestyles of East Asia.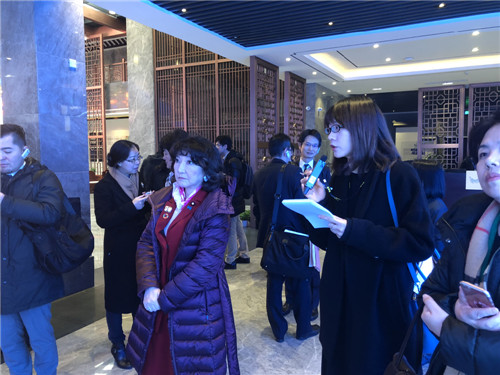 Satsuki Katayama visits Dream Village, in Zhejiang Province. [Photo by Zhejiang Women's Federation]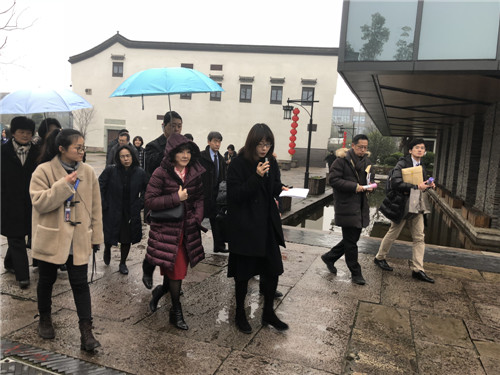 Satsuki Katayama visits Dream Village, in Zhejiang Province. [Photo by Zhejiang Women's Federation]
(Women of China)