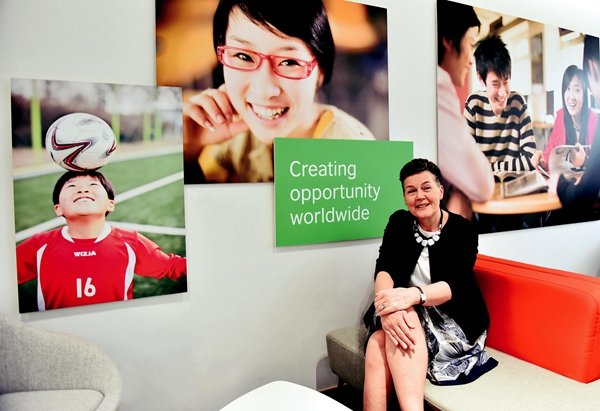 Carma Elliot, Director of the British Council China [Women of China]
"I am always impressed by the energy, enthusiasm and vision of all the women of China whom I meet. The famous saying, 'Women hold up half the sky' — that has been my experience of working in China, and working with so many impressive women across cultures, education, sports and other areas in which we work, while building cultural understanding and building trust between countries." Carma Elliot, Director of the British Council China, and a reader of Women of China English Monthly magazine, said the above as a message to the magazine's readers during an interview in May.
Carma Elliot first arrived in China in 1984 to study at Fudan University, in Shanghai. She has since spent a large part of her adult life in China, and during that time she has witnessed the great changes that have occurred in China, especially since the country implemented its reform and opening-up policy four decades ago.
This year marks the 40th anniversary of British Council in China, and the sixth year of Elliot serving as Director of the British Council China. In May, as Elliot was preparing to leave China for a new position in another country, she shared her memories with a reporter from Women of China. The following are excerpts of that interview, in question-and-answer format:
Q: Based on your communications with Chinese women, from all walks of life, what are Chinese women's roles in promoting social progress in China?
Elliot: It is important, for any social and economic development, that there be equal access to opportunities, which the development offers. Equality implies making sure that half of the population, women, are benefitting as much as the other half of the population, men. There is obviously a strong commitment in China, including in China's Constitution, to ensure women's equality with men. From my perspective, Chinese women want to contribute, and they do have a lot to offer, to promote economic development and the social progress of their country.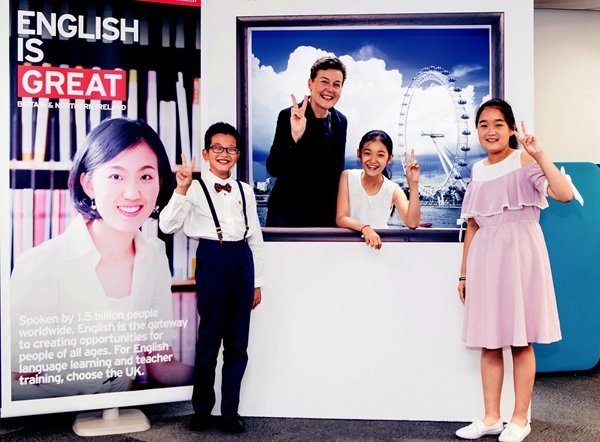 Carma Elliot poses a photo with some children. [Women of China]
Q: What has been the British Council's focus of work in China, based on your experiences?
Elliot: As a global organization, British Council has 12,000 staff working in 100-plus countries. It is important that there are organizations, like ours, who promote inter-cultural dialogue and great understanding of people's perspectives, regardless of which countries they come from. People have different cultural backgrounds, and the diversity of thoughts and different perspectives are important for reaching and sharing effective solutions to cope with the challenges we face together. We bring people together for dialogue, and we encourage them to build mutual understanding, through which we build great trust among peoples, governments and countries.
People-to-people dialogue is an important part of what we do here in China. When people meet, they are able to talk with each other and see things from different perspectives, which I think will contribute to the building of a more understanding and trusting world.
Women's economic empowerment is something I take very seriously, and a personal passion of my work here in China. Since I have two daughters, I would like to see them living in a world that encourages them to pursue any kind of job, at which they are capable of working well.
Carma Elliot receives an interview. [Women of China]
Q: Have you been impressed by the stories of some Chinese women who have pursued their dreams?
Elliot: I would like to give an example of a Chinese woman who has entered the creative industry. This wonderful woman is Li Jing, who is a deputy general manager and one of the artistic directors who works at Tianqiao Performing Arts Center, in Beijing. What impresses me most about her is that she has a strong commitment to encouraging women to work in the creative industry.
Particularly on the administration side of the creative industry, job posts are often dominated by men. Li has been active in bringing musical and Broadway shows to China, and helping expand audiences who are willing to accept new artforms on the stage in China. Recently, Li joined one of our programs, entitled "Connections to Culture," which has been run for 20 years in China. The purpose of this program is building professional, peer-to-peer engagement, including building connections between professionals in the creative industry in China with their peers in the United Kingdom. Li has impressed me as an energetic young woman, who wants to expand her horizons, and who is helping to build the creative industry into a new pillar for boosting China's economic development.
Q: How will you continue to promote people-to-people exchanges after you complete your posting with the British Council China?
Elliot: My new job is also about working with young people and building their ideas on volunteerism and setting up educational links across many countries. The experiences I have had in China have represented a big part of my life. I am moving to Singapore for my new job. Luckily, there is a very good Confucius Institute, and I will be able to continue studying Chinese. Building dialogues between people, wherever their origins are, will still be a focus of my life.
Q: Please offer a message of greeting to our readers.
Elliot: We have worked in China for 40 years as the Cultural and Education Section of the British Embassy here. We look forward to — with your readers, and with all of women in China, along with men with whom women work, study and play — building a strong relationship between the UK and China in the future.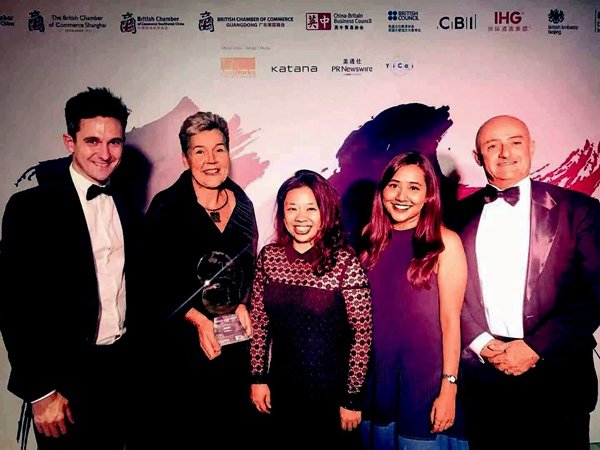 Carma Elliot (2nd, L) attends an activity. [Women of China]
(Women of China English Monthly June 2019 issue)