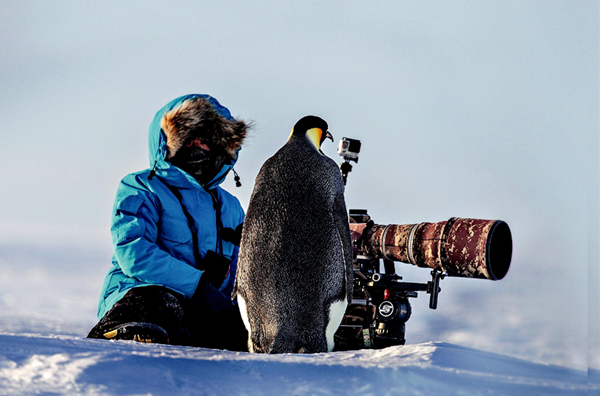 Gu Ying shoots the wild animals in the Antarctic region.[For Women of China]
Gu Ying, formerly a professional paraglider, is now a wildlife photographer. Gu has spent much time shooting wild animals in Hoh Xil National Nature Reserve, in northwestern China's Qinghai Province, since 2016. "My responsibility and obligations are to record wild animals in a real, comprehensive way, and to reveal the actual living conditions of the animals to the public. I hope the public will learn about the wild animals, and then help protect them," says Gu.
Becoming a Photographer
Both of Gu Ying's parents served in China's air force. Under their influence, Gu developed a yearning to fly when she was young. One day, in 2003, paragliding caught her attention, while she was hiking. The sport evoked her childhood dream of flying.
Gu took some paragliding courses, and she later became a professional paraglider. She practiced paragliding for half a year before she won the gold medal in a national paragliding competition. She became a member of China's national paragliding team in 2004. She won gold medals in national paragliding competitions three times over the next five years. Unfortunately, she had an accident while she was practicing in 2009; she fractured the second lumbar vertebra, and she was confined to bed for the next three months. She had to suspend her paragliding career for at least one year.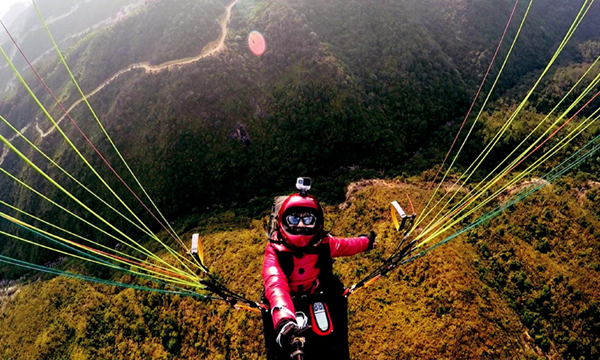 Gu Ying is practiced paragliding.[For Women of China]
While she was recuperating, Gu realized she could fulfill her dream of flying in another way — so to speak. As she could not fly like a bird, she decided to take photographs of birds. She became a wildlife photographer, and she mainly shot various species of birds.
"Paragliding and shooting wild animals have something in common. I have passion for both … Both require much willpower and patience. I need to spend much time to do them well. Paragliding is a sport that requires me to challenge myself. However, shooting wild animals is more meaningful. I can promote the animals to more people," says Gu.
She often stays in remote regions for long periods to shoot rare bird species or to obtain valuable photos of wild animals. She stayed in a remote mountainous area in the Tibet Autonomous Region for several weeks, in September 2011, to shoot photos of some special birds on the Qinghai-Tibet Plateau. She went to the Arctic region twice and each time she stayed there for 10-plus days, so she could photograph the moment when polar bears left their caves, with their newborn cubs, after hibernation. She stayed in the Antarctic region for 18 days, to shoot emperor penguins as they were breeding.
"I study the animals before I shoot them. I must be thoroughly familiar with their habits and characteristics. I need to use different methods of photographing to shoot different animals. Only if I blend into the living conditions of these animals can I obtain high- quality photos. Many wild animals live in remote areas, so the conditions … must be arduous. However, I really enjoy shooting animals, and I never regard it as a difficult thing. I describe wildlife photography as 'peeping.' I cannot disturb the animals. I hope to approach the animals without disturbing them, and to shoot them in a clear way," Gu says.
To date, Gu has shot more than 1,000 species of birds in various regions of the world. Some of her photos have been included in the Handbook of the Birds of the World, an authoritative bird encyclopedia. She has also shot many rare animals in their habitats.
In Hoh Xil
In 2016, the administrators of the Hoh Xil National Nature Reserve invited Gu to take photographs of Hoh Xil. Some of those photos were included in a video, an introduction to the reserve, to accompany the reserve's application to be listed as a world heritage site, in the natural site category. Hoh Xil was added to the list on July 7, 2017.
Gu has shot various species of animals in Hoh Xil nature reserve and the Three-River Source (Sanjiangyuan) National Nature Reserve, situated in southern Qinghai Province. Sanjiangyuan is the largest nature reserve in China, and it is the origin of the Yangtze, Yellow and Lantsang rivers.
"China has an abundance of species, especially on the Qinghai-Tibet Plateau. The public knows little about most of the species. I am a Chinese wildlife photographer. I think I have a responsibility to shoot the species in Hoh Xil," says Gu.
She arrived in Hoh Xil to shoot Tibetan antelopes for the first time in June 2016. "I once went to the Qinghai-Tibet Plateau three times in two months to shoot the antelopes. I once stayed in the depopulated zone in Hoh Xil for 40-plus days. I put up a tent where the antelopes lived, and I installed the photographic equipment in the tent. Every day, I entered the tent at 5:30 am, and I left the tent at 9 pm. I could only eat some canned congee, as fragrant food would attract nearby bears," says Gu.
She is planning to make a documentary that reflects the natural ecology of Hoh Xil and Sanjiangyuan. "There are few images about the animals and plants in the depopulated zone. I need to spend much time shooting the species. I hope more people will gain a more comprehensive understanding of Hoh Xil and Sanjiangyuan through my photos and videos," says Gu. She provides her photos and videos to experts, to help
them conduct their research. Experts at the Northwest Institute of Plateau Biology, under the Chinese Academy of Sciences, spoke highly of Gu's images of the migration of the Tibetan antelopes. Experts cannot say for certain why the antelopes migrate every year, but they can study the reasons why the antelopes migrate through Gu's photos and videos.
Gu serves as deputy secretary-general of the Hoh Xil Wildlife Conservation Association. She has given lectures, in China and abroad, on photography and ecological protection. She also gives lectures attended by biology teachers from primary and middle schools, and she shares her experiences in Hoh Xil with those teachers. The teachers share Gu's concept of ecological protection with their students, and they help the students cultivate an interest in nature and the awareness of protecting the biological diversity on earth.
"Wildlife photography does not merely mean shooting beautiful photos, but also promoting the species on earth to more people, so the public will pay attention to the species, and help protect the environment and the biological diversity on earth. We should respect all life on earth," says Gu.
A photo taken by Gu Ying[For Women of China]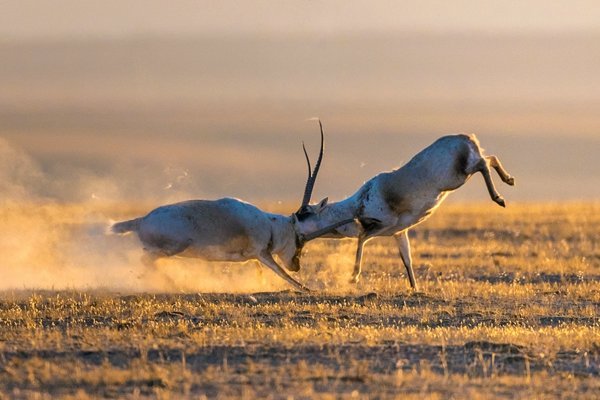 A photo taken by Gu Ying[For Women of China]
(Women of China English Monthly June 2018 issue)