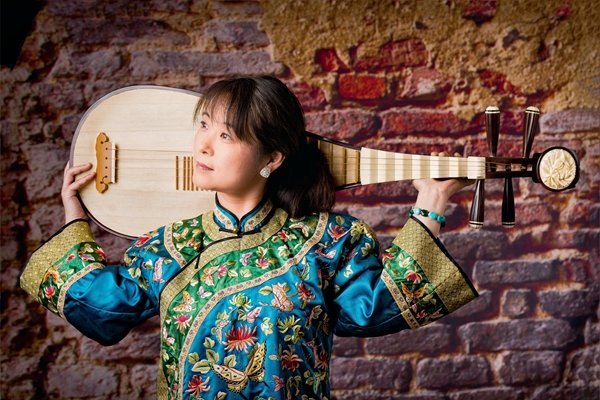 Wu Man [For Women of China]
As an internationally renowned instrumentalist of the pipa (a plucked string instrument with a fretted fingerboard), Wu Man for decades has spared no effort in promoting the traditional Chinese musical instrument throughout the world. Given her virtuosity and collaborations across disciplines, she has been nominated several times for the Grammy Award for Best Instrumental Soloist Performance (with orchestra) and Best World Music Album. Her performances, with musicians from various countries, have captured the hearts of numerous music enthusiasts from around the world.
Wu, who has lived in the United States for the past 29 years, often misses the "good old days," when she drank tea with her friends by West Lake (in Hangzhou, East China's Zhejiang Province), accompanied by soft pipa tunes.
Born into a family of art in Hangzhou, Wu lived, when she was a little girl, in a compound inhabited by families (of art), whose members worked for Peking Opera troupes, song and dance troupes and academies of fine arts. Influenced by her living environment, Wu developed an interest in performing arts during her early childhood.
In 1977, Wu was admitted to the Central Conservatory of Music Middle School, in Beijing. Her score for pipa performance ranked first among candidates in the country. From 1981-1987, she studied at the Central Conservatory of Music (in Beijing), where she became the first recipient of a master's degree in the pipa (in the country). Then, she began teaching at the school. However, she was not satisfied with the "stable life." In 1990, she traveled — alone — to Los Angeles (LA), to pursue further studies in the pipa.
Wu felt lost when she first arrived in LA, as most Americans, who had never seen the pipa, were not accustomed to the musical instrument. As she struggled to adapt to her new life, Wu performed, in her spare time, in communities and primary and middle schools (in LA), to help Americans understand the beauty of the pipa. At the same time, though, Wu felt as if she were in music heaven, because she was able to study various genres of music, including jazz, musicals, electronic music and rock and roll, to her heart's content.
Wu Man performs pipa. [For Women of China]
To help Americans understand the beauty of the oriental musical instrument, she has, for the past three decades, played the pipa during numerous musical performances, including recitals and symphony and chamber music concerts. As a result, many Americans have become Wu's fans. As Musical America (the oldest American magazine on classical music) noted, "She is the very model of a modern soloist, but more importantly, her work is part of a big step in the evolution of Western classical music. Thanks to her, the pipa is no longer an exotic curiosity, let alone a complete mystery."
Breaking Cultural, Musical Barriers
Compared with Western music, traditional Chinese music tends to be more abstract, which leaves one with greater room for imagination. After you watch a pipa performance, you may enjoy its lasting, and pleasant, aftertaste.
Wu's adventurous spirit and virtuosity have led to collaborations across disciplines, and have allowed her to reach wider audiences, as she has worked to break through cultural and musical borders. As a result, an increasing number of Westerners have been fascinated by the unique charm of Wu's "lute -like instrument." During the past 29 years, Wu has achieved fruitful results in collaborating with Kronos Quartet. Early in 1995, Wu and Kronos premiered their first project, Tan Dun (a Chinese contemporary classical composer and conductor)'s Ghost Opera, at the Brooklyn Academy of Music (in New York). Within a short time, Wu and Kronos embarked on a worldwide musical tour. Their performances were well received.
In 2000, Wu became a founding member of noted Chinese-American cellist Yo-Yo Ma's Silk Road Ensemble. The ensemble, composed of more than 70 artists from 25 countries, was cited by Boston Globe (an American daily newspaper founded and based in Boston, Massachusetts) as "a music lab without walls." The ensemble is dedicated to promoting collaborations among artists and institutions, in countries along the historical Silk Road trade routes, to promote both multicultural exchanges (among the artists and institutions) and the studies of their ebb and flow of ideas.
"I have reached wider audiences through my collaborations with the quartet and the ensemble. Many Westerners have been fascinated by the pipa's beautiful timbre," says Wu.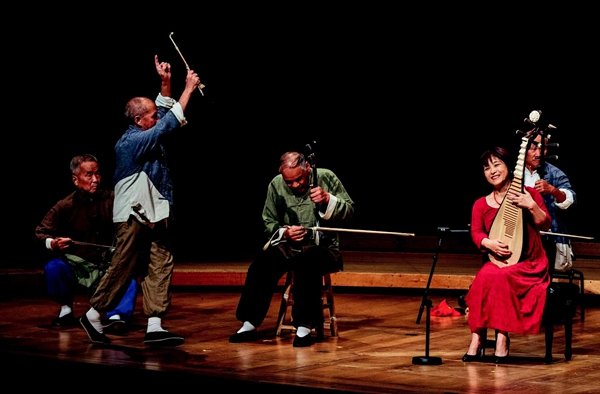 Wu Man performs on the stage. [For Women of China]
Exploring Roots of Traditional Chinese Music
The longer she lives in LA, the more eager Wu is to promote traditional Chinese music worldwide. She never forgets her roots — the treasures that define who she is, and from where she comes.
Early in 2006, Wu was overjoyed when officials of Carnegie Hall (one of the world's most prestigious music venues, in Midtown Manhattan, in New York City) asked her to help them produce two traditional-Chinese- music -themed concerts within two years. Within a short time, she began laying the groundwork for the concerts. She made special trips to remote rural areas in Shanxi (in North China) and Shaanxi (in Northwest China) provinces, to watch folk musicians' performances and to explore the origin of the traditional Chinese folk music, so she could display the music's unique charm to audiences outside of China.
"It was quite an interesting experience when I played, with my pipa at Carnegie Hall, the tunes of Shaanxi opera (Qinqiang) and of shadow play in 2009. I invited the Huayin Shadow Puppet Band, from Shaanxi, to perform a shadow play in the hall. Many of the spectators were fascinated by the unique charm of the traditional Chinese culture," recalls Wu.
Promoting Pipa on Global Stage
In recognition of her virtuosity and collaborations across disciplines, Musical America in 2013 named Wu "Instrumentalist of the Year," marking the first time the prestigious award was bestowed on a player of a non-Western instrument.
In 2017, Sing Me Home, produced by Wu and other members of Silk Road Ensemble, earned them the Best World Music Album during the presentation of the 59th Grammy Awards . Wu composed
Green (Vincent's Tune), the album's first melody, based on a tune created by her son. By drawing inspiration from the tune, which her then-four-year-old boy often hummed, Wu created the melody. She named the tune "Green," to praise the beauty and exuberant vitality of spring, a season as vigorous and enthusiastic as a four-year-old.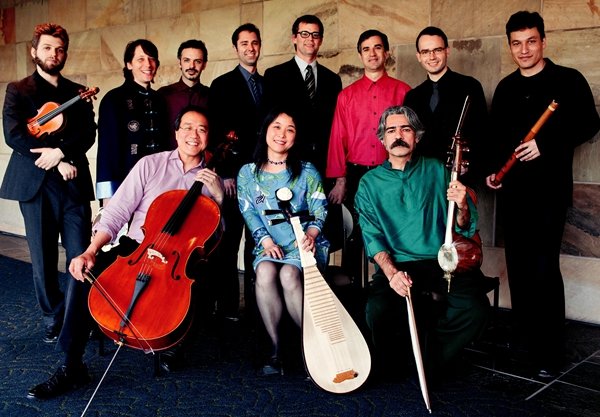 Wu Man (C) and her colleagues [For Women of China]
In February 2015, Our World in Song, which featured 12 folk songs (of different countries), was nominated for the 57th Grammy Award for the Best World Music Album. Wu, along with Hawaiian instrumentalist Daniel Ho and Cuban percussionist Luis Conte, played more than 50 musical instruments for the songs' accompaniments, creating an attractive, inspiring and exciting global music tour.
Four concerto concerts, which featured Ma and Wu, were held in New York from March 6-9, marking the US (United States) premiere of Chinese composer Zhao Lin's A Happy Excursion, a concerto for cello, orchestra and the Pipa. "I was thrilled when I saw so many Westerners watched our performances," recalls Wu.
She is pleased the younger generation of the pipa players tends to be better skilled than the older generation of performers. She suggests the young people should better understand traditional Chinese culture. Why? Someday, when the young artists perform the traditional Chinese music on the global stage, they will realize the significance of seeking the roots of the traditional Chinese culture.
Wu cannot remember how many times she has staged performances, both at home and abroad, during the past three decades. "My most unforgettable performance took place in a small music hall in the Republic of Tajikistan several years ago. While I was playing the pipa, the audience was so quiet that I could even hear their breath. My heart was filled with delight when I noticed they were responsive to my hands' movements when I played the pipa. I felt I was lucky to find such a keenly appreciative audience," recalls Wu. "As most of the residents had little chance for entertainment, they considered my concert a 'great event' in their lives. I was deeply touched by their respective, pious attitude."
Wu's zest to perform inspires her to make continuous efforts to pursue artistic perfection, so more people from around the world will be impressed by the unique artistic beauty of the pipa.
Wu Man (L) [For Women of China]
(Women of China English Monthly June 2019 issue)