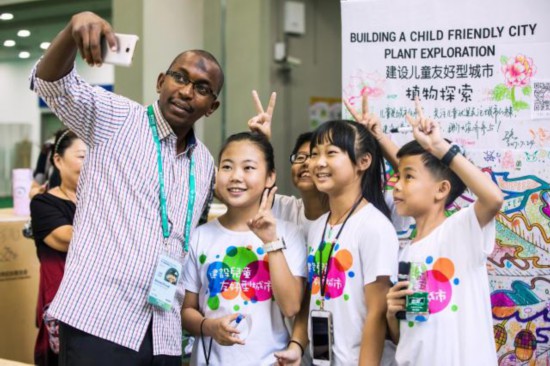 Children and a foreigner pose for a photo at the International Botanical Congress in Shenzhen. [Oriental Outlook]
On May 27, at 7:30 on Monday morning, the No.1 "bus on foot" of the Qiaotou School in Fuhai Street, Baoan District, Shenzhen City, set off on schedule.
A group of some 20 pupils walked to school with a school policeman and two traffic assistants escorting them. This route from its meeting point to school is 400 meters long and it takes about 10 minutes to walk. It has a timetable and a regularly rotating schedule.
The "bus on foot" activity originated in London to help children avoid being overweight in a creative way that is safe and fun. Fuhai Qiaotou School is the first school applying the practice in China.
It aims to improve children's safe travel to school by queuing, allowing pupils to learn about traffic safety, meet new friends, increase communication, solve parental pick-up problems and avoid traffic jams at the school gate.
It is part of a program of Qiaotou School, identified as a pilot child-friendly school in Shenzhen, to guarantee children's safety and to promote their engagement in society, and it epitomizes Shenzhen's construction as child-friendly city.
For building a city friendly to children, the "Shenzhen sample" is taking shape.
From a Concept to a Citywide Action
A child-friendly city (CFC) is a city, town, community or any system of local governance committed to improving the lives of children within its jurisdiction by realizing their rights as articulated in the UN Convention on the Rights of the Child.
In practice, it is a city, town or community in which the voices, needs, priorities and rights of children are an integral part of public policies, programs and decisions.
The Child Friendly Cities Initiative was launched in 1996 by UNICEF and UN-Habitat to act on the resolution passed during the second United Nations Conference on Human Settlements (Habitat II) to make cities livable places for all.
Many cities around the world have joined the Child Friendly Cities Initiative, with over 870 cities such as London, Munich, and Copenhagen having been so designated by the UNICEF. But no Chinese cities have yet be inscribed on the list.
In 2015, Ma Hong, President of the Women's Federation of Shenzhen City, proposed for the first time to include the building of a child-friendly city in Shenzhen's "13th Five-Year Plan (2016-20)," and the idea was adopted soon in early 2016 by the local government.
"Shenzhen is the first city in the country to incorporate child-friendly urban construction into its top-level design," Ma said.
To accelerate the construction of a child-friendly city, Shenzhen has worked out strategic planning for 2018-35 and an action plan for 2018-20, which focus on children's social security, participation and child friendly urban space.
"In just over three years, Shenzhen has been building a child-friendly city from an idea," said Ma, adding that the city was taking the task as one of the important measures to focus on the sustainable development of people in Shenzhen.
"In the past, Shenzhen didn't pay much attention to children's participation right or give top priority to children's need in decision-making," Ma said. But now, the city puts children first by emphasizing matters closely related to their lives, such as communities, schools, libraries, hospitals, parks and transportation, and by exploring the establishment of long-term mechanisms for children's public engagement.
"Child engagement is an important cornerstone for building a child-friendly city," said Liu Lei, Deputy Chief Planner of the city's Urban Planning and Design Institute.
For children's participation, Cong Zhongxiao, Secretary of the Party Committee of the China National Children's Center, makes three suggestions to urban builders and planners: first, urban construction and buildings, engineering and facilities should be considered from a child's perspective to see if they fully meet the needs of children; second, children's opinions need to be heard before the government makes relevant decisions, and third, education about children's rights needs to be improved for all members of society.
"To meet children's needs for development and protect their rights will eternally empower the development of a city," Cong added.
Social organizations in Shenzhen are also exploring innovative ways to facilitate child participation.
Last year, the Shenzhen China Women's Development Foundation organized a three-month activity to get children participate in urban planning design under the guidance of professional instructors, Vanke Group and the city's Urban Planning and Design Institute.
The activity invited 330 children to explore the city, find and analyze problems, and work out solutions, focusing on urban space, traffic safety, business, and environmental protection.
Huang Wenfeng, Secretary-General of the Shenzhen Women and Children's Development Foundation, said, "This event increases the bond between children and the city, and enlightens children's civic consciousness."
Beauty of Urban Areas for Children
"As a social bond, children can help increase communication between neighbors in the urban areas," Ma said.
Residential communities are especially important to create a child friendly environment as they are the areas where most of the children's activities take place.
Shenzhen is making great efforts in creating better communities for children. In a project transforming shantytowns into communities friendly to children in Luohu District, more sports venues, indoor activity space, as well as safe and comfortable walking paths are being provided to meet the needs of children of different ages.
Children are also given more access to nature with agricultural and forestry land being used to develop community farmland. In addition, the communities are equipped with children's libraries, children's conference spaces and children's areas for comprehensive activities. The community's street sign system has been designed to be easier for children to read.
The pilot child-friendly schools program in Shenzhen has also implemented renovation of toilets, water fountains and safety facilities fully considering students' demands. It has also rebuilt the school's reading rooms and developed roof gardens, agricultural space and other facilities to enhance children's access.
Shenzhen has more than 400 breastfeeding rooms; the one at Shenzhen Airport, which covers nearly 100 square meters, is the largest of its kind in China's airports with the most complete functional facilities.
"Through building a child-friendly city, we bring all our wisdom and strength together to promote urban development," Ma said.
(Source: Oriental Outlook/Translated and edited by Women of China)