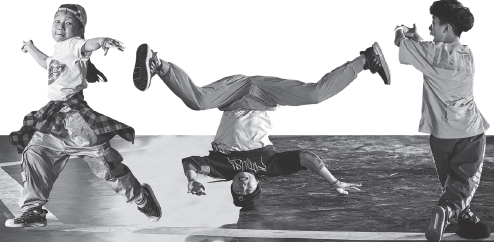 [China Daily]
Veteran street dancer Wu Jiukun is thrilled to see that the art is getting a new lease of life as it is now embraced by young Chinese who want to showcase their individuality, Chen Nan reports.
When Wu Jiukun was invited to participate in the seventh World Dance Games, a street dance competition, which was held from Aug 9 to 11 in Zhengzhou, Henan province, he did not expect to be treated like a legend by people who he was meeting for the first time.
But that is what happened after Wu, clad in a pair of loose pants and sporting a bright red hair band, showcased his break dance moves at the gala on the last day of the competition.
After that performance, people gathered around him to ask for autographs and have pictures taken.
Speaking about the experience, Wu, 50, says: "It was the first time that I participated in WDG and the event was full of young people in their 20s.
"I thought they might have heard about me or watched my videos but I did not expect that they would know so much about me."
Wu, who was born and raised in Xinyu, Jiangxi province, was among the earliest Chinese street dancers, who learnt the Western art form in the 1980s.
Three years ago, Wu's roller-coaster life was reported by the media, especially after his video, which saw him pull off some impressive moves while making marshmallows for his customers, received over 100 million views online.
Then, he also gained a fan base on social media, such as on popular Chinese short video platform Douyin, or TikTok, with his dance videos, including one teaching break dance moves and dancing to his 82-year-old mother.
Recounting his experience at the event, he says: "The young people I met at the competition were so passionate about street dance, which reminded me of my younger days. I was surprised but also happy to see that street dance is popular in the country now."
Street dance, or hip-hop dance, emerged in the United States in the late 1970s, and it includes a variety of styles, such as breaking, locking and popping.
It became popular in China after street dance-themed movies were screened in the country, and some of the first groups of street dancers became as famous as pop stars, such as the late dancer-choreographer Tao Jin, who was known for his performance in the breakdancing-themed movie, Rock Kids (1988), directed by Tian Zhuangzhuang.
In 1984, Wu, then a primary student in Xinyu, watched an American movie, Breakin', directed by Joel Silberg, that tells the story of a struggling young jazz dancer who meets up with two breakdancers.
He loved the movie so much that he watched it 67 times in a local cinema and then became obsessed with break dancing. For Wu, who was a thin and small kid, imitating the moves of the dancers in the movie gave him confidence.