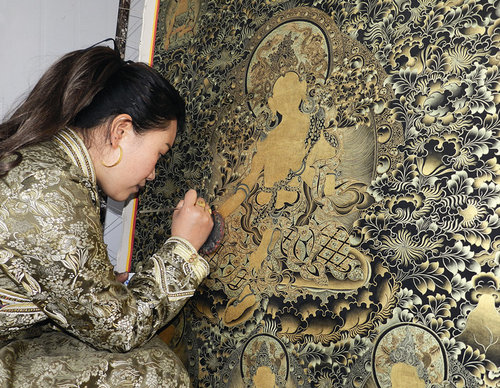 Namtso [Women of China English Monthly]
A thangka is a painting on silk or cotton with embroidery, and it usually depicts a Buddhist deity, scene or mandala (a spiritual and ritual symbol in Hinduism and/or Buddhism that represents the universe) of some sort. In particular, thangkas depict figures and scenes that involve Tibet's history. Therefore, thangkas can be considered "encyclopedias" of the Tibetan people. In 2006, China added the thangka to the list of the country's items of intangible cultural heritage. For hundreds of years, Rebgong, a region in Tongren, a county in Huannan Tibetan Autonomous Prefecture, in Northwest China's Qinghai Province, has been renowned for its exquisite, vibrant-colored thangkas. The art form was added to the list of UNESCO (United Nations Educational, Scientific and Cultural Organization)'s intangible cultural heritage in 2009.
Songtsan Gampo (617-650, a Tibetan king who united the various Tubo tribes, and traditionally credited with the introduction of Buddhism to Tibet) and his wife, Princess Wencheng (625-680), created the first thangka painting during the seventh century. The art form flourished during the Ming (1368-1644) and Qing (1644-1911) dynasties.
To make a thangka painting, craftspeople must complete several complicated procedures, including designing the pattern, coloring and dyeing (with pigments made from natural ore plants), outlining the deity (or deities) and scenes (in the painting), shading the painting with golden powder, and painting the eyes of the deity (or deities).
Namtso, 31, a native of Wutun, a village in Tongren County, became the first craftswoman to makes thangkas in the county. She has been creating the works of art for 17 years, during which time she has won many prizes for her thangkas.
Namtso began learning how to make thangkas when she was a little girl. "Influenced by my father, I developed an interest in creating the items during my early childhood," Namtso recalls.
"For hundreds of years, creating thangkas has been considered men's work. Also, according to traditional Tibetan views, it is only right and proper for men to work outside the home, and for women to do housework, do farm work and take care of children at home. Most Tibetan couples performed their roles like that. However, I, and many other young girls in my village, thought that was unfair," says Namtso.
"Luckily, my open-minded dad agreed to teach me how to make thangkas. Despite the strong opposition of his teacher, and the villagers, my dad taught me … When I turned 14, I completed my first thangka, and I became the first woman who created a thangka in the county. We, dad and I, fought against the odds and proved that women were as capable as men."
Namtso studied Buddhist scripts at the same time she learned how to paint thangkas. As she had a better understanding of the scripts than most people, the paintings she created looked more solemn than others' works.
In 2003, Namtso's father decided to find a more-skilled craftsman to help his daughter improve her thangka-making skills. Xi Hedao, a State-level master of arts and crafts in China, took Namtso as his apprentice, after he saw her paintings. All of his other apprentices were men.
Xi's careful guidance imbued Namtso with fine artistic taste, and Namtso's imagination and painting skills improved substantially. As a result, Namtso became a promising craftswoman.
"My teacher not only taught me the skills needed to create the paintings, but he also helped me cultivate good traits, such as patience and tolerance," says Namtso. "With his help, I practiced the skills of painting Buddhas' eyes for many years before I could create exquisite paintings. Now, I enjoy painting Buddhas' eyes, which gives a golden touch to my work, and brings life to the figures."
Namtso leads a simple life. Aside from eating and sleeping, she spends almost all of her time painting thangkas. She is content with the monotonous, lonely life.
"It's a rewarding job to paint thangkas," says Namtso. "When you focus your attention on the art, you will calm down, and you will become quieter and steadier than usual. Indeed, the art can purify your heart."
Following her example, Namtso's two sisters also learned to paint tangkas. Now, each of the three young women has a studio. They produce and sell their thangkas in the studios.
Namtso has begun recruiting students; but, unlike most of her peers, she only recruits women. "I hope more women will become craftswomen, so they can get a sense of the unique charm of traditional Tibetan culture," she says.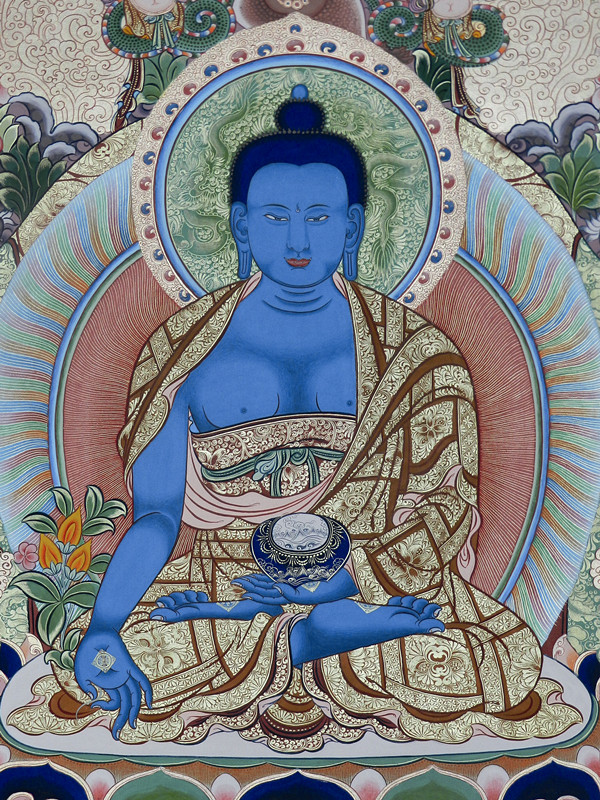 A thangka [Women of China English Monthly]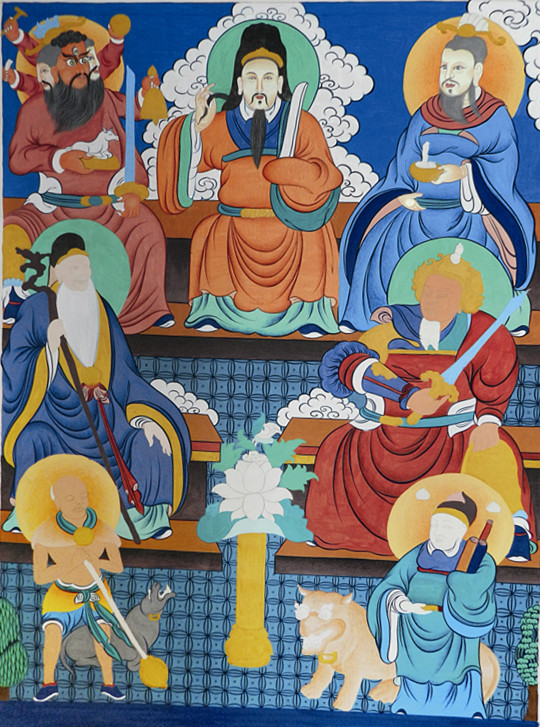 A thangka [Women of China English Monthly]
(Source: Women of China English Monthly February 2017 Issue)