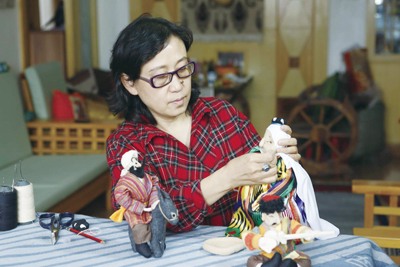 Shan Xiumei works on an artwork. [Cnwomen.com.cn]
Shan Xiumei, a folk artist from northwest China's Xinjiang Uygur Autonomous Region, has been engaged in the craft of embroidered dolls and training new talents for over 20 years.
In all that time, Shan never stopped creating and often thought about passing down the tradition to the next generation.
Nowadays, the country pays much attention to the training of craft talents to protect intangible cultural heritage (ICH). China National Arts Fund (CNAF) was established with this purpose, and to propel the development of arts.
At the end of June 2017, a Xinjiang Embroidered Puppet Creativity Talent Training scheme was successfully selected as the CNAF's funded project, which thrilled Shan.
After that, she began recruiting students. Thirteen were selected as Shan's trainees among 100 applicants. Coming from different industries and with different experiences, those selected bonded for their love and curiosity towards this practice.
On October 29, 2017, the training course was officially launched. People's understanding of the embroidered dolls has continued to deepen in actual operation.
To help trainees master relevant techniques and improve their artistic accomplishment, Shan invited ICH inheritors and senior teachers to give lectures.
According to Shan, people who are interested in the arts and crafts industry should earn a living wage first, and then it is possible for them to innovate and develop.
Although the 35-day training in the first phase was completed, Shan organized weekly "brainstorming" sessions. "My idea is to develop each person's specialty, let everyone's creativity burst out, and come up with a valuable product together that is worth collecting," said Shan.
Shan Xiumei's artwork [Cnwomen.com.cn]
(Source: Cnwomen.com.cn/ Translated and edited by Women of China)