A teacher at the egg sculpture workshop instructs students how to make egg carvings. [Xinhua]
Egg sculpturing brings extra life to students who cannot speak or hear at Changchun University.
The sound of polishing egg shells and tools knocking with each other is the only thing visitors can hear at the egg carving workshop in the university's School of Special Education.
The everyday egg shells become art pieces under the creative skills of these students.
Jin Zhanrong, director of the visual communication department of the school, brought in the egg sculpture major three years ago.
He said that unlike other students most students here in the special education school live a silent life, which makes it easier for them to forget the outside world and concentrate on egg carving, which is fragile and demands attention.
"Egg shells are very thin and breakable," Jin explained. "At the beginning, only one unbroken work can be completed after dozens of failed shells, which made students pretty frustrated."
Teachers of the workshop encourage the students and keep giving them suggestions and advice on carving skills.
"I told them to hold their breath and be careful about every carving step or the shell might be smashed," he added.
Many students have made exquisitely beautiful pieces after months of practice, several of which have been purchased.
Jin has also been astonished by their works.
"I taught them how to carve but it is still a surprise to see such beautiful and delicate egg art-wares made by students who cannot hear and speak," Jin said with excitement.
In the past three years, more than 3,000 egg sculptures have been created by teachers and students at the workshop. The eggs are also used as gifts for international exchanges.
Jin said "egg art has made these students more confident and their lives more energetic."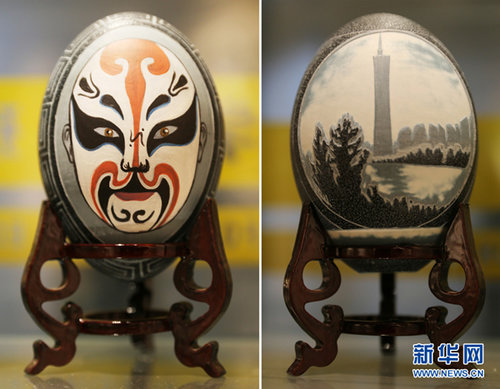 Two egg art-wares integrating traditional Chinese culture made by students at the School of Special Education in Changchun University [Xinhua]
An egg sculpture shines with an internal light. [Xinhua]
(Source: China Daily)