Photo shows attendees at the opening ceremony. [culture.ifeng.com]
The World of Meilin: Han Meilin at 80 Art Exhibition officially opened to the public at the National Museum of China (NMC) in Beijing on December 21, 2016.
Jointly organized by the China National Commission for the United Nations Educational, Scientific and Cultural Organization (UNESCO), the China Federation of Literary and Art Circles (CFLAC), the NMC, the China Artists Association (CAA), Han Meilin Arts Fund, Han Meilin Arts Museum and other bodies, the exhibition displayed 2,000 pieces of artistic works created by Han since his previous show at the NMC in 2011 in a variety of categories.
As a contemporary Chinese trail-blazing artist, Han's works have covered a wide range of artistic forms, including painting, calligraphy, porcelain, design, and even writing. With a unique artistic style, he is inspired by ancient Chinese artworks before the Han Dynasty and has committed to integrating such inspirations into works that cater to today's aesthetic tastes. He was designated by UNESCO as an Artist for Peace in 2015 for his sound artistic performance.
The ongoing exhibition, which centered on the theme "tracing back to the roots of our nation", was divided into Han Meilin Arts Caravan, Bush and Tree as Guests, Hundreds of Roosters Greeting the Spring, Brilliant Rays of the Earth, Phoenix Flying in the Sky, A Call of the Ancient Times, Artistic Conception and Creations, and A Guard of Peace.
Zhou Lingzhao, 97, who was the designer of the overhead lights at the Great Hall of the People, the military uniforms of ten Chinese Marshals and the formal dress of Chairman Mao Zedong (1893-1976) at the founding ceremony of the People's Republic of China in Beijing on October 1, 1949, declared the opening of the exhibition.
Han said in his address at the opening ceremony that the popular observance of respecting prominent figures with high prestige and one's teachers and conveying gratitude to all individuals is an important mark of social civilization and progress, adding that's why Zhou was invited to inaugurate the exhibition.
The exhibition in Beijing, scheduled to be concluded on February 12, was the second stop of his world tour. The first stop was held in Venice, Italy on October 27, 2016, while the last stop will be staged in May at the headquarters of UNESCO in Paris, France.
According to organizers, a release ceremony of postal stamps would be held in commemoration of the upcoming Year of the Rooster in accordance with the traditional Chinese Zodiac-themed calendar, while Han was scheduled to hold his lecture and donation of artistic productions to the NMC.
Those present at the opening ceremony included Tie Ning, president of the CFLAC and the China Writers Association (CWA); Zhao Shi, vice-president of the CFLAC; Fan Di'an, president of the Central Academy of Fine Arts (CAFA); Lu Zhangshen, president of the NMC; Yu Qiuyu and several other prominent writers.
Han Meilin gives a speech at the opening ceremony. [culture.ifeng.com]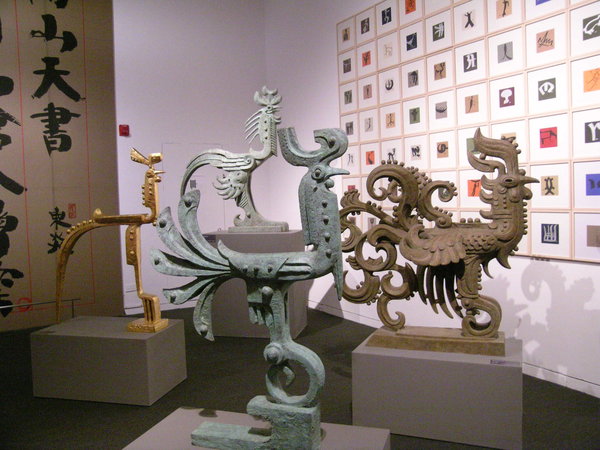 Photo shows exhibited items at the opening ceremony. [Women of China/Zhang Jiamin]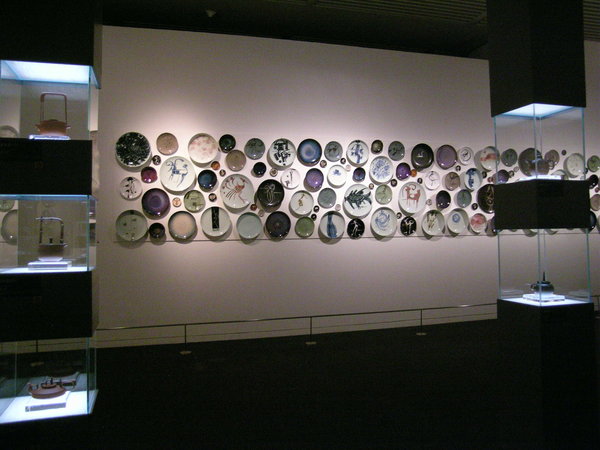 Photo shows exhibited items at the opening ceremony. [Women of China/Zhang Jiamin]
Photo shows exhibited items at the opening ceremony. [Women of China/Zhang Jiamin]
Photo shows exhibited items at the opening ceremony. [Women of China/Zhang Jiamin]
Photo shows exhibited items at the opening ceremony. [Women of China/Zhang Jiamin]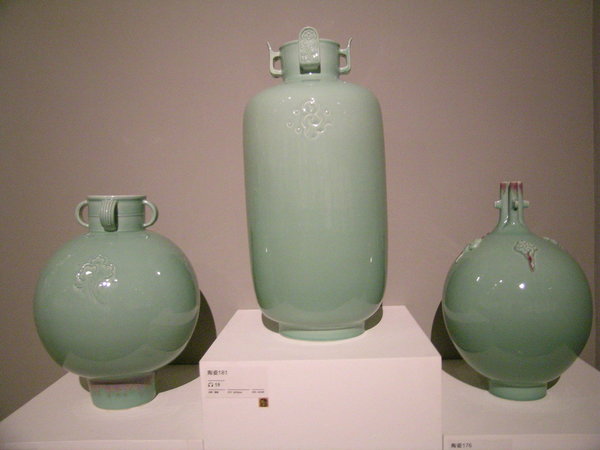 Photo shows exhibited items at the opening ceremony. [Women of China/Zhang Jiamin]
(Women of China)