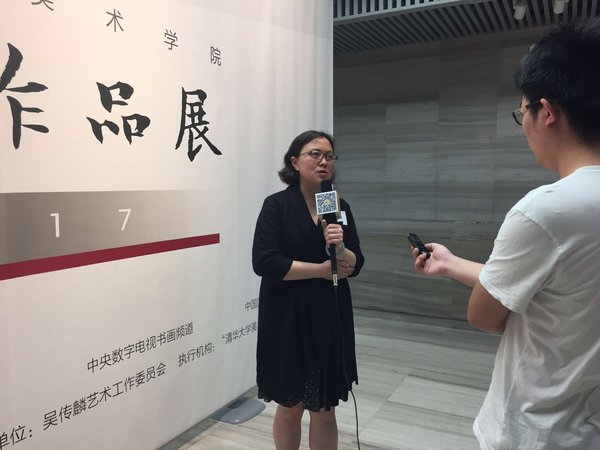 Wu Danmin, one of the curators, gives an interview during the exhibition. [Women of China/Zhang Jiamin]
The Academy of Art and Design at Tsinghua University held an alumni exhibition on May 6 to present the artworks of graduates from home and abroad in the Chinese Fine Art Center of the China National Academy of Painting in Beijing.
The exhibition was jointly hosted by the calligraphy and painting channel of China Digital Television and the Institute of Cultural and Innovative Development in Tsinghua University, featuring approximately 1,000 artworks from 232 alumnus of the academy of Art and Design at Tsinghua University.
Presenting works by alumni spanning many decades with 12,800 square meters of exhibition space, the group exhibition was hailed as "unprecedented" with regards to the artworks' quantity, quality and other aspects.
The curators, Xie Ke, Guo Yebin and Wu Danmin, presided over the opening ceremony and the attendance at the opening ceremony was nearly 1,000.
Xie gave a speech at the opening ceremony, briefly introducing the history of the academy and the fundamental purpose of the exhibition.
Specifically, preceded over by the Central Academy of Art and Design, the academy was established in 1956. Since the academy has cultivated a large number of art and design professors, at the celebration of its 60th Anniversary last year, graduates proposed to hold an alumni exhibition to present the achievements of the alumni's creations in art and design, pass down the academy's running idea of inclusiveness, innovation, integration of practicality and arts, and provide opportunities for young alumni to express their distinctive interpretations of the arts and society.
Speakers at the gathering also included: Chang Sha'na, former director of the Academy of Art and Design at Tsinghua University; Ma Sai, vice director of the academy; Han Meilin, a renowned painter who was designated as the chief art adviser by World Wildlife Fund China; and, Du Dakai as well as Li Mu, professors at the academy.
The exhibition runs until May 21.
A view of the exhibition [Women of China/Zhang Jiamin]
A view of the exhibition [Women of China/Zhang Jiamin]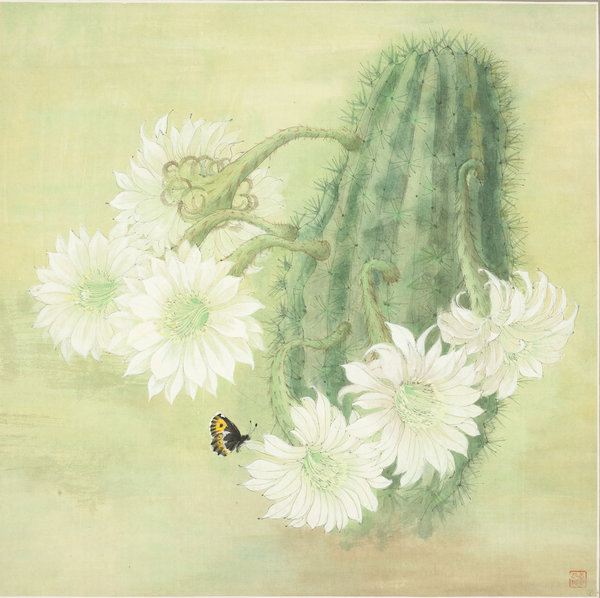 A painting named Cactus by Chang Sha'na [Women of China/Zhang Jiamin]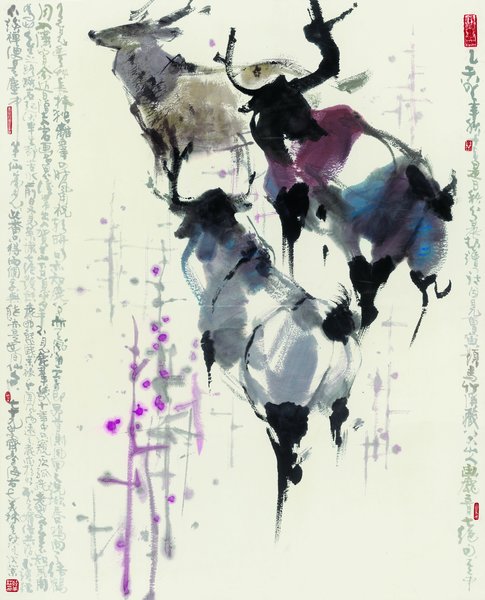 A painting by Han Meilin on display [Women of China/Zhang Jiamin]