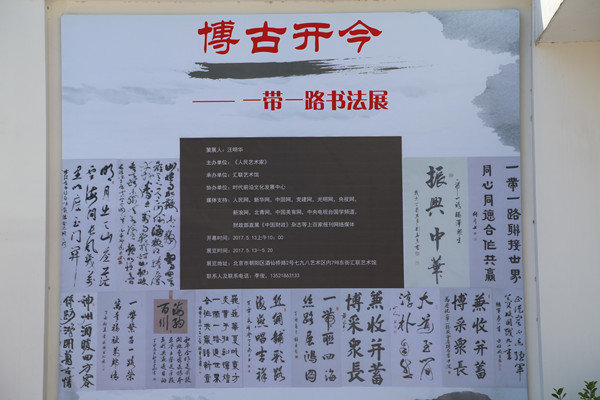 The B&R Chinese calligraphy exhibition opens in Beijing, May 13, 2017. [China.org.cn/Zhang Liying]
A Belt and Road (B&R) Chinese calligraphy exhibition on the theme "Connecting History and Today" opened at the Holian Gallery in 798 Art District, Beijing on May 13.
The exhibition presents 33 calligraphy works portraying the spirit upheld by the Belt and Road Initiative (BRI) such as "Inclusiveness of Different Cultures" and "Win-Win Cooperation," delivering wishes for the success of the BRF.
These fine works, as special renderings for this exhibition, showcase the charm of calligraphy, an art with the most distinctive Chinese features, said Wang Minghua, chief editor of People's Artists magazine, the organizer of the exhibition.
"Calligraphy is the essence of Chinese culture. As calligraphers, we have a responsibility to spread traditional Chinese culture and promote world artistic diversity," said Nie Zhongbo, director of the Calligraphy Specialized Committee of Central Government Enterprises.
Cultural exchanges are vital for greater understanding between people in different countries. China hopes to work together with all its partners in boosting the development of human civilization through extensive consultation, joint contribution and shard benefits.
The exhibition will run to May 20.
(Source: China.org.cn)