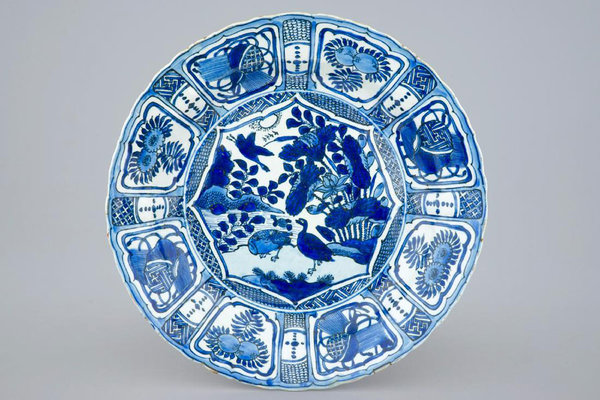 A porcelain dish on display at the National Museum of China [chnmuseum.cn]
Nearly 300 exquisite porcelain exponents which were historically exported from China have returned home for an exhibition at the National Museum of China in Beijing.
The production and trade of export ceramics lasted for about 1,000 years in China spanning from 7th century to early 20th century. Chinese ceramics were first exported to Europe and America on a massive scale during the late periods of Chinese feudal dynasties, becoming a major "international commodity" of those times.
Many exported ceramics underwent remoldings by owners in the West, and the current exhibits display some of these additional touches.
The porcelain items were exported from Jingdezhen, China's "porcelain capital" in eastern Jiangxi Province.
Wang Luxiang, organizer of the exhibition, said the porcelain pieces displayed a combination of two artistic tastes once exported.
"These are a pair of colorful vases dating back to the Kangxi Emperor. They were already rich in color. After being sold to a European court, some gilded copper decorations were added, and they came to serve as candelabras. So they are international works of art, as they combined the art languages of both the East and the West."
The exhibition titled "Return -- Silk Road and Ceramics" is open and will run through June 9th.
In 2016, Jingdezhen's porcelain products were exported to 75 countries and regions with a total value of 256 million yuan, or roughly 37 million US dollars.
The city's 1,700-year ceramic culture has also become a tourist attraction.
(Source: China Plus&CCTV)