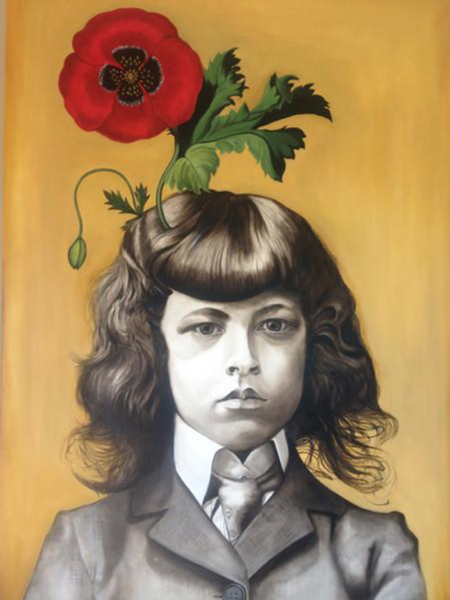 Boy with Flowers, oil on canvas, by Canadian artist Marianna Gartner. [China Daily]
A group exhibition featuring Chinese and Canadian female artists held in Vancouver this month offers a glimpse into the interests of women artists from different cultural backgrounds, living environments and generational perceptions.
Entitled In the Mood for Love, the ongoing show at Poly Culture Art Center in Vancouver features works by 28 female artists from China and Canada, covering Chinese traditional ink paintings, oil paintings, sculptures, video works, photographs, prints and fashion designs.
Unlike male artists' interests in grand themes, female artists often dedicate themselves to a more self-focused emotion to explore their inner selves, academic director Fu Yijing says in her preface of the show.
She says that the power of women is less compared to men. Although female artists are increasing in numbers and their power grows, they still are not the major voice of the contemporary art world.
The exhibition features works by 22 Chinese artists showcasing the development of contemporary art after the concept was introduced to China in the mid-1980s.
The artists whose works are featured range from 57-year-old Xiao Lu to Geng Xue, a promising 34-year-old video artist known for her innovative exploration of Chinese culture using multimedia.
There are six influential Canadian female artists taking part in the show. They include artist and writer Emily Carr, whose works were inspired by the indigenous people of the Pacific Northwest Coast and express a spiritual connection to British Colombia's landscapes, and abstract oil painter Rita Letendre.
Dong Huiping, curator of the show, says the event is the first time that renowned Chinese and Canadian female artists are jointly participating in a show. And it's easy to find the influence of major Western art schools of the 20th century-cubism, fauvism, impressionism and abstractionism-on these artists, especially in the works of Canadian artists.
"There are also differences in terms of culture. While the Canadian artists are influenced by Aboriginal culture in Canada, their Chinese counterparts' works are influenced by Chinese traditional culture," says Dong.
For instance, painter Zhang Yanzi uses concepts from traditional Chinese medicine to reflect her experiences of pain and happiness, while Peng Wei paints copies of ancient Chinese ink paintings onto shoes, boots, clothes and even the limbs of female mannequins.
Dong says that no matter what kind of media these female artists use, it would be appropriate to describe their works as poems from their hearts instead of saying they are creating artworks, because many of the works are related to their feelings and lives.
The show is organized by Poly Culture North America Investment Co, which is committed to international cultural exchanges with China and the development of the local art market.
The show, which runs through Jan 31, is part of a series cultural events held by Poly Culture North America to celebrate the 150th anniversary of the founding of Canada this year.
Previously, it has held shows including the Exquisite Chinese Jades Throughout the Ages and The Beauty and Allure of Chinese Painting: Qi Baishi and Wu Changshuo's Twelve Landscape Screens.
(Source: China Daily)