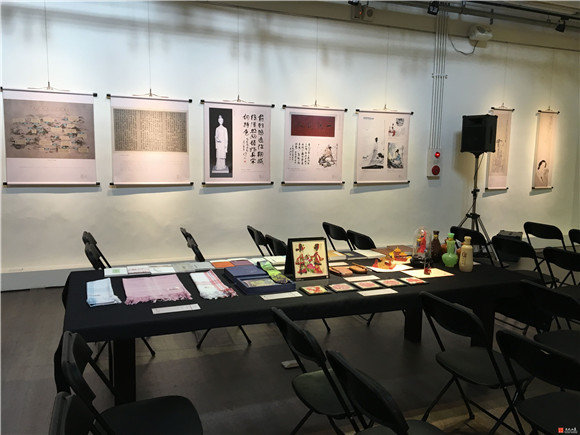 Creative cultural products are displayed at the Li Qingzhao Cultural Exhibition at the Huashan 1914 Creative Park in Taiwan. As an example of female patriot, Li has a great effect on modern women's literature. [Cultural Shandong]
The Li Qingzhao Cultural Exhibition was held from December 14 to 16 at the Huashan 1914 Creative Park in Taiwan, attracting more than 2,000 visitors.
Li Qingzhao (1084-1155) was a remarkable Chinese poetess of the Song Dynasty (960-1279). During her lifetime, Li made great achievements in the field of lyrics.
Born in present-day Ji'nan of Shandong province, Li excelled at poetry, ink painting and calligraphy. She and her husband, Zhao Mingcheng, shared an interest in collecting bronze ware and headstones carved with prose and poems. Zhao was also a renowned poet at the time.
Through a series of featured activities including display panels, calligraphy and painting exhibition, culture lectures, Peking Opera performances and creative product display, the event charted Li's extraordinary life and her achievements in literature.
The event was jointly organized by the Shandong provincial department of culture, the C.F.Koo Foundation, and the Shandong Culture Media Co, in a bid to promote exchanges and research on Li between Shandong and Taiwan.
(Source: China Daily)