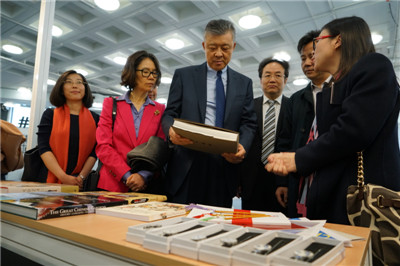 Attendees at the Fair [fmprc.gov.cn]
China-themed titles gained wide attention at the 2018 London Book Fair which closed on April 12, resulting in a number of cooperation agreements and even acquisitions by the British Library.
This year's fair attracted more than 1,500 publishing organizations from over 120 countries.
Several major domestic publishing organizations such as China International Publishing Group, China Publishing Group, and Phoenix Publishing Media Group participated in the event.
During the three days it was open, Chinese exhibitors attracted a large number of visitors to stop by to make academic exchanges and view the launch of new books.
On the first day, China International Publishing Group showcased The Role of China in the Human Community of Shared Destiny by the famous British sociologist Martin Albrow.
In the book, he discusses China's role as a big country in the international community and its role among the major powers, providing a new perspective on the impact of China's development on the world.
Economic Science Press displayed the Chinese Road series, which focuses on Chinese plans for modernization and the Chinese wisdom they have contributed to solving common problems faced by humanity.
Chinese Road also gained praise from Hamish Todd, Director of the East Asia Collections Department at the British Library, who said that the book is colossal and focused on its topics.
The British Library later chose 21 of the titles or its collection to be made available to the public.
Xiang Xiaowei, minister counselor of the Cultural Section of the Chinese Embassy in London, told reporters: "London Book Fair is an important platform. Today we can more demonstrate and introduce the social science publishing products of Chinese concepts, economic models, and governance methods. I feel our publishing company is more culturally confident."
As the largest professional book fair among the global English-speaking countries, it is a door for everyone to enter the English publishing world. Jacks Thomas, director of the fair, hopes that Chinese publishers will be able to make full use of the role and influence of the London Book Fair, gain more copyright agreements in London, and introduce more outstanding Chinese books to readers of English-speaking countries.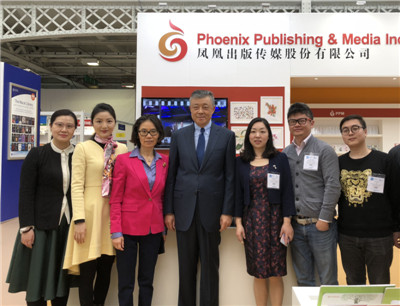 Attendees at the Fair [fmprc.gov.cn]
(Source: Xinhua/Translated and edited by Women of China)