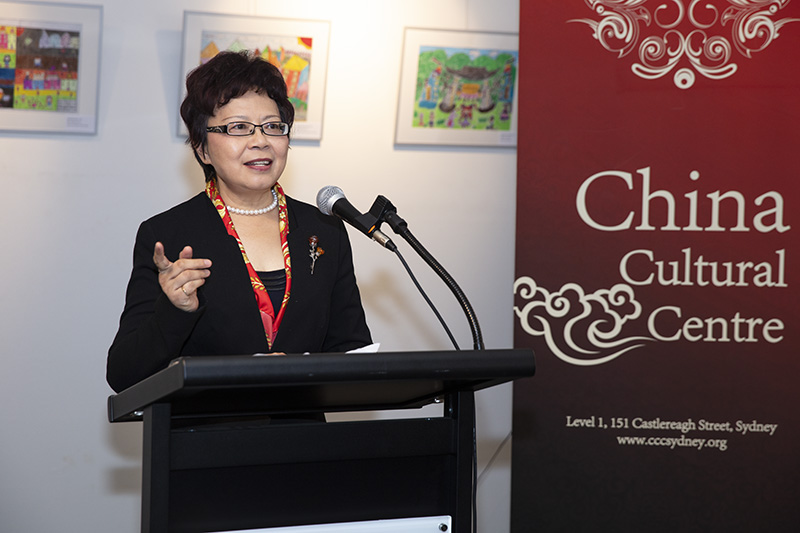 Dr Zoe White, representing the organizer, delivers a speech[People's Daily Online]
The opening ceremony of "Make the World a Better Place – International Children's Painting Exhibition in Honour of the Tenth Anniversary of Wenchuan Earthquake" took place in the Sydney China Culture Centre in the evening of May 11. The exhibition aims to honour the lives lost in the Wenchuan Earthquake, and to introduce the achievements in rebulding Wenchuan to overseas Chinese and those who care about the event. About 200 representatives from fields of culture, art and education attended the ceremony.
The exhibition is hosted by Sydney China Culture Centre, People's Daily Online Australia and Sichuan Xinhua Foundation and is supported by many other organisations. The exhibition invites children from the disaster area to share their paintings about their memory of the earthquake and the impressions of their hometown nowadays. Children from Sydney Yucai School and Melbourne Xin Jin Shan Chinese Language and Cultural School also contributed their paintings about their impressions of China. Among the art works of the exhibition, 30 are from Sichuan, 11 are from Sydney and 3 are from Melburne. The youngest artist ages 6 and the oldest ages 19.
Expect from the paintings, there are also a set of photos showing the comparison between the scenes of Wenchuan earthquake and the scenes of Wenchuan after the rebuilt.
Mr Chen Shuang, the Director of Sydney China Cultural Centre, said the works can help people in Australia understand the destruction caused by the earthquake, the changes that have taken place in that area and the hometown in the children's eyes.
Dr Zoe White, representing the organizer, said the exhibition is not only in memory of the lives lost in the earthquake, but also is the discussion about the meaning of life. By holding the exhibition, the host wants to inspire people to live a positive life and pursue a bright future.
Zhang Yingbao, Consulate-General of China in Sydney, and Virginia Judge, former Minister for the Arts of NSW also attended the event and delivered speech.
The exhibition will be on display at the Sydney China Culture Centre from May 12 to 24, and in Chengdu, Sichuan later on 1st of June.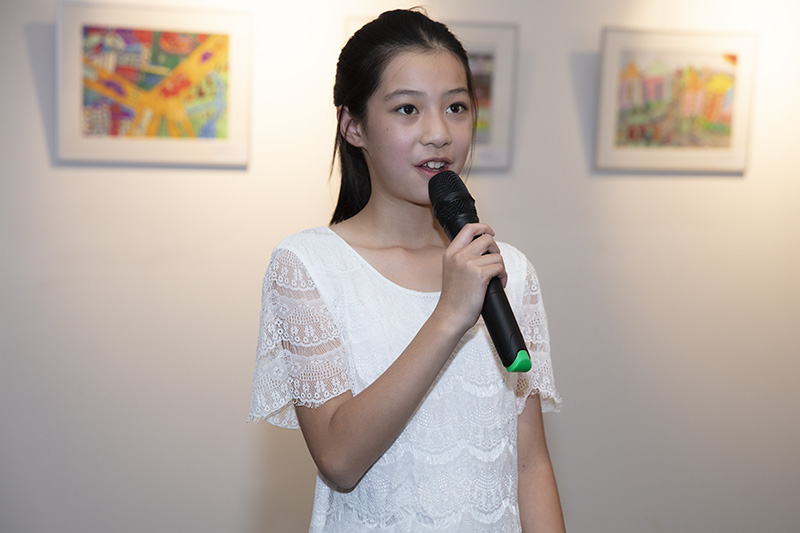 Wei Qingdou talks about the inspiration of her paiting. [People's Daily Online]
Many parents bring their children to the exhibition. [People's Daily Online]
The Opening Ceremony of "Make the World a Better Place – International Children's Painting Exhibition in Honour of the Tenth Anniversary of Wenchuan Earthquake" [People's Daily Online]
(Source: People.cn)