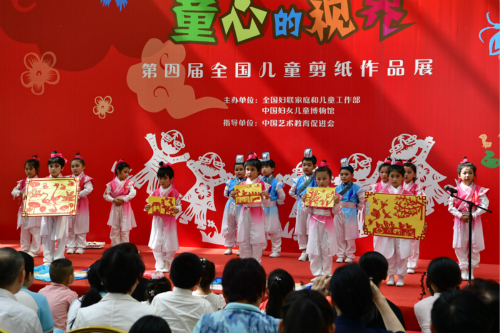 Children perform at the opening ceremony of the exhibition. [Women of China/Fan Wenjun]
The Family and Children's Affairs Department of the All-China Women's Federation (ACWF) and China National Museum of Women and Children (CNMWC) jointly launched a children's paper-cutting exhibition in Beijing on June 1.
Leaders and guests at the opening ceremony included Deng Li, vice-president and member of the secretariat of the ACWF, also the director of the CNMWC; along with officials from the Central Commission for Guiding Cultural and Ethical Progress, the Chinese Art Education Promotion Association and Xinhua News Agency.
Further officials at the event included representatives from the Ministry of Culture, the National Art Museum of China, Children's Art Committee of China Artists Association, and leaders from the Department of Paper-cutting Association of the Chinese Culture Promotion Society.
Zeng Zhu, executive deputy curator of the CNMWC, attended the ceremony and made a speech to nearly 400 visitors and art lovers from elementary, junior high schools and kindergartens across the country.
Chinese paper-cutting is a intangible cultural heritage with a long history. Many paper-cutting education activities have already been carried out across the country with impressive outcomes, said officials.
This exhibition was held to mark the 40th anniversary of the country's Reform and Opening up, to promote traditional Chinese virtues, and carry forward the core socialist values among children.
The event also aimed to guide youngsters to inherit and innovate in fine traditional Chinese culture and promote the development of art education.
In comparison with previous exhibitions, even more schools and extracurricular educational institutions participated this time, and submitted high-quality works from 31 provinces in the mainland and Taiwan.
At the exhibition, over 300 works were exhibited, depicting the dramatic changes in the motherland through children's perspective and celebrating the achievements of reform and opening up.
The young artists used their works to reflect the changes in various aspects of life such as clothing, food and housing. All those paper cuttings reflected China's development and its increasing power in the new era, said organizers.
The exhibition will run from June 1-July 15, along with a variety of social education activities.
Deng Li and other officials present certificates to award-winning students. [Women of China/Fan Wenjun]
Award winners display their works at the event. [Women of China/Fan Wenjun]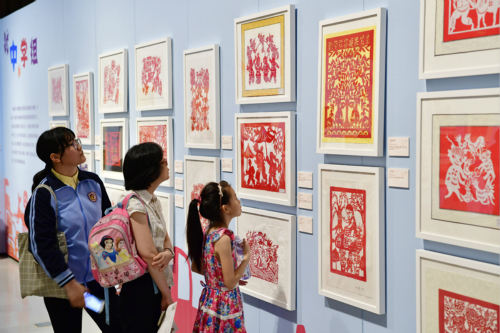 Works on display at the exhibition [Women of China/Fan Wenjun]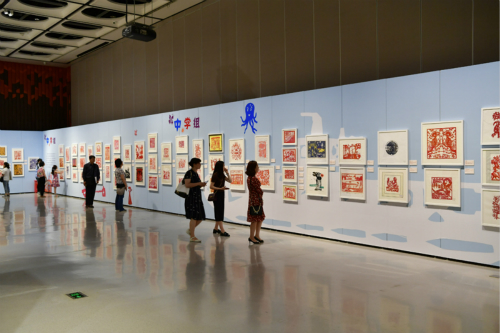 Works on display at the exhibition [Women of China/Fan Wenjun]
Works on display at the exhibition [Women of China/Fan Wenjun]